Interview with Randy Valentine
05/03/2014 by Angus Taylor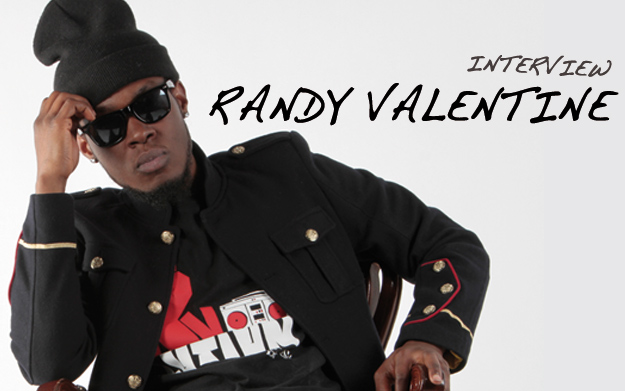 In a key scene from the 1973 film The Harder They Come Jimmy Cliff sneaks into a church to rehearse his band. Fast forward to London in 2014 and Jamaican born singer Randy Valentine actually records and operates out of a studio built in a crypt under a place of worship in Stratford, E15 - with his manager and partner at Jack of All Trades Music, Blemish. "I didn't even think about that" he laughs when Reggaeville makes the connection "So there's a reason! Maybe he was telling my story to come!"

There are definitely similarities to Cliff in the tale of this emotive voiced youth from the Jamaican countryside who packed his bags, left for an unfamiliar city and is now on the verge of becoming a star. Unlike the tragic downward spiral of Cliff's character in the movie, however, life's trajectory points upwards for Valentine who is poised to release his first EP Break The Chain this week.

Produced by Germany's Jr Blender of So Shifty and Switzerland's Riga of regular touring partners Straight Sound/Hemp Higher Productions it showcases a more versatile and contemporary side to Valentine than his popular vintage rhythm based mixtape Bring Back The Love. Potentially, it could take him beyond his grassroots buzz in Europe to success worldwide.

Angus Taylor spoke to Randy about his journey, his new music and the unusual location where it all comes together – which, in another unconscious reference, recalls the sacred-to-secular musical travels of his inspiration Sam Cooke.

THE CHURCH

You operate out of a crypt in a church. So how did you find this place?
We were looking for a studio because we had to leave South London. We had a connection in the church and the vicar said "You can have the basement". We were so shocked that they actually said it! When we came in it was very messy with junk everywhere but we had vision and we knew what we wanted to do – so now this is our new JOAT HQ. Now we've got the padding and the bass traps so the sound in here is nice. It gets hot in here though! We make loads of different styles – Afrobeats, drum 'n' bass, house, plus my reggae stuff like the new EP and the Bring Back The Love mixtape - which was recorded in here.

It's interesting that you make Afrobeats. There is a tension in London between Afrobeats and Dancehall, like one is trying to supplant the other.
The tension is because dancehall started going downhill and the people who really enjoyed it needed something else to move to. Because reggae is not really that hype crowd kind of thing Afrobeats was next in line with the heavy drums and percussions. Right now I think Afrobeats is leading, especially in the UK.

GROWING UP IN THE COUNTRY

You were born in Clarendon - one of the leading parishes in terms of producing people in reggae music. Obviously St Ann has Bob Marley and Burning Spear but Clarendon has Gregory, Barrington Levy, Toots, Freddie McGregor…
In Clarendon everybody loves music. For Clarendon people up in the countryside, music is what we had for entertainment. It's not like we had ten channels on the TV – all we had were two channels and ninety percent of the time they were playing music. The rest of it was just radio and sound systems.

Your father was involved in Shining Star sound system but actually a large number of your family spin records.
My father was a DJ, he taught my older brother how to DJ, my brother taught me how to DJ and I taught my little brother how to DJ. When I came into this country in 2003 I met uncles I'd never met before and all these uncles were DJs! It was mad! Even my dad's uncles were DJs. The whole family was this line of DJs!

Coming from a family where DJing was passed around – what makes a good selector?
You have to love it. When you understand that music is not really based upon hype but really trying to connect with the people in front of you, then you'll choose what you want to select, then maybe understand what doesn't work and then you will know and really click into it. But you have to have a passion for it.

Tell me about those early sound system experiences.
Every smaller sound man on the system gets to carry wires, lifting boxes and all the crappy stuff. (laughs) But you still get to travel and experience being a part of the sound so you get known. I got recognition based on my father so everywhere I'd go it was like "Yow, you ah Shining Star Youth, yeah yeah yeah" and that was nice. I used to watch my dad with the 45s playing and the needle was always jumping so they had to put a penny on top of it to keep it balanced. All this stuff I keep in my memory.

Did you touch the mic at all?
No. Never! I'm actually surprised I'm singing now because you would never get me to hold the mic!

LONDON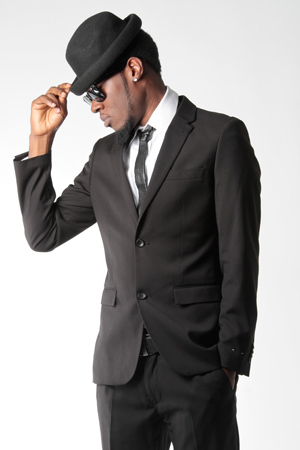 How did you uproot from Jamaica and come to London?
My dad was born here but he left when he was five. My mum finally convinced him to come back and then the whole family just moved here. That's the story for most Jamaicans. Wanting to leave Jamaica knowing there must be a better life out there financially. I was 17 or 18.
I'm from way up countryside so all the buildings looked big to me. It was crowded. I remember my uncle said "I'm going to drive you through one place and you're going to think Kingston Jamaica you reach". I didn't believe him and then we took a drive through Brixton and the contrast of how quickly it changed was just mad. We went from Camberwell where it was quiet through Brixton and it was just loud!
It's really nice out here but I miss Jamaica fully. The vibe is different. There are loads of happy people – even with the little they have. You learn how to be comfortable with the thing you have and make it work. Here a lot of people are stressed on a daily basis. That's in the air and the atmosphere. If you wake up at six in the morning you see people walking like robots on the way to work doing the same thing every day. It's very gloomy and the weather doesn't help. But I live here so this is home for me for now.

MUSIC

When you came to London you started DJing at parties.
I got resident DJ at Fridge Bar in Brixton for about half a year. Then I was working on a radio station called Switch 106 playing dancehall and reggae. That connected me to more dancehall people and gave me more of an understanding of what people liked to hear.
Because most of the time I was DJing in domino tournaments with my dad and loads of old guys drinking rum and going crazy and loud in South Norwood! Then I was DJing in younger 13 year old parties playing hardcore bashment music – and the feeling I was getting from these old people was different from this hardcore vibe. So I tried to play the old stuff to the hardcore people and it worked - most of the time!

Tell me how you got involved in actually making music with Jack Of All Trades.
I was working in a hospital doing finance and my friend Blemish who is now my manager and partner in JOAT came through and said "Yow, you can really sing you know. Come to the studio".

Were you singing at work?
That's something I always do (laughs). I always knew I could sing but I never used to use it too much. This is like a secret… that's how I used to get girls when I was on the bus. I'd start humming something and she's like "Oh, you can sing!" So singing in the hospital was normal for me. There's a song I always used to do, called Just Friends by Musiq Soulchild. I'd sing loads of neo-soul stuff.

So what happened when you got to the studio?
I sat in the studio for four or five months and didn't touch anything. Blemish said "Just sit there, observe, look and listen". After maybe half a year I wrote a very dumb, stupid song that I would never play to anybody called No Good For Me (laughs) Blemish's little cousin started teaching me how to do some production. I kind of mastered that to my own taste, started writing music – trial and error, doing every genre I could think of. Which was where Jack Of All Trades came from - doing everything and trying to get everything right.

How did your family feel about your decision to go into music?
My father understood it instantly because he knows anything I do is always music. I don't do any form of sports. Every day is music. Plus my mum was one of the ones who always said "You need to sign up for X-Factor" They've always been pushing me towards music. So they supported me fully.

Who is your harshest critic out of your father and Blemish?
Blemish. My dad likes everything I do. He definitely gives me direction. Like two weeks ago he called me up and said "You need to do a song on the M-16 riddim".
Blemish is my brother, man. Couldn't get any closer than that. He's very honest. He's the one that actually got me to this point where I have to write credible music. I can't just write anything, it has to make sense.
One time I went to his office and he said "If you really want this thing to work you really have to put your all into it. Listening to what we do, it's obvious that we can do something but listen to the music that inspires you. Can you measure it to that music? No? Then that means something is missing. Why are you falling short of your inspirations?".

INSPIRATIONS: THE THREE PILLARS

Tell me about your main musical influences. Who are the pillars?
The pillars, I like that word too. My favourites would be Lucky Dube, who tied me to Peter Tosh. Lucky, Tracy Chapman, and Sam Cooke. These three people are always mentioned in my every interview. Always listen to these people, always.

Tracy Chapman has an amazing voice. I really like her second album, Crossroads. I know most people rate the first album higher, but I prefer the second album's production.
She's amazing, man. I fall asleep listening to her music. Of course, Crossroads. The second album was better for me, too. Yeah, nice lady.

Sam Cooke is someone who was very versatile. He sang spiritual music, he did some raunchier stuff, jazz, blues pop, wrote his own stuff – he tried a lot of things.
And he was in control. He inspired me. What drove me towards him was that he was so into wanting to be in control of what he was doing, wanting to do his own stuff and wanting to build it. That made us want to own JOAT so much more. People were saying "Randy Valentine is gone, we can drop this" but we said "No, we can build the writing and actual production company" and started signing songs to Sony. Thanks to Sam Cooke (laughs).

RANDY VALENTINE TO THE WORLD

Where does the name Randy Valentine come from?
My name before was Sincerely Randy. I found out what "randy" meant (laughs). So I said "OK, Sincerely Randy, that's my name!" I was this Sincerely Randy guy in R&B music, then we ventured off into the reggae thing. I really prefer to do music aimed towards females, the 365 day a year Valentine's thing was in my head, so Randy and Valentine made sense.

Early on in your career you went to Gambia and performed with Busy Signal.
Gambia was an amazing experience. My first reggae move. It came through a guy whose daughter I was doing some production for. He said "You've got some really good stuff here. I'd like to showcase it in Africa". We did a radio tour, promo tour and it turns out that one of my biggest inspirations is on stage – Busy Signal. He was backstage listening and after the show he said "Yow, don't stop doing what you do. Continue",

What do you think of Gambia? It's quite a friendly place. People love reggae there.
Everybody's smiling. I think even if somebody was sad, you wouldn't notice. Everybody's just happy, man. It's just all smiles, the smiling coast. I'd love to go back. I even met my uncle there, another DJ. He went there on holiday and he stuck there. He said "When you're living in the UK you need to have Armani, and the latest stuff. In Gambia, you just need a shirt". That to me seemed like the nicest kind of life.
And they love reggae music! Sixty thousand, eighty thousand people in the crowd for the Busy Signal show. When he came the roads were blocked, there was a motorcade, thousands of people waiting for him at the airport. I thought, it's like a Jesus return. So for me an unknown, upcoming artist on one of my first big performances, I was so afraid! But the people were so warm and welcoming and as soon as I said "Wha' gwaan Gambia?" it was love and I was at home.

You've been touring and recording with Straight Sound/Hemp Higher Productions. Where did the Swiss connection come from?
Blemish had a friend called Mr Midas, who's my brother now through music. I did some harmonies for him on a Hemp Higher rhythm and when Riga heard the harmonies and was "My youth, it sounds sick!" Midas made the introduction, he sent over the rhythm and I did a song called Scream Out. That was when I was really into my dancehall flavour. Riga flew over and said "I need to meet Randy". He said "Yow, we can do this if we really work hard".
We started to do a lot of promoting, travelling to other countries. We had Scream Out and Over and Over, which kind of worked in Panama and Costa Rica. So that led me to Panama and Costa Rica to do another show with Busy Signal as well.

BRING BACK THE LOVE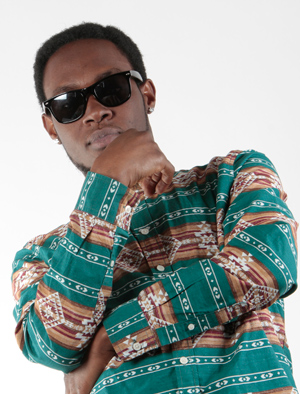 It was in Panama that you had the idea to do the Bring Back the Love mixtape over vintage rhythms.
I was in the hotel with Straight Sound and Riga doing a rehearsal and sound check. Straight Sound was playing the instrumental for [Bob Andy's] Too Experienced. I was singing the song and he was like "Your voice sounds wicked on this. This is what you should be doing" because at that time we were really doing the dancehall, hardcore stuff. By the time I got back to the UK he sent me like 25 beats and within two and a half weeks I sent the 14 or 15 songs.
There was no strategy of "Let's try and give it away for free, so we can get more promotion". I'm still surprised at how it worked. I guess it was timing. There's no set way to blow up in the industry. People can put millions of pounds into you and it still won't work, so there's no exact formula.
It was only afterwards that Peckings contacted me and said "Yeah, we could release Poor Man's Loving" and we got the licensing for this song. Then Sly and Robbie contacted me and wanted to re-release Light It Up and I spoke to them last week and they've got the vocals and are planning to re-release that too. So those good things came from just releasing a free mixtape! (laughs)

BREAK THE CHAIN AND BEYOND

What went into making your Break the Chain EP and what can we expect?
It was me, an acoustic guitarist Bernard, another acoustic player, Joe, and the main producers Riga from Hemp Higher and Jr Blender. We sat down in the studio in Switzerland for two weeks and just started creating some instrumentals, vibing, stressing. I was going through a mad time at that time, I couldn't write anything, I couldn't find anything. I was in a very bad place, but it's nice that I was there because I had to push myself. This is what came out.
I think the EP is going to shock a lot of people. It's completely different from the mixtape but it's growth. I love the mixtape – the foundation instrumentals and entertainment side. But I think on the EP the music is more aimed at spiritual enlightenment, love and hopeful music. It's got some modern rhythms, some acoustic ones and some roots stuff. It's diverse.
There's going to be a second EP that we're going to work on with Jugglerz from Germany. It all depends on how the vibe is. I write within the moment, you know? So if they're there and the vibe is like this, then this is what we're going to write and create.

What's happening in terms of an album?
We haven't started yet, but we could do one now. Just for the EP alone I recorded 18 songs. For the mixtape that we released, there were 13 songs on there but I recorded 17. Throughout that period of time I'm always recording other songs, so I written so much other stuff that we could drop an album next week!
I have to do minimum two songs every day, and I have to produce something. This is like drugs to me. If I'm ever in the UK and I'm not in the studio, there's something to worry about. I have to be producing or writing or vibing or just chilling or giving someone else some advice. It always has to be something music.

Your profile is very big in Europe. Do you feel like London is a place where there's a lot of business things going on but it seems like a lot of artists are doing their actual music outside?
Yeah, this is kind of like the corporate side of music. I think in Europe people are more relaxed. I saw that when I went to Gambia. People find the time to really appreciate music. Here in the UK, let's say I was giving out the free mixtape on the roads saying "Here's my mixtape. Listen to it" every third person I give it to would offer me a CD back because everybody is pushing music. Everybody's trying to hustle. Everybody does music. Nobody actually takes time to enjoy music. That's what this is.