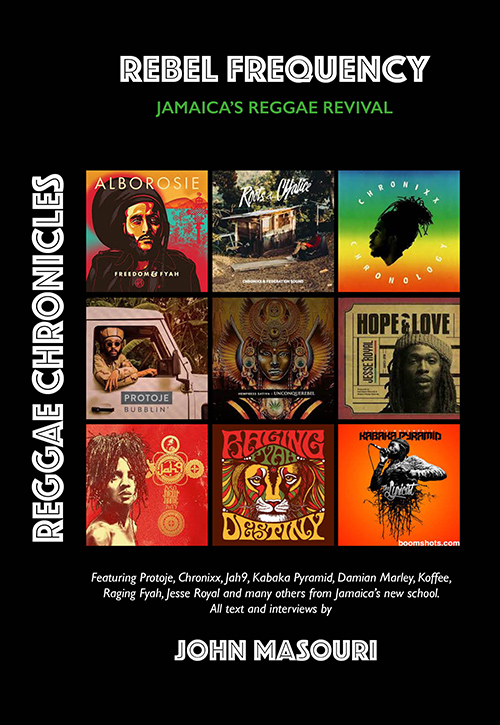 Rebel Frequency: Jamaica's Reggae Revival (Reggae Chronicles)
BOOK [Jook Joint Press]
Release date: 01/11/2020
BY JOHN MASOURI

Rebel Frequency is the first volume in the author's Reggae Chronicles series. It's also the first collection of writing about the re-emergence of roots reggae music in post-Millennium Jamaica - a cultural shift known as the Reggae Revival that's brought leading figures such as Protoje and Chronixx widespread acclaim, whilst reinstating reggae's reputation as the world's favourite protest music.

There are over fifty features and interviews included here, many of which appear in English for the first time. Taken as a whole and appearing in the order they were more or less written, they trace the Reggae Revival's evolution from its inception circa 2011 into the global movement we're witnessing today, complete with dedicated reggae festivals, advanced digital technology, growing media interest and an explosion of reggae talent from around the world. Damian Marley, Chronixx, Protoje, Kabaka Pyramid, Jah9 and the Grammy winning Koffee are among those telling of their personal journeys, and also the stories behind their landmark recordings.

The author has interviewed them and the numerous other artists included in this book at some length, often on more than one occasion and at different stages of their careers. In addition to providing well-researched supporting text, he allows their own words to take centre stage and this has resulted in a fascinating and comprehensive account of today's Jamaican music scene, as told by its major contributors. John Masouri has been a regular visitor to Jamaica, and written extensively about reggae music for specialist magazines across Europe for the past thirty years. He's the author of several other books, including an authorised biography of Bob Marley's Wailers and the first-ever biography of controversial 70s' reggae star Peter Tosh.
Featured artists
Protoje
/
Chronixx
/
Jah9
/
Kabaka Pyramid
/
Damian Marley
/
Koffee
/
Raging Fyah
/
Jesse Royal