Review & Photos: Raging Fyah in Hamburg, Germany @ Fabrik 2017
11/09/2017 by Gardy Stein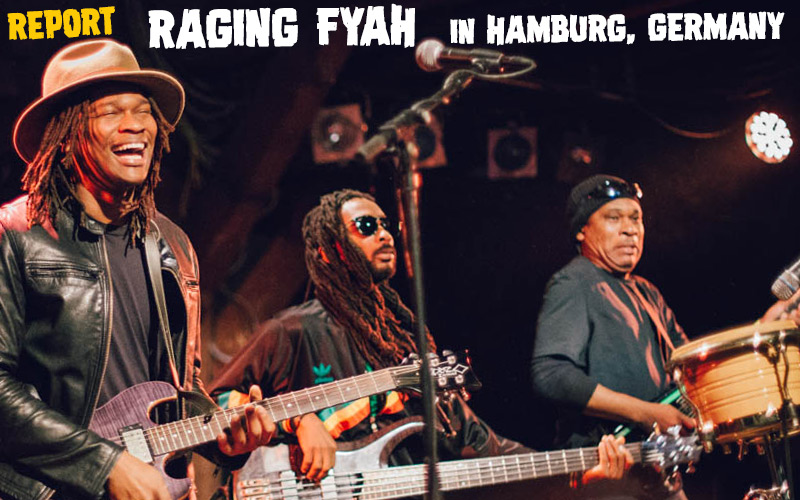 After almost one year of not seeing Raging Fyah live, the withdrawal symptoms peak, especially on a cold and foggy November day like this. Given that their last visit to Hamburg was confined to a small club, it was a pleasure reading the announcement of their performance at the spacious Fabrik - a stage that befits the Grammy Nominees they are!

It's here that around 250 fellow music addicts congregate, rocking to the sweet warm-up selection of the local Crucial Vibes Sound. At 9:40 pm, the band is finally announced as "coming all the way from Kingston, Jamaica", and Kumar, Gizmo, Demar and Pele take their places at the instruments. A new face is Jubba White, drummer of Dubtonic Kru, who substitutes Anthony Watson on this tour.

His drum roll opens the show, and with Nah Look Back and Step Outta Babylon, the musicians set a tight pace to follow. A first highlight for the audience is Irie Vibe, the "Eeeyooo" part of which is frenetically sung along to while all band members jump in a little dance-choreo on stage.

My personal highlights include the deep bass-line of Music Isn't Biased, to which Pele moves in that cool 'n deadly style of his, the sweet melodies of Everlasting and Jah Glory, which melts into a cover of No Woman No Cry and I Wanna Be Loved, as well as the strengthening Try Again, a track that makes me big up keyboarder Demar every time for the magic he worked there (the little melodica tune played in its middle is "pure, beautiful, heart-rending musical bliss", to quote the Everlasting album review).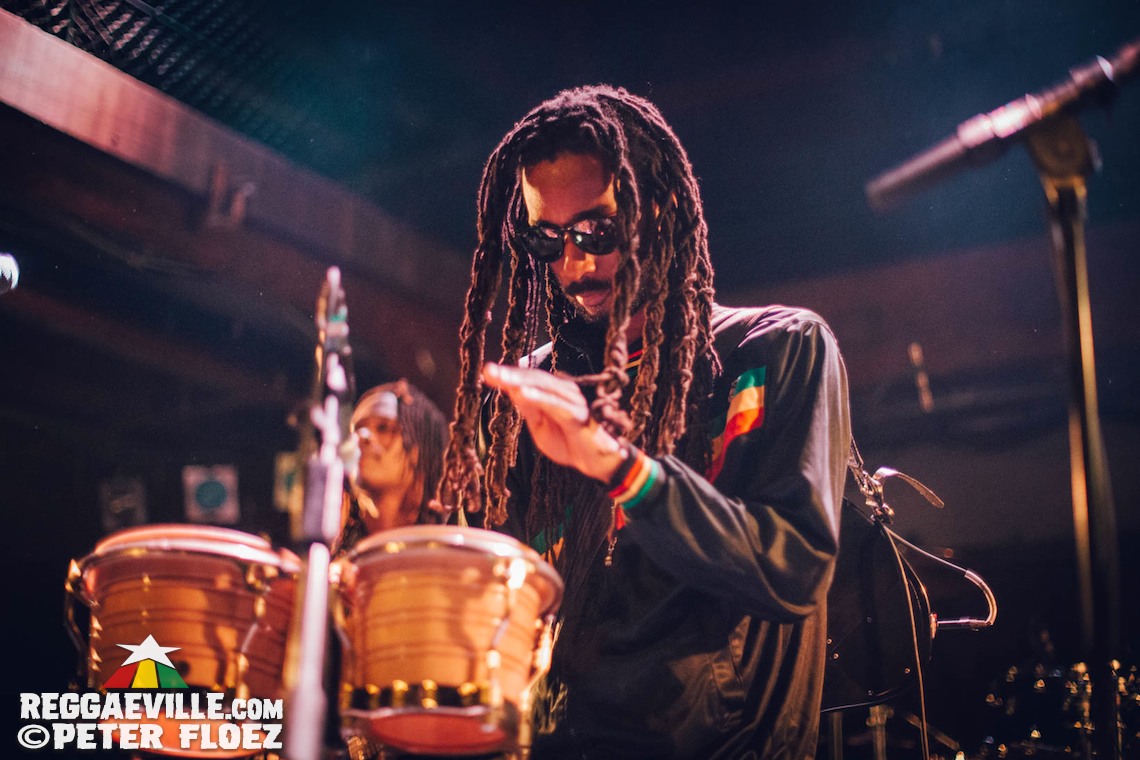 Kumar introduces the most precious moment of the show with the following words: "Big up Riddim Mag and Reggaeville Family. Thank you, Germany, for the love you have given us from the start. You were the first to accept us in Europe, and you made the following track number one back in 2011.", words after which Judgement Day drops and unites everyone present in movement, vibes and voice… speaking about golden moments!

These energies are carried on to Barriers, which is another spiritual experience with profound meaning added to the lyrics by people all over the world seeking refuge from war and hunger in other countries. No way a goodbye is accepted after that – Kumar and Demar are brought back on stage immediately by the loud "Raging Fyah!" shouts of the crowd, and while they deliver a gripping acoustic version of Brave, the rest of the band joins in one by one for the subsequent Getting Dread and I & I. While they wave their final farewells after that, Kumar stays on to fill our hearts and ears once more with a few touching acapella lines of Jah Glory which are mirrored right back to him by the crowd. Oh what a night! Those who stay on a bit get the chance to meet and greet the band members at the merchandise stand, a chance given to people in Berlin and Dortmund over the next days before Raging Fyah goes on their first ever Jamrock Reggae Cruise next. Trod safe, lions, and keep up that everlasting music!
CLICK HERE FOR THE FULL PHOTO REPORT!