Interview with Raging Fyah
06/24/2014 by Angus Taylor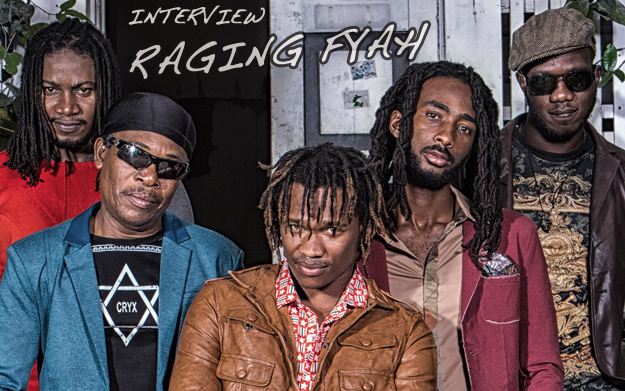 Raging Fyah are a united band in the true sense. You can see it in the ease of their mutual interactions. The in-jokes and laughter, the way they pass what they smoke between one other and the way they finish each other's sentences.
 
And, despite their second album Destiny visiting a more diverse range of places than debut Judgment Day, you can hear the same unity in the music.
 
Reggaeville spoke to singer Kumar Bent, bassist Delroy "Pele" Hamilton and drummer Anthony Watson about how they came together, what holds them together and why it's their destiny that this summer will blaze brighter than ever.



You came together through Edna Manley college. Were you all studying there?
KUMAR: With the exception of Gizmo the guitarist we all went to Edna Manley – but at different stages. Anthony, Pele, and Demar went to Edna Manley in 2002 and I went to Edna Manley in 2007. When I went to school they had already left but Pele came back to school and that's how I met him.

You were all in different bands backing other artists before you got together.
ANTHONY: Pele used to play with Anthony B, I used to play with the Wailers, Demar used to play with Sizzla, Gizmo used to tour with Abyssinians, Black Uhuru and many more.

What where you studying at Edna Manley? Was there a reggae module?
PELE: It was a diploma in Popular Music and Jazz Studies. The pop module entails reggae so we would have reggae classes with Mr Ibo Cooper but it's not something that's in the curriculum I think.

How important is Ibo Cooper from Third World in your education and in the phenomenon of the live bands from Edna Manley in general?
PELE: He was very instrumental. Being an icon, his knowledge and his experience that he shared with us motivated us to a similar vision. To see that we can also do what he did back in his time. It helps to sculpt us into who we are and what we are today. Trust me, Ibo is a man that has a lot of words – words of wisdom. (laughs)

KUMAR: I remember when I used to be afraid to sing in class – because I started out studying the piano at Edna Manley. But then Ibo Cooper used to come in the class and say "Look at the wall at the back of the classroom Kumar and pretend that wall is 50 thousand people – sing to the wall". And he would be serious – because I used to think he was joking – and he always used to remind me of that in class and say "It's just people and you need to be brave and deliver the words that are coming out of your brain". So we respect Mr Cooper to the fullest.

So would you say you are a shy person?
ANTHONY: Yeah man – him shy!

KUMAR: I'm a shy guy but I wasn't always singing as a musician and as an artist. Mr Cooper was the one who motivated and brought that out of me because before I was a musician who liked writing songs and playing the keyboards. That was my major at school until Mr Cooper recognised the talent and said "Kumar, you need to sing your own songs that you've been writing and you need to write a song for graduation for the students". So that kind of grew me into being, well the same Kumar, I'm still easy going.

Describe the spiritual education of the band.
PELE: I can say for all of us that, it might seem to be a cliché, but we all grew up in the church in Jamaica. Whether Saturday or Sunday we'd all go to church and over time that seed that was sown has grown into us finding the true purpose and the true being of spirituality.

KUMAR: My mother was an avid churchgoer and Anthony and Demar and Courtland all got introduced to music through the church. Because there is a drum-set and there is a keyboard and there is folk music in the church. The songs and the hymns that you sing are all from the bible but in a Jamaican context. So when you get older like 15-16 and start realizing that history doesn't correspond to what they teach you in church you have a more open mind towards your destiny, towards your truth, towards your journey. I think that's what's happening right now in terms of spirituality because it's about truth, what's real and we are living a reality.

ANTHONY: What we are being taught in the world is not necessarily the truth so we try to find the truth and live by the truth.

Where do you find the truth?
KUMAR: In everyday life and just within, being yourself. There are many different ways and paths to get to the one truth. There are five of us in the band and we don't all agree every day but we all agree on one thing – when we are making the music. So spiritually it is just a connection that we all seek to get comfortable with – with ourselves and everybody we deal with. It's easy for us to be around people and communicate with people because of that said…

ANTHONY: Energy.

Did you make a break with the church or was it a gradual evolution?
ANTHONY: It was a gradual evolution because some of us were baptised at 14 or 15 and it's not like we started selling guns or trafficking cocaine. We all just went the music route so while we don't go to church as much as we used to when we were 15 or 16, when reasoning with each other we all try to keep things balanced where nobody is thinking about "the devil is this or that".

KUMAR: Because they used to say that to us at church. That the devil loved musicians.

ANTHONY: We try to find the truth in everything. Because they said the devil always works in musicians because he was the chief musician in heaven. We are not disputing any of that fact. We know that there are good and there are bad. So we try to find a balance within all of that and just live our lives.

You used to be a backing band and you got your name Raging Fyah from the owner of your rehearsal studio who was called Raging. Were you always thinking ahead of striking out on your own even from the start?
ANTHONY: We were thinking far ahead. But in Jamaica for a band to break on the scene – now it's different…

KUMAR: It's easier now.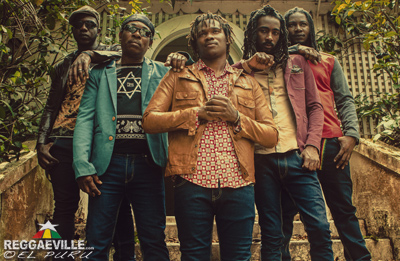 ANTHONY: But back then you had to pay your dues. You had to go on a specific route in order to gain popularity and be known before you can even divulge in putting out your own music because you want to gain some form of status. So that was the route we chose at that time. We were recording our own music at the same time behind the scenes in studio but it just came to the forefront in 2010-2011 when we really started doing our own thing fully.

The road to being more than a backing band is traditionally hard in reggae music but it wasn't always this way in Jamaica. How did it get like that and have you helped break down that barrier?
ANTHONY: There are many reasons why it went that way in terms of having a backing band. There are shows in Jamaica where you have 150 artists performing on one night like Sting. So to cut time and cut costs you'll have one band play for probably 50 artists and then you have another band play for another 50 with three bands playing for that whole 150 that night. Then everybody got used to that culture and it prevailed for a time until artists started coming with their own music and wanted it to sound authentic like it was recorded. So they started to get musicians for themselves paying them on retainer or contract or just a good vibe between themselves – a good working relationship where musicians would stay and make sure the music sounds like it's supposed to sound. When we reached that point we decided we didn't want to be a backing band anymore. One, you get a lot of disrespect. Two, you don't get enough time to express yourself musically when you're playing other people's music. So we just decided to do our own thing.

But it must have been a useful experience in terms of knowing your adaptability, versatility, strength, endurance and so on?
KUMAR: It made us tough.

ANTHONY: It made us a cut above the rest.

KUMAR: And you know everybody's music plus yours.

Kumar, you joined the band in 2010. Before you were involved in various other outfits including a brief spell in the Edna Manley band Mystical Revolution.
KUMAR: When they were just starting out Mystikal Revolution band entered a competition at JCDC – Jamaican Cultural Development Commission – and they had a singer singing for them. But at the finals of the competition something happened and their singer left. So they asked me to perform at the finals and I did and they won some money. But I didn't stay. I was just helping them out. The stuff I used to do before Raging Fyah was dancehall music.

ANTHONY: Birch Hill Records and Notis Productions [Notis are from Edna Manley too].

Another aspect of the band phenomenon is many of the bands having their own night. You have Wickie Wackie Live at Wickie Wackie beach in Bull Bay. How did it get started?
KUMAR: Wickie Wackie Live started in 2010. The first one we kept was free and for about a year we had the show for free. People used to just come on the beach. The first event had just five people sitting on the wall and within the first year by the time we launched the album on August 7th 2011 we saw about 800 people coming out to see Raging Fyah live. So that propelled Raging Fyah and others like Chronixx and Jah9 and the whole "Reggae Reload" as Bounty Killer calls it (laughing) into a whole energy. Jamnesia was next door as the camp where everybody went and learned to do their thing but what Raging Fyah did over at Wickie Wackie was we decided to give them a proper stage with a proper size and good sound on the beach. It was free at first but then we started charging and it has been going on for three years now. The last season just finished in February and we are looking to start again for the second season in October.

Why is Bull Bay such a hotspot for the live music? Is it because it's close to Kingston or are there more historical reasons?
KUMAR: In the past Bull Bay has history from Bob Marley and the whole Nine Mile, Mystical Revealers same way. You find that a lot of music was being made out in the east. Plus it's close to the airport so when you land you can just drive out to Wickie Wackie and arrive upon the beach. It's the energy I think. It's a good spot.


Why did the night go on hiatus for a while?
KUMAR: We have to do it in series. To run the event every month – while it is good, it takes a lot out of Raging Fyah and everybody else. But apart from that Jamaican government has implemented a lot of restrictions in terms of getting a licence to keep events and the permits have a whole set of things where you have to go to five different places.

ANTHONY: What would take two days in the US probably takes a month here.

KUMAR: We're trying to make it happen on a full scale. We took a break for a while because the entertainment licence had expired for the property. When you started as a band how much support did you get from Jamaican radio?

ANTHONY: Elise Kelly supported us from Irie FM.

KUMAR: And Gabrie Selassie when he was on Bess FM.

ANTHONY: Amber from Irie FM and Kurt Riley from Fame FM. Dalton Lee played World Crisis a lot. Richie B played Judgment Day and it went number two on his chart. So we got a lot of love - in pockets – in Jamaica.

KUMAR: And on TV as well. TVJ. CBM. The cable community channels.

And is having your own live night an alternative way to get out to the people?
ANTHONY: That's an avenue that we took and it seemed to be very successful so a lot of other artists are doing it and it's working for them. I would say it's a good route.

KUMAR: Especially with the live streaming.

ANTHONY: And especially if you play good music as well!


Do you listen to English roots reggae from 70s and 80s? Tunes like Music Isn't Biased, Barriers and Step Outta Babylon definitely have the distinctively English roots feel.
KUMAR: Aswad. We listen to English roots music. Pele can tell you about Aswad as he is a part of Aswad…

PELE: You know Bigga who used to play keyboards? Clifton?

Bigga Morrison.
PELE: He's our family cousin. I was in England for two years from 2003-2005. He wasn't in Aswad at the time but I would still go to rehearsal with Ruff Cutt band when he was filling with Ruff Cutt. I would just sit in the rehearsals with them and after they finished he would encourage me saying "Bwoy, if this is what you really want to do then pursue it, don't give up, continue". Getting words from those people who have done it before really pushed me forward.

ANTHONY: We love Steel Pulse as well.

KUMAR: David Hinds encourages us as well because David always says "Raging Fyah, keep doing what you're doing".

PELE: We don't take those things lightly though. We see it as a stepping stone when the elders say they love the music they're hearing and the vibration.

What was it like playing in London for the first time at the Respect Jamaica 50 celebrations?
PELE: It was very overwhelming. The nature of the event for young acts - in the sense of our first tour in England and being amongst acts that have been doing it for years like Shaggy and Morgan Heritage – it was a real great feeling and still is.

How did you link with Bob Andy for the song Send Someone For Me and what is it like working with him?
ANTHONY: Gizmo is a good friend of Bob for years before we met him. We wanted to do a song with him and we were thinking of doing Fire Burning. Bob Andy came to us and he said "We can do any other song you know?? It's not limited to just Fire Burning".

KUMAR: We ended up recording around eight or nine songs and we've only released one song so far – Send Someone For Me. Bob Andy writes a lot of songs and he says "Kumar, these are your songs. You need to sing these songs". So he's a great force in that regard as a writer because he sees what you are trying to do.

ANTHONY: He's a cool guy. Keeps you smiling.

KUMAR: Witty, smart, charming too. Uncle Bob.

What is the philosophy of the band? Are there are any internal rules or guidelines that you go by?
PELE: We are a band but we're also a partnership company and part of our mission statement is to uplift humanity through our music and our unique lifestyle. So we try to live by that. That's why I still make the point that every word, every comment on our Facebook page or social media that says "Your music is uplifting us or inspiring us to go through another day" that is a success for us because that is on par with our mission statement. We try to live by the truth and one of our universal things is love. Because it's either love or hate so we choose love. We try to live according to certain guidelines according to that. We also reflect it in our music because it's what's inside that comes out in the music. We definitely try to avoid a different life on stage and off stage.

KUMAR: No contention off stage. No mix up. No follow follow.

PELE: We choose not to live a lie.

ANTHONY: No bag of hype.

KUMAR: It's just easy going, perform, and replenish the earth's children.

ANTHONY: We pray before we perform. Always. We smoke marijuana before we perform (laughs). We just give thanks for what we do. That's the ritual.

KUMAR: Our hearts love to guide and protect each word we utter.

Why did bands come back in Jamaica?
PELE: It had to happen because it's just the time. It couldn't happen 5 years before it started to happen. Everything has to happen in the now – as Uncle Bob would say. Prior to bands coming back on the scene it was…

ANTHONY: Bounty Killer, Kartel, Busy Signal, Alliance, Beenie Man. That was what was running the streets and in the peoples' consciousness at the time. But right now it's a shift in consciousness where everybody wants to be more on the righteous side and know what is right and what is good for your health. If you check it's even a universal thing. Everybody wants to be healthy now. Nobody wants to be fat and have a big belly. Everybody is trying to be slim. So it's the same with the music – nobody wants to hear you telling me on a track to go and kill my brother. Nobody wants to hear that really any more. Everybody wants to hear something that will uplift you that can carry you through your day.

PELE: And the harder the time gets the more uplifting music you're going to need. Because the people feel the struggle in everyday life so they need something to keep their heads above the water.


What do you think of the term "Reggae Revival" because I know some older artists don't like that term?
ANTHONY: Bounty Killer said last night "Reggae Reload!" (laughs)

KUMAR: But you're always going to find something where not everybody is always going to agree. So at the end of the day it's six of one and half a dozen of the other as my mother would say. How Jamaica works is that if you don't tag it with a name then you swim by yourself. Dutty Bookman was the one who came up with the name Reggae Revival and we don't know much about it in terms of who is in it and how it goes and who runs it. But I know it's something that Raging Fyah is tagged to and we are benefitting from it. People check out the music and Reggae Revival or Reload but we've been doing reggae music for some time now before the term was coined. All of the youth right now – Chronixx, Protoje, Kabaka, Dre Island, Kelissa, Pentateuch, Exile Di Brave, you name them – a whole heap of young artists who have potential and for the next ten, fifteen, twenty years you're going to hear them because they are the future.

The current trend in reggae is to release a taster EP before the new album. But before you released Destiny you decided to release an EP Boarding Pass with different songs produced with Bobby Digital.
KUMAR: (laughs) Well they say in the music business "There's no business like show business". Sometimes you don't even know the strategies in the business because it changes every day in what you're expected to do and how you are supposed to release your music.

ANTHONY: Yesterday MySpace was the big thing – today it's Instagram.

KUMAR: We've been doing a lot of work with Bobby Digital and Giark over the years – like on Judgment Day I think the track Far Away was recorded at Bobby Digital's studio - so we had a relationship. They decided to do an EP called Boarding Pass. It was songs we had for about two years now – it was not songs that were just recorded. You have songs like on the Islababad Riddim which is a Raging Fyah production alongside Digital B and has Chronixx and all them on. At the time, seeing that Raging Fyah were looking to put out a new CD and these are fresh tracks people had never heard before, it wasn't damaging so they did it.

The album release date was uncertain for a while - perfectionism or politics?
ANTHONY: A bit of both.

KUMAR: But more perfectionism. Because the first time we released Judgment Day with the notion that we had nothing to lose. "This is our first album and we were releasing independently so let's get it out there and make a name for ourselves".

ANTHONY: But the second time you have to dot your I's and cross your T's.

KUMAR: Make sure you give yourself enough time.

ANTHONY: For agencies to promote and market for time in advance so that people will know and can put down their dividends and say "That is for my Raging Fyah CD" or "My Raging Fyah T-shirt". You can plan ahead. That's what governments do. They plan ahead a year or two in advance. (laughs)

KUMAR: Sometimes you have to do that. The music business – that's how it goes. You have to release your product when the time is ready.

Have you used the same studios like Grafton for the second album?
ANTHONY: The last one was recorded between Grafton, Tuff Gong, and Bobby Digital. This one was recorded between Grafton, Tuff Gong and Drive Studios in Poland and Equinoxx.

How have you grown between your two albums?
ANTHONY: There's a lot of growth both musically and individually. We have all grown in different areas. Musically you'll hear a bit more up-tempo and lyrically you'll hear a bit more maturity with this album. You can also hear in terms of direction where the music will be going for the future. It's not just limited to roots music.

How much of the album is self-produced?
PELE: We're executive producers for the album except two tracks – Jah Glory was produced by Frankie Music and Nah Look Back was a co-production between Raging Fyah and Rory Stone Love. And Equinoxx had a co-production on Brave.

KUMAR: That slow ballad track that is a bit gospel influenced and soul influenced. Because we are from the church so we're kind of giving people a little bit of Raging Fyah from that side as well.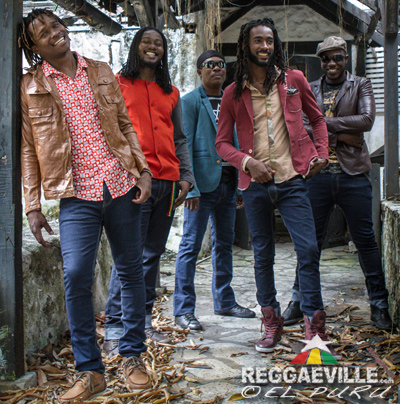 Would it be fair to say it's a more African album in terms of influences?
KUMAR: It is. You have tracks like Feel Jah Love – which is Afro-Caribbean in sound. African instruments and Caribbean vibe and rhythm. Byron Lee and the Dragonaires kind of vibe but reggae influenced because of the bass-line and where the drum comes in in the rhythm sometimes gives you a rootsy feeling.

And of course, there's the song Africa with some South African choral influences.
PELE: Well that's our destiny at the end of the day.

KUMAR: Well we are Africans. And our destiny – if you don't know where you're coming from you don't know where you're going. The journey that Raging Fyah are on – it's in Judgement Day from track 1 to track 11, and Destiny from track 1 to track 11 takes you on another side of Raging Fyah's journey. Because when you listen to the third album you're going to see that the journey continues. After your Destiny – what comes next? (laughs)

I was just going to ask why there are 11 songs on each album – are you an 11 song band?
ALL: No! (laughter)

KUMAR: But the formula works. Because when I put in a CD and press play I don't want to skip a track but when I reach 11 tracks I think my ears have been exhausted. So it's more science based I think. (laughs)

ANTHONY: The industry standard for an album is ten tracks. So after ten tracks it's really just bonus.

One thing I notice is you don't go for the big aggressive modern pop choruses that force their way into your ear. Your songwriting is catchy and has nice melodies but in a more traditional, more subtle style.
ANTHONY: Our music is not forced on you. It's something that you need.

KUMAR: You can accept the music based on your vibe and your feeling. It's not a preaching music where you stand up and say "Hey".

ANTHONY: It's not like a Rhianna where you're going to hear it every day. But when you do hear it you're going to listen to that song as long as you live.

You went to Europe for the first time in 2012. You're going to be at some historic festivals this year in Europe and around the world. You're going to be at Sierra Nevada World Music Festival. That's a big line-up - anyone you want to see?

(laughter)

KUMAR: Tarrus Riley has now been added to the line-up. The last time I saw Tarrus Riley properly it was on TV in Jamaica. The band is sounding really good so I'm looking forward to Tarrus Riley.

ANTHONY: And probably Sly and Robbie.

You're back at Reggae Jam and Summer Jam this year - Germany is a very important place in your success.
ALL: Yeah man.

PELE: Riddim Magazine and Ellen [Koehlings] have supported us over the years and Reggaeville too. We love Germany.

ANTHONY: And even before that in 2006 it was the first place we went in Europe. And you're coming to England to Boomtown Fair which is a crazy festival that is set up like a miniature town and sells out every year. We're looking forward to that very much.

PELE: On that note as well I just want to say big up to David Rodigan who has been pushing the music on the BBC and to all the other disc jocks in the UK. Support has been growing in the UK and so far we have about five shows confirmed so we're really looking forward to it.


What's the next big development in Jamaican music?
KUMAR: Having the artists knowing their rights and about their publishing. I think the next big step is educating the artists and setting up a proper industry so that musicians from Jamaica can survive and not sell out the music. Sometimes you find that because people are not making money they just accept anything. You play on a track for nothing and the track hits and you played on the track already so you collect no royalties because you don't know about that. We try to educate the ones we can but there needs to be a mass education of artists and entertainment persons like actors, musicians, painters, photographers - everyone needs to understand the copyright laws.

ANTHONY: Not just musicians but normal Jamaicans too. It's an industry that needs other people's help as well. We need people to be publicists, publishers, we need a lot of people within that sector and that's lacking. I think that will be the next step…

KUMAR: That will change the music. Because the talent is here and we might not have the best equipment but we have equipment that can produce the music so we just need the infrastructure in terms of a business structure.

ANTHONY: I can give you an example of a model. Say a musician goes into a studio and records for an artist there should be a standard fee that is collected by the musician and there should be a standard percentage where he collects his royalties and his publishing.

KUMAR: Because that's his work.

ANTHONY: That's his pension.

KUMAR: Over the years you find a lot of Jamaican artists – the elders – are suffering from that. Some of them might have only just realised some money from 1970. While that is unfair and unfortunate, we can't allow it to happen again in this time. We love the music but we also have to pay attention to the business because we realise this is something that can feed our families.