Interview with Kumar - Let's Take a Kulture Walk
04/30/2020 by Gardy Stein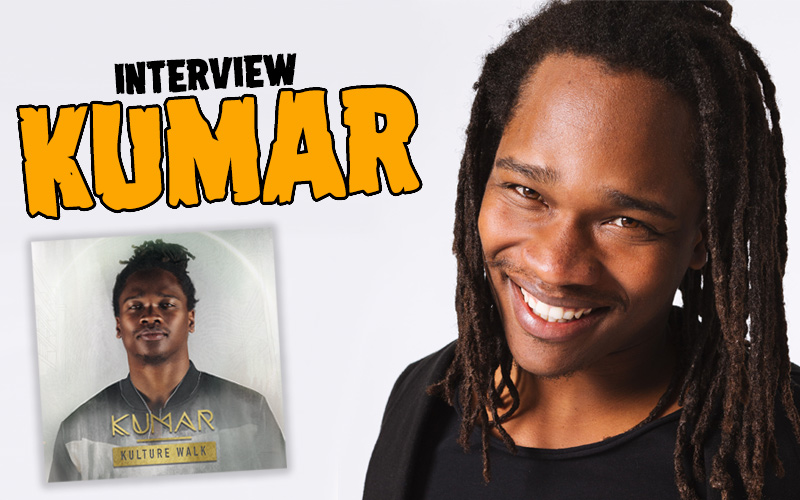 Many have wondered why lead singer Kumar Bent has left Raging Fyah two years ago, a band that had managed to attract an ever growing fan-base around the globe. Songs like Music Isn't Biased or Judgement Day have born proof that Roots Reggae was still alive and well in Jamaica, and their legendary performances have enthused young and old alike.
While the reasons for the break-up might not be completely clear, the vision that Kumar has for his future career certainly is. The talented singer, songwriter and producer has spent the past two years working on his firstling Kulture Walk, a full album taking his abilities to new levels that will surprise those who expect the expectable.
Reggaeville has visited the artist via Skype to talk about the concept behind Kulture Walk, the difficult times we're living in and his hopes for the future:
Greetings Kumar! How are you?
I'm good, I'm good!
Where are you at the moment?
I'm at home in St. Elizabeth. In the bush, you know (laughs).
How is the situation right now in Jamaica in terms of Corona?
The virus is affecting everywhere obviously, but I'm living in the country so I'm not so hard hit in terms of contact with people who have caught the virus. It's everywhere in the sense of affecting business all over, so there's not much going out anywhere actually. To try and promote new music is a little... a small cry you know. But, I mean, lives are being lost, that's what matters right now, so we have to try and focus on people who are losing their lives, you know.
True. How do you spend your time?
Well... I farm a lot. We have some carrots and sweet pepper, corn, Irish and sweet potato, pumpkin, pine... I'm planting everything. It's been growing enough so I can at least bring some to Kingston sometimes to my friends. Farming is a must! I can't tour or do anything, so I'm happy to plant!
That's the basic! But, of course, you have been doing music as well, you have been much more present on releases than Raging Fyah. I haven't heard about them in ages...
I mean, Raging Fyah released a song called Better Tomorrow, right... (sings) and I wrote it, that's my song... I have a version of that song, a recording of it, they just changed my voice. I had at least 30 songs recorded for the new project before I left, so there is a lot of music that I wont be free to do any time soon because of contractual agreements and whatever, but I wrote them and I can always write more music, that's what I kinda use to calm myself in these times when I feel bad... I just keep writing, don't get stressed out about the fact that there are some great songs and I'm not getting them. I wish Raging Fyah all the best as well, I haven't heard anything from them, we don't really talk a lot, but I wish them all the best and I hope they can get their band growing. But at the end of the day I'm still performing Judgement Day and all these songs because people don't want me to stop singing. They still link me to record dub plates and it's hard to escape three albums worth of work!
And now you are about to put out your first solo album. Why did you call it Kulture Walk?
Kulture Walk basically is a concept of appreciation, you know, appreciation for everybody and everybody's way of life and culture. It's due to a lot of travelling, I was travelling since I left Raging Fyah. I've been travelling to different countries that I haven't visited before, outside of Europe and the USA, the main lands. I went to Mauritius and Indonesia, I went there with a band, my new Habaneros Squad. We've been playing in Mauritius and Rodrigues Island and I realized that it looks like Jamaica in some of these places, and it feels like France... you know, the food, the history and the struggles of the people are basically the same thing everywhere around the world, so even though we are different as people, I think that's what makes us special and unique as well. It all came to my mind, and I was like 'Yo, I'm in Indonesia and I would love for people in Indonesia to appreciate my music as much as they do in Mauritius, as much as they do in Europe or everywhere in the world!'
I think you have to be very honest with what you are saying in your songs and just write from a feeling... not see, just feel. So, I tried to close my eyes all the way through doing this album in terms of not looking at the outside. I just kind of felt what this album was supposed to be like, so I think that's the end product. The name of it came about from... I wanted to start a little business here in St. Elizabeth, like a juice bar, called Kulture Walk, and my wife said to me, 'You are always talking about culture and everybody in our family loves culture!' Everybody likes the Jamaican way of life, still keeping traditional values, so that kind of led me to say Kulture Walk is a cool album title. And I could still do my juice bar and I could still keep my fetsival and I could do so many things as Kulture Walk! I realized it was just a new branding for Kumar and what I 'm about.
When have you started working on the album?
Well, I've been working on it since the day I left Raging Fyah, you know. The following day I was in the studio, I was just telling myself that the only way out right now is to actually record new music. And not just singles, cause I'm not a singles guy, I'm not releasing a song every week on peoples' juggling, even tough that's a part of our Jamaican culture. I'm an album artists, I like producing a body of work so I could show appreciation to others, what this theme is about, and then move on to the next. I kind of had that in mind, because with Raging Fyah we did three albums while I was there, and I realised the value of doing albums rather than just EPs and singles. It takes longer, it takes more thought, it's more hard work, but I think I'm at a point now where I invested everything to really get this album to the people, because I know what people realise is that Kumar is still making music and I still perform my Raging Fyah songs.
I'm now in a better position for people to not book Kumar from Raging Fyah but to book Kumar because he's still producing music, so with all of that it kind of just... it was a process. It was hard working with producers all over the world, I was at Italy one time working with a producer, Bono, so it's been a long journey. You know, the album is due now and I'm really excited of having it out there, it's like having a baby. (laughs) And then it's gone and then it's on to the next album!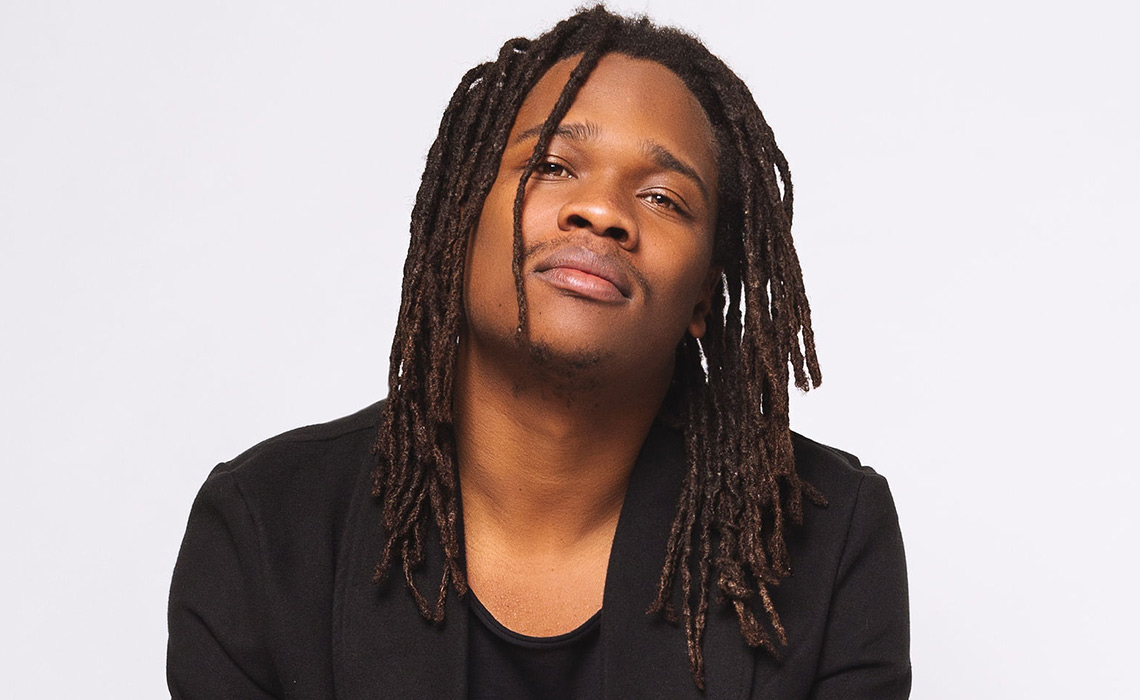 You said you closed your eyes and focused on your inside... Was it a conscious decision that Kulture Walk is not a Reggae album?
Yes! That was very conscious, a very conscious decision in terms of seeing what else is inside of me. I did three Reggae albums, I know what I can do, I know Reggae music, I can play Reggae music... it's still my music, my first music, but as an artist, as a musician, I have certain feelings. That's why I said I closed my eyes to what everybody said. I got a lot of people saying 'Oh Kumar, this album is this, it's that, it's not so Reggae, I think you need this and your fans...' But I think, the fans that I have were Raging Fyah fans as well, and they know us for a sound. Kumar has a sound, and it cannot be the same sound as Raging Fyah. My sound is how I feel, it's not what people tell me, it's what I feel. And this is the way it comes out and I hope that people appreciate it. And if you don't like this album, then maybe you'll like the next album! So that's how I really do my music, because if it's coming from a pure space, with a lot of emotion, a lot of feeling, then people will feel it and that's the aim of my music - I want people to feel my music! And I think that's what I've been doing all these years, even in Raging Fyah, so... (laughs).
I'm sure a lot of people will be surprised to hear you in these different styles and productions. Your name always shows in the producer credits...
Yes, because I co-produced on all these songs, I had a lot of say in how I wanted the songs to sound. So for example, on Jamaica, with Notis, Unga would make this track and bring it to me and I would say 'Yo, we need to add a trumpet, we need to add this and that, I want to move this here, and then...' You know, that's how these songs were made. Some other songs were directly my work, for example Dry Bones, the piano version, that song is just Kumar on all the instruments, recording everything as a producer. And then I took that same recording to Clive Hunt, and he arranged a Reggae version for it, you know.
So, I was producing my album entirely while also executively producing it, because I'm investing the funds and I would love to own my masters, that's the key thing. When you own your album, you have to be a producer, you have to own your masters, so you can at least have control over your record in case there is a deal to be made. Not owning your songs as an artists is not the smartest thing. You do have to work with producers and give them rights to songs as well because that's how you grow. I have done that and I am willing to do that again, but I think my first effort, my first baby, I needed to focus on it and go against whatevere everybody else was saying to me and I did what I feel. I felt like this record, that's how I felt for the last year and a half. Maybe it might change next year, maybe the sound might go straight back to Roots Rocking Reggae, because I'm capable of doing that, you know. At the end of the day, this is just showing the fans that I'm also versatile and also a songwriter at first, and a musician, before being a Reggae star. I'm a musician first, and I feel my music!
You mentioned Dry Bones - can you tell us about the concept behind? What do you mean by Dry Bones, what's the message of the song?
Dry Bones! Living in a world where we are owned, everybody feel, everybody fears dry bones... I'm not going into much biblical perspective, but in the bible, they mention of being in the valley of dry bones, and one day these dry bones will grow flesh, these dry bones will get up and give praises for life, so that's what the song is really about.
Everything we heard from the system, from our parents, from everybody, whatever you heard, programmed from their labs, what if you're programmed? Dry Bones is not just black and white, it includes everybody who is actually in a system. One day, we're gonna have to become brave, get up and know that life is worth living another way apart from what we've been told all these times. And what is the price of life? It's doubling any time someone dies, when you look at what's happening right now in the world with Covid and all that - what is the price of life? People are just dying and some don't give a shit about it and some care because they want you back on their farm, working, they want you back in their buildings, their offices... for me it's just a statement humbly saying that, as a people, what if it's in our head? We have to question everything we've heard, everything, the time is right now. It's a broad statement, but it's ... Dry Bones!
You mentioned Bono, which songs did you do whith him?
We did Race Of Your Own and One Day, we produced those in Italy. I played keys on those songs. And we also recorded the Dry Bones piano version.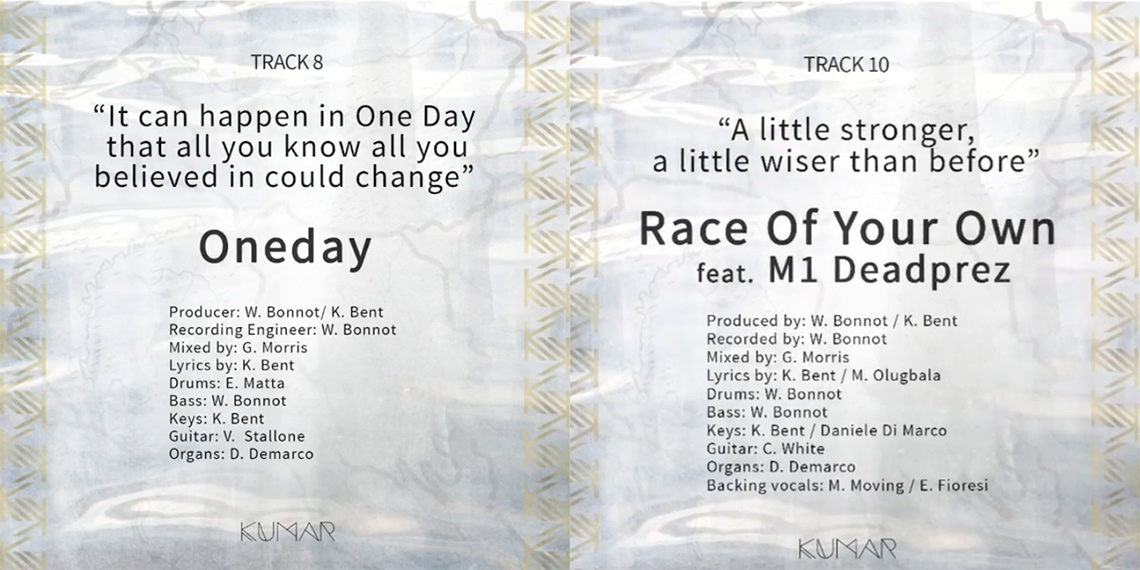 Where is Bono's studio?
In Via Reggio, in Italy. I was there on three different occasions over the course of a year, spending at least a month at a time, trying to finish the record. Most of the work went in his studio in terms of editing all the songs that I had. So, One Day and Race Of Your Own featuring M1 from the Dead Prezidents. That was Bono's idea.
I was about to ask about that feature!
Bono was like 'Yo, M1 will be sick on this song, let's get him!' M1 was already working on albums with Bono, he is M1's producer, so that's how that link came in. And it's been good, I really love that song, it's different than I've ever done before, and it's like... I like the message behind it and it's dancy, you know. He wasn't there at the time when I was there, he came back after we recorded the song, but we've been talking ever since on Skype and WhatsApp. A video is coming also, later on in the year.
That's great! Can you say something about the other two features?
Agent Sasco performs on the song Grain of Sand, he fits on that one. He's one of my favourite DJs, period, one of my favourite Jamaican artists. It's not just because of his style of DJing, but also because of his intellect. I think he is very intelligent, as an artist and as a person, so it kind of fits in terms of... I wanted to have an artist on the album that could understand the reason why I do this. If you check M1, he's very revolutionary in his lyrics and his content, and basically Agent Sasco is also of this nature, he is very progressive, very forward, a forward thinker. So, when I heard Grain of Sand, I thought it would be very nice to have him on the record as well.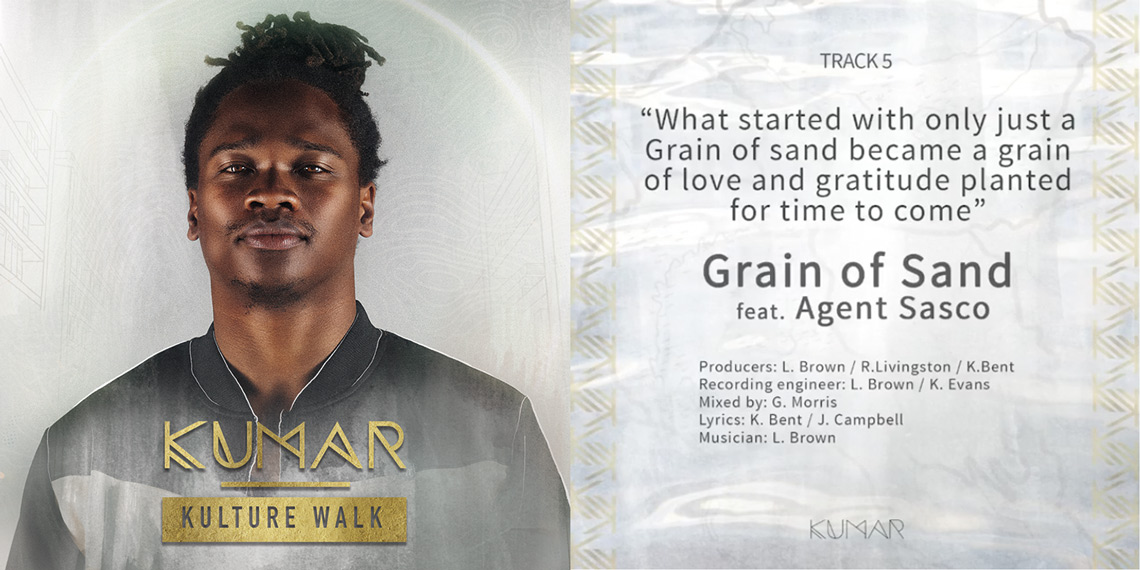 This song was produced by Riff Raff and Robert Livingston, and it was early on when I left Raging Fyah and we had this track we were working on. And they were saying 'We need to up this song!' and we were like: 'Agent Sasco!' Once he did this verse, he was kind enough to say 'Yo, Kumar, your first verse needs a little bit of tweaking and you could do this...', he was very kind in terms of advising me on how to actually come into that genre, because I have never done anything like this. He was very supportive and I was like 'Give thanks bro!' and I went back to the studio and kinda fixed it, and that's how this song Grain Of Sand came about. We really had a good thing going in terms of creating this song and this album.
And Chevaughn?
Now, I know Chevaughn over the years. Notis produced this second song on the album, Live Another Day, and Unga called me and he was like 'Yo, I have something cool here, Welsh has this bass line and we need you fi hear it!' So I went there and I heard the riddim, and Chevaughn was there at the time, and he was singing that bar and I just came up with another line, and we both started jamming on the riddim and Unga was like 'Yo, I think you both need to do this song!'. It was never meant to be on the album, it was the last song that got picked for the album. Everthing else was confirmed and I had like three more choices, and I thought Live Another Day is the best song to fit on the project because based on what's happening now too I thought that, you know, it's good that people have some hope. You can live another day, even after you have lost everything. It speaks a lot to where I'm coming from, because I didn't lose everything, I gave it up. I gave everything up just so I could be at peace with myself. Many people wouldn't understand it... I've been judged, a lot of people have said stuff over the years like 'Oh, Kumar is nothing without whatever'.
When you think about it, you know the world is like that, it's unkind sometimes, but you know you have to be resilient, you have to be strong and you have to just be happy to live another day, because you know time will come. That's how the song made it into the album and I think this will be a very good song for a lot of people.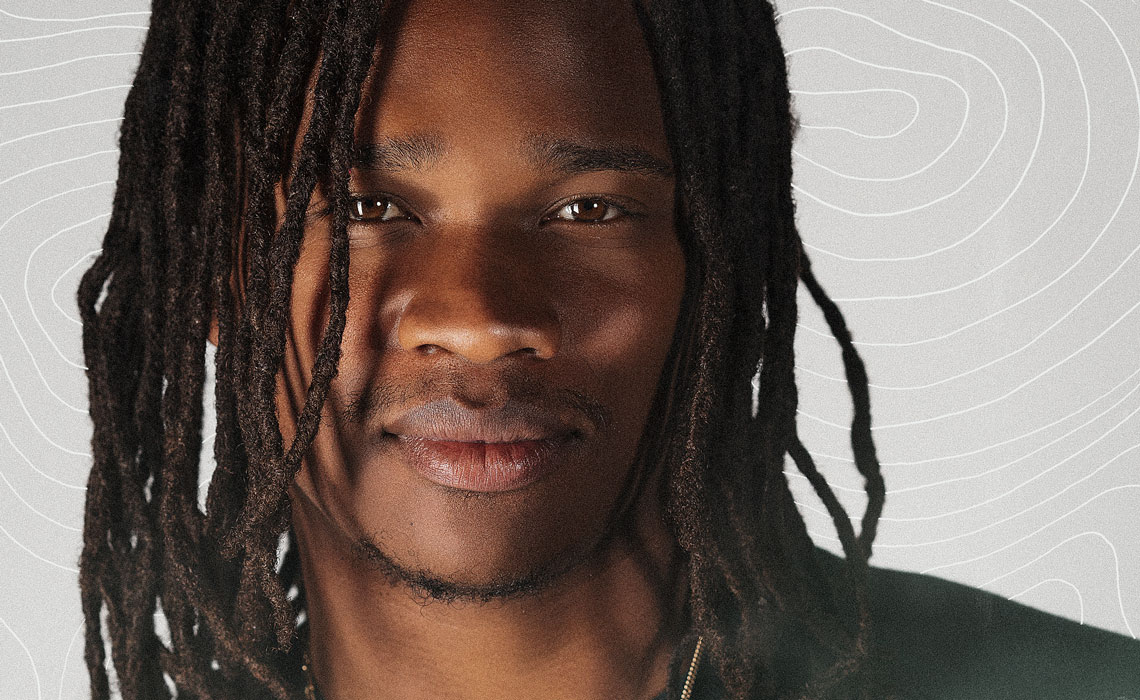 Definitely, it's a great inclusion. Before we talk about some of the other songs, can you say something about the Intro? It's a very interesting construction, you call it There Is No Movement Without Riddim, and there is some background noises and stuff, can you say how you put it together?
(laughs) For this production, we linked up with Rekesh from the Netherlands, a keyboard player of Surinamese decent, we linked him through my manager Danielle Pater. We went to the studio and I told him what I wanted, I said we need some Indian influence for the Intro, an Arabian kind of influence, and African. He said 'I can do the Indian one, but I don't understand the African.', so we made the Indian into a loop first, and then for the African one, I actually just took up some... there was a trophy in the studio, and a pan and a little cup, and I was just knocking everything together while he was recording me, all those sounds you are hearing. And then we added a sample of a market place, people talking in a market, and I used that along with some footage that I had from Indonesia, from another market where people were talking. Then I decided to do some harmonies of an African folklore songs, just melodies that African people would sing when they are happy, and I heard this 'Eaaaeee' (sings) and I just took it and added some harmonies to it. I then wrote something that could tell people that our minds are bigger than what we are thinking, that we are not using our full potential. I thought that would be a nice message to start with.
It is. And also the other interlude in the middle of the album, when you say: "The day the power of love will overrule the love of power, this world will know peace." Is it a quote?
Yes, that's a quote by adaptation from Mahatma Ghandi. That's why I said it's a Kulture Walk, I went through a lot of different cultures to find... the common frequencies, the denominator that makes us all one, you know.
Very touching. About Sailing now.. the title suggest a nice, easy song, but it's actually a very critical one, you mention very basic society problems in the lyrics. What is your connection to Sailing?
Honestly... think of Sailing as an abstract painting. It's really an abstract painting because the song is talking about a lot of different things. I could have well named the song Deny or whatever, but... in the end of the song you will hear 'Sailing on', that simply means our souls, our lives, just keep sailing on despite all of what I've just said. You are gonna still keep moving, sailing, doing whatever, so I use Sailing as a word for reference of daily life, daily floating through space trying to figure stuff out. I'm just trying to put a little history lesson in too, of telling people 1930 what happened, and remember Marcus Garvey, but it's also about the food that we are eating, it's killing us you know, white rice and salt, and all these things. I thought why not put it on the album, some people will like it because of the music, some won't like it because of the music. and some will like it because of what it's saying. I think music is life and that's the aim also of the album, to show that you can stay positive and conscious on any beat and any vibes you want to.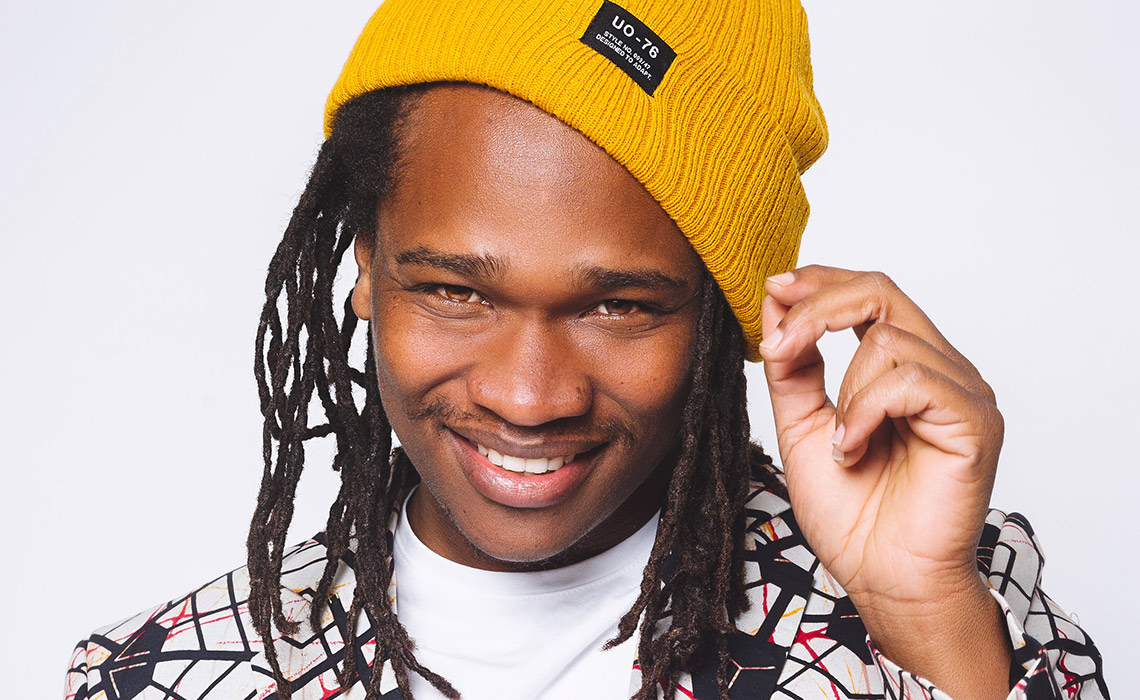 Another song I wanted to ask about because I think the message is really important is Remember Me. It sounds a bit like a prayer because you ask God to protect you. What was the inspiration for this song?
This song... while I was in Raging Fyah, I had a friend called Lynch, Dubmaster Lynch. Years ago, we used to write and do songs together, and he had some dope verses and I had that hook, 'Before I be a slave I'd be buried in my grave.' Frankly, this hook has existed in my brain from the time that I wrote Got To Be Brave while in Raging Fyah, so I had the hook but I had totally forgotten about it. I had done this song on a totally different track with Dubmaster Lynch, just the hook and he was doing Dub poetry in the verses, so we had a version of it that I think Demar had built a track for long time.
When I left the band moving on I went to Jahvani, and he was making a riddim and he was like 'Yo Kumar, what do you think about it?' and immediately when I heard it, I heard the hook... So I decided to write my own verses around the hook that I had all these years, and that's how I felt that song was to become the first release from my album, because I had just left out of a situation where I felt like I was a slave, you know, and I thought it's kinda cool that music is something that travels with you and lives with you until the time is right.
A great piece really. Which of the songs will have a video?
Well, Remember Me already has a video and I already have a video that's going to be released on the first of May, the Dry Bones Piano Version. I also plan a video for Loyalty and a video for Jamaica, and also one for Race Of Your Own with M1 and that's it.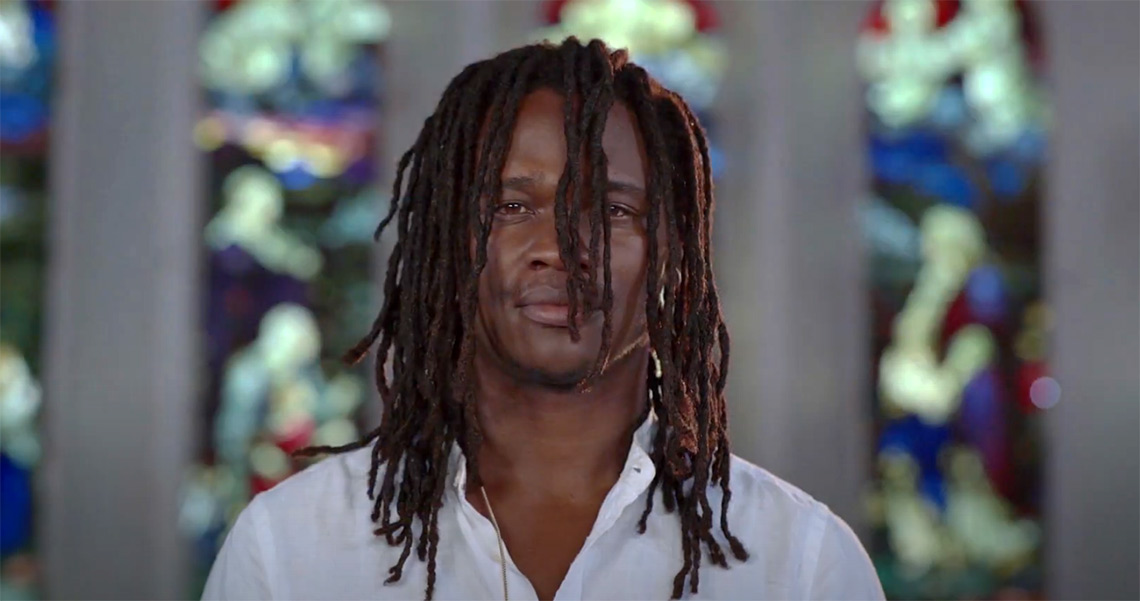 You want to invite M1 to come to Jamaica for the video?
Yes, definitely, he is willing to do that because he has Jamaican roots same way and we'll probably shoot in more than one location, so we might do a little here and a little in Miami, so let's see. And Chevaughn, Live Another Day also has a dope video concept but, you know, budget is everything. I'm an independent artists at the moment, I'm not signed, I don't have any big backing from anywhere, so I can't think more than a video at a time. I think having the right mind set and concepts for these videos, definitelay they will be done. I'm getting good feedback so far from Remember Me on Youtube, people are really tuning in and are like 'Yes Kumar, we like the vibes!' so I'm happy for that.
For the album on the whole, how you wish people to receive it?
Just have an open mind. Have an open mind receiving it, do not judge me, do not judge a monkey on swimming in the ocean like a fish, you just have to take my music for what it is. It's a body of work that I took my time to actually put together, based on how I felt. Not everybody is going to like it, but I hope everybody receives it. What matters is that the message is going out there and there will be people who like it, so give thanks for an open mind and thank you all for listening to the album and go get it! You've been listening to Raging Fyah albums and you definitely don't want your journey to stop with Kumar, so see what else he did!
We hope that the situation will soon be over and we can see you live again!
Definitely! I'm looking forward to tour in Europe properly after all this is over, when I can go back in the venues. I miss those days, touring properly with a band and doing all these shows, and I hope that people will not get too scared and are afraid to come out!
The band you mentioned, can you say who it is composed of?
Yes. They are called The Habaneros Squad, that's my personal band made up of Jason Worton on guitar, Patrick Shawn Anderson on drums, Shemar Robinson on bass, Aaron Brown on keys and engineer Mahlon Moving. Gizmo was a part of the band, but he's slowly declining from touring altogether. The band is there and I have great musicians and they tour with me already since I'm on my own, and I enjoy working with them, it's just a matter of rehearsals, rehearsals, rehearsals and getting the right sound. I recently added a trumpet player to my band, Neil, so next time people in Europe see me I'll definitely have horns in my band. Proper sound! Kumar is coming back.
Do they play on the album as well?
Yes, well, Neil palyed on Jamaica and Dean Fraser played on Dry Bones and then Shawn he produced Loyalty. And then you have Debo Ras who did harmonies on Race Of Your Own as well as help co-write with me, and Gizmo played on songs as well... everybody worked, Shemar played bass on Loyalty, so everybody got a chance to feature on the album and I think for the next album I wanna do a full live album with my band. And maybe it will be a Roots Rock Reggae album (laughs). At the end of the day all of this takes work, patience and determination, that I'm slowly exercising everyday to be where I'm at.
Speaking of Debo, last year when I was at his place in March you worked on a track with him and Jesse Royal... has this ever been released?
No! Actually I just came off the phone with Debo before our interview because he is in Miami and he was like 'Kumar, we need to re-record Jesse's vocals because I lost the files!'
Oh no! That was such a dope song, I was looking so forward to hear it!
We just need to get this back. I have a version of the song, but that's just a matter of... that's just me and Debo wearing producer hats because we try to do everything, we just try to work and keep things going.
Thank you for the insights. I really hold my fingers crossed for the album, May first is just around the corner. I'm very curious how people will react...
Which song is your song on the album?
Well, I really like... I would say my favourite is Dry Bones, the Reggae version, but I really like Grain Of Sand also, it really caught me in a way. And Remember Me of course. I think these three are my favourites.
Well, at least there are three that you like, so it means the album is good (laughs).
I have to admit I was surprised, because people are used to a different Kumar, but I think it's great to explore new versions of you, it's great to hear your voice in different contexts.
Yes, it's a little bit brave, but I gotta be brave and take chances.
Do you feel we left out any song?
I really want to say Trading Places is a good song, it's the first song on the album, setting the pace, to let people know that remember the good and the bad times... Nothing to eat but you are still ok, time will come when we all have to trade places. Trading your sorrows for joys, you know, everything has to be traded one day, that's what the song is about. It is also a hopeful song, there is hope, just believe, it's never too hard. That's what the album brings across. That's the common denominator through every culture: everbody has hope, everybody always tries to find hope, that one thing that makes them feel better.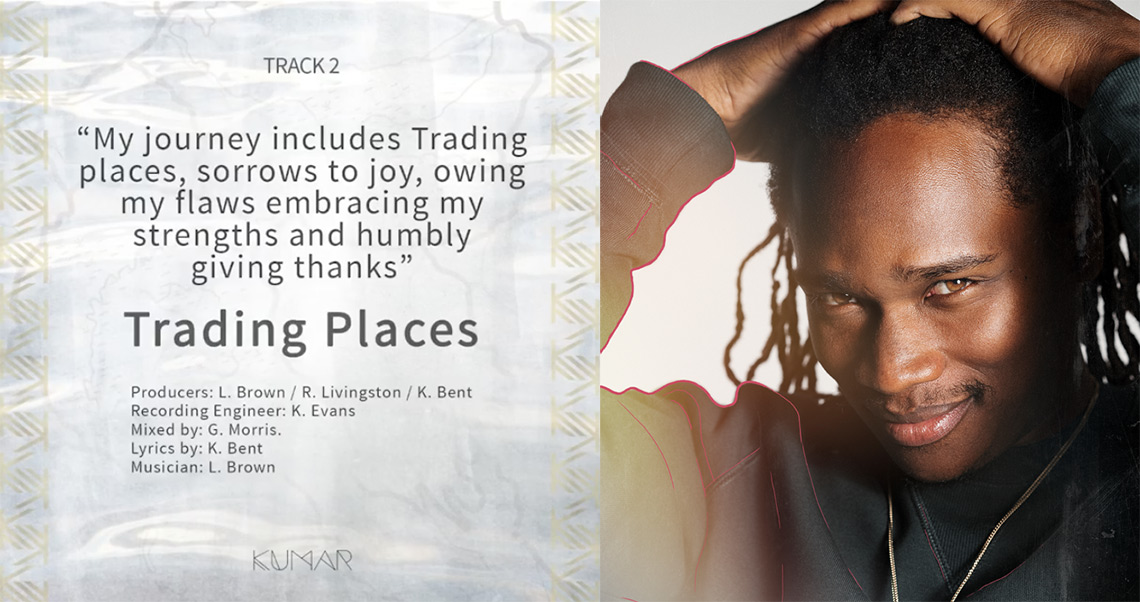 Cool.
We also need to mention that Baco Records is distributing that album, and Danielle's company Music Movement. The record was produced by KWMG which is my company, Kulture Walk Music Group.
So you made a whole label?
Yes! I registered a label, so I think from now on that's what I'll be using to do my business. So even if a label comes and wants to sign me, they are signing my company because at the end of the day I'm trying to have some form of creative control. These are the little things that Protoje teaches us, he is very smart. He shows us how to actually still have some creative control so I'm learning everyday as I go along.
Build your empire!
Yes, and build it slowly and I think I'll be getting a lot of new fans from the album, I think that people will appreciate the fact that I went out on a limp. (laughs) That's what I tried to do, everything is a different sound, for the youths as well, younger people can bounce on the beat and still get a message in it.
I think that's a good note to end the interview on. A lot of new fans to explore your work. All the best for you and your baby!
And other babies are definitely coming and people don't need to give up on Kumar because there is more Roots music, I have a whole hard drive to still their appetite. And I might be in Europe before the year is out!
Good to know. Thanks for the insights, Kumar!