Review
Album Review: Raggabund - Buena Medicina
06/28/2015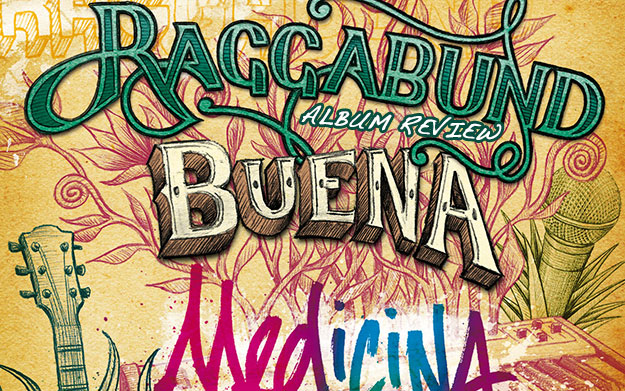 Raggabund consists of two brothers, Paco Mendoza and Don Caramelo. Both are, well, veterans of Munich's hip hop and reggae scenes. Don Caramelo left Blumentopf, one of Germany's most successful hip hop combo ever, in 1995, and ever since, he has been the lead singer of the reggae crossover project Les Babacools. Paco Mendoza runs a regular show called Mestizo FM at WDR Funkhaus Europa. His biggest success to date was Ridley Scott using his song La Frekuenzia in his 2014 movie The Counselor.

When both brothers work together, they mix reggae and dancehall with Latin influences. As Raggabund, they've released two albums so far, Erste Welt in 2006 and Mehr Sound six years later. Buena Medicina is their third long player, and this time they teamed up with Swiss reggae band The Dubby Conquerors to, well, take it back to the roots–it's analog sound all the way now, following the current trend. Raggabund wouldn't be Raggabund though if they'd only copy Jamaican styles of decades past. There's some jazz in it, cumbia, and hip-hop-oriented vocal styles. Their signature style has its fans: a successful crowdfunding campaign to finance the album that collected 12,000€ proves it. Part of Raggabund's identity are politically conscious lyrics, kept in German, Spanish, and English. So Nicht Geht is an example, the track denounces the current status quo of German politics with all its effects: Nazism, poverty, war.

Nazimann is another, the song that features Mexican artist Lengualerta is overly simplistic, though–reducing fascism to the stupidity of its followers means failing to understand its function in capitalist society. Cui bono would be the question to ask. Anyway, Buena Medicina sounds best when Raggabund takes it truly old school. The rocksteady anthem Rock'n'Roll Girl is a highlight of the album, as is Bad Mood featuring German reggae singer Sebastian Sturm, whose raspy voice lends itself perfectly to lovers rock. That's when this album becomes good medicine indeed.
---
Release details
Raggabund - Buena Medicina
DIGITAL RELEASE / CD [IrieVibrations Records]
Release date: 06/26/2015
Tracks
01. Quiero Bailar
02. So Nicht Geht
03. Rock'n'Roll Girl
04. Im Gestern
05. Im Gestern Dub
06. Buena Medicina feat. Maria Rui
07. Nada Sirve
08. Nazimann feat. Lengualerta
09. Patrol Skit
10. Chilling feat. De Luca
11. Chilling Reprise
12. Bad Mood feat. Sebastian Sturm
13. Gestern War Gestern
Featured artists
Sebastian Sturm