Interview: Queen Ifrica Talks Real in Kingston
03/07/2017 by Angus Taylor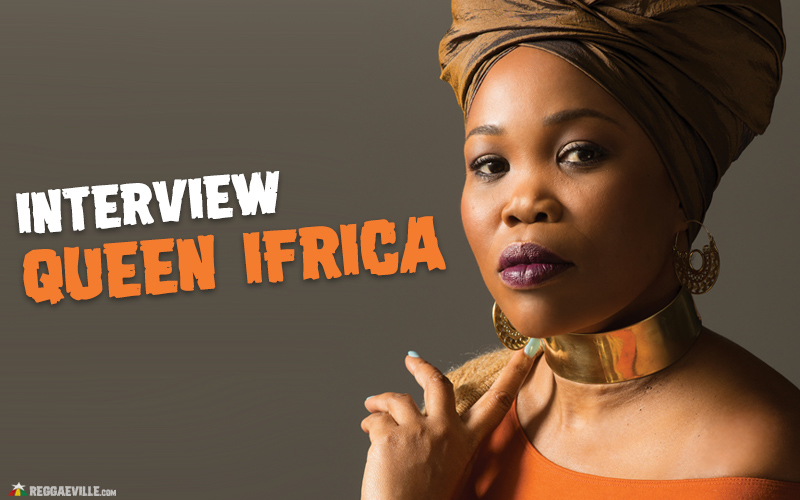 Outspoken Rasta singer-deejay Queen Ifrica released her long-awaited third album, Climb, on March 3rd.
The 17 track project contains productions from Tony Rebel, Rickman 'Jamplified' Warren, Clive Hunt and Donovan Germain to name a few.

Angus Taylor met Ifrica at Tony Rebel's Kingston headquarters to discuss her music and the social conditions that inspired it. The Queen, as usual, was keen to tackle controversial and difficult topics. She held forth on the recent murders of women in Jamaica, the worldwide revolt against economic liberalism and globalisation, and her strong views regarding promiscuity.

But she also shared more personal revelations: the connection between her father Derrick Morgan and Bob Marley, whose son Damian guests on lead single Trueversation, and why she performs without shoes.
You've just come from rehearsals for Beres Hammond's Love and Harmony Cruise. Have you ever performed on a boat before?
We were doing rehearsals at Harmony House. Beres does have some really good musicians around there. It felt good to sing with musicians that play so well. I have never been on the sea! Well, I did when I went to South Africa. We went to Robben Island and we travelled on the original boat that brought Mandela over there. I was also pregnant so I was very nauseous and rocking all over the place! That was my first sea experience. We take ferries when you're touring in Europe but to really go off on a cruise and perform? I have never really done that before. I am looking forward to it cautiously. (Laughs)
Robben Island is an intense experience.
That was deep. That was eye-opening. Because here we are on an island created out of racism and division but then when we got to the harbour it was people from everywhere, every culture, every colour, on board the bus wanting to see this history and what it means to fight for freedom, for togetherness. And it was interesting on the bus because the conversations were so full and good. It brought you into this consciousness. You were driving by the mines, you were driving by the holding areas and the history was told to you step-by-step. We went into Mandela's cell and we saw where he sat and wrote his books. We got the opportunity to sit there as well so we had to document it from a spiritual level as much as being in the physical. It was really a very fulfilling experience for me.
You've also been performing recently during Reggae Month. I saw you perform at the Black Am I show in the Tavern community.
You know what I love the most about Jamaican people? They love what they love. And when they do they make you know this. I walked out and all the people were gathering to the stage saying "Yeah! That's my girl! I love what she does!" That is very welcoming because when you walk out on the stage you never can tell what mood the audience is in or whether they will accept you. With Tavern I love the fact that they're doing it for Reggae Month and to do something in the community from a charitable perspective. It is very commendable of the ones that do it yearly.
When you walk on a stage do you still keep that part of yourself from the days when no one knew who you were and you had to prove yourself?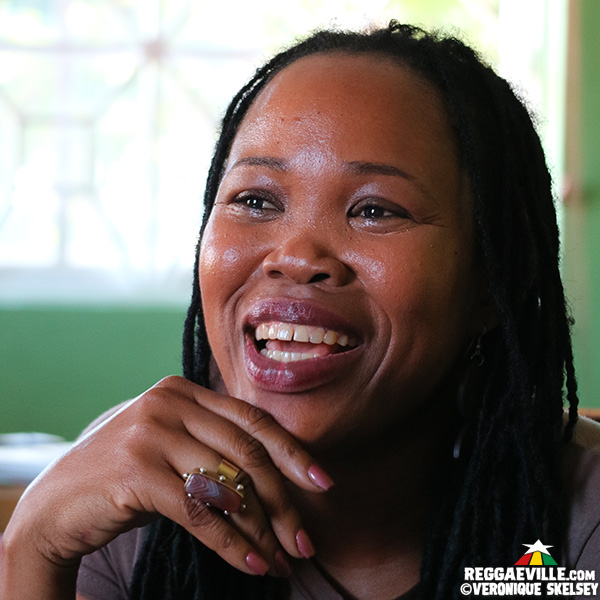 It is always there. This is one of the reasons I don't wear shoes on stage. Because when I'm barefooted I feel grounded. I feel connected. I feel the energy of my audience. I feel like I'm standing in my yard talking to somebody. That's how it used to be before music. We'd stand around with each other. We'd communicate, have reasonings and stuff. And the stage is the biggest yard to stand around in! (Laughs) I don't try to keep it where it was. I just tried to live in the fullness of understanding that I had the privilege to move from that stage to this one.
I believe it has been scientifically proven that that when you can feel your feet touching the ground the chemistry of your brain alters and becomes calm.
You're centred. It's like in movies when they say "Kick your shoes off. Take a walk in the grass". It takes you down. It gets that nakedness that we came into the world with. That's why we respect Mutabaruka because he has done it now for over 30 something years! He's been walking grounded and we appreci-love that. The way he connects with his audience and it is based on him being levelled. That is an element I try to never lose.
Last time I saw you in Kingston you were in the process of recording the song Good Man for the new album Climb. How do you feel now the album is finished?
Here in Jamaica and what's happening now - like women being killed by their men and all the bad stuff that's been happening, I think it's a breakdown of communication in the relationships. There is no reciprocity. No togetherness. No mutual understanding. You find that people feel left out. We live in a society where the man is mostly demonised. But it doesn't mean the men that are demons are in the majority. It is just a few men who were disconnected in the youthful days of growing up.

So when I do a song like Good Man I am talking to the brother that really feels like "but I'm here doing this good?" "Am I not counted for?" "Doesn't anybody see?" People are asking all the time "Where are the good men?" and I as a woman say that there are more good men around then the bad ones. It's just that the element that facilitates the negatives is what makes it popular. And so people would use a few bad men, who have the examples of another few bad men, to judge the whole scope of what a good man is in the true sense of the word.

That song was written before a lot of these killings were happening in Jamaica. And it brings it where there can be a discussion about it. For the sisters to really understand that this thing has to have a balancing, where we talk about who is being treated better or not?
Which other songs on the album are you excited about? And which have pertinent messages for these times?
Pleasure To See is one that springs to mind. Why? It is a song that is talking about people coming together just for the sake of being humans living what it truly means to coexist. We look in the world today and all we see is just layers and layers and layers of division. We are saying it is a pleasure to see people coming together and having a camaraderie. We're doing it from the vision of being on stage and seeing people of all cultures come together but we'd like to see it on the scale where the world comes together, for a change! It is not preaching. It's not asking for the impossible. If we can be so divided with hatred what if we try to be together with love for a change?

Black Woman is another of those songs because we see here in Jamaica that the deterioration of our women and young girls is beyond low right now. Girls don't feel morals anymore. They don't feel they should love themselves. They feel like the more you degrade them is the more likes they'll get on social media. So you find there is a serious breakdown in their self-esteem and the things they do to be seen. We're just saying to the black woman in particular: "You don't have to get up every day and continue to be that. Think better of yourself. Be better of yourself". It's for women in general but then "We dance a yard before we dance abroad!" (Laughs) Just trying to remind our sisters and younger sisters in particular that it is okay to have fun but be aware. Be conscious. Because when this party is over there is reality too.
Let's also talk about the first single, and sole collaboration, Trueversation, with Damian Marley…
There is only one collaboration on the album this time around. But it is with the best pick ever- Damian Junior Gong Marley. That is special for me because Bob Marley doesn't just mean a name to me. Bob Marley was an ultimate humanitarian. He did it selflessly on every corner, at every turn. My dad played an integral role in his in his appearance in the music field with the likes of Jimmy Cliff.
Because he was the A&R man at Beverley's records in the early 60s?
He was the A&R man at Beverley's! He chose the song for Bob, sent it upstairs and it was also chosen up there. I don't say that from bragging. I say that from being humbled that in the next generation of offspring I could come together with Junior Gong just by picking up the phone and saying "Could you please do this combination with me?" And him being humble enough to say "Of course Queen. Let's do it." At the end we have Trueversation where everybody seems to love that we cannot just talk on the phone or Skype but actually try to have a one on one with each other and do talking as talking is meant for.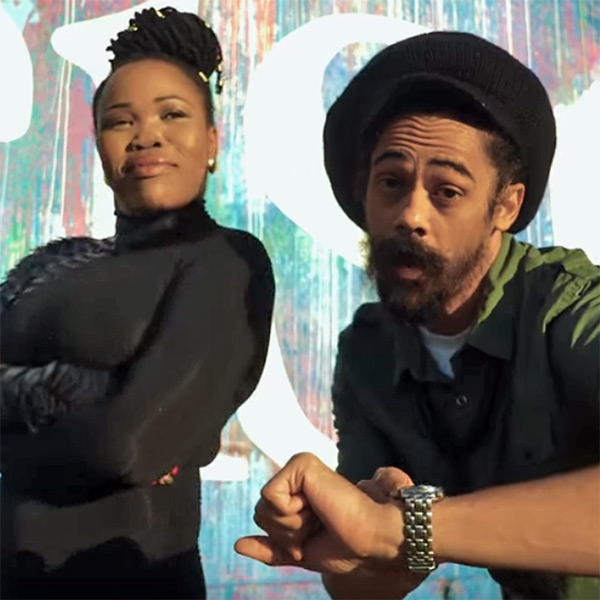 The last three topics - the difficulties women face, Bob Marley, and honest conversation - came together in the live Facebook video you released on February 1st, Bob's birthday, in response to the killing of Nile Brown. You talked about a lot of different things - the state of Jamaica, women's self-image, foreign corporate entities. What kind of feedback have you had about this?
Let me tell you. You know the Dalai Lama and the Gandhis? These characters represent something that is outside of the norm. The norm would be the system and those who push against it. But then you have the Dalai Lama in the middle who is there to say "Hey guys, come on now!" "Let's talk about this in the real way we're supposed to". I see myself in that way in music. So it's never about my personal views or opinions. It is always about being a catalyst, a conduit for the voices that need music for that purpose. That is why we speak on the things we speak on.
Often concerns over violence in Jamaica are based on how this is going to affect tourism. But your live video was talking very much from the perspective of people here, working for foreign businesses.
We all want to develop. Development creates opportunities and jobs for young people and all that good stuff. But we're not seeing the reflection of it in the mass. When you go into the real communities of Jamaica there are too many youths who do not know what they're going to do from the next minute you see them standing there.

The Jamaican Labour Party is 74 years old and the People's National Party is 79. You have one of each party that has ruled for maybe half that time. But when you look at the people who really support these parties to make them who they are? Our female ex-prime minister Mrs Portia Simpson Miller, her constituency is the worst among all constituencies ever. If you're responsible for such a vast majority of the poor that you say you love so much, why haven't you put your feet down to say "I need something done about Maxfield Avenue. I need more infrastructure, better housing, the roads to be clean, further lighting, for young girls to feel safe, to walk into their inner-city communities. In modern times you have communities who will defecate in bags and throw it over a fence or a gully. Why don't they have proper bathroom facilities? Who is responsible for these things?"

But then you come to Parliament and say "Oh there's an investor coming in from Israel, and there is one coming in from Russia, and we're going to build a chain of hotels and we are going to employ 200 youths". It is three point odd million people living here. That 200 is a drop in the bucket of thousands who are lined up for that opportunity. So music is the Dalai Lama that provides a free voice to say "Take a chance on the people who have been taking chances on you since forever." That's why Donald Trump is president of America. Because people were so fed up that they chose the first thing that came along from something different! "Okay that's different, come on in!" (Laughs)
What can be done about this? There have been foreign businesses deep in the island of Jamaica since before independence. In the 80s they got even deeper.
It can be fixed. I talk real, I don't beat around the bush. That is why the majority support what I say and say "A true Queen". You can't fix everything. There are going to be lazy people who it doesn't matter how many opportunities they get, they will not do anything about it. But for instance let me use one of our prominent phone companies. Digicel has 2 point odd million customers out of three point odd. I remember when Digicel was first mentioned in Jamaica. I remember an article, I think it was in the Observer. They were giving Mr O'Brien, CEO of Digicel, an award for being this business that just came along and boomed. I was reading it because a lot of things they don't want the majority to know, they put it in the paper and make a looooong article! So the regular man is not going to be sitting there on a Sunday reading that! But people like us, who look out, read.

So from reading this, he explained that he was coming out of bankruptcy, in Ireland he had a business and it went bankrupt. He said in the article that he was sitting and he bid from a bar in Dublin. I will never forget it! It sounded like a lyric in a song for some reason! (Laughs) He was in his bar moping that his he had just lost all his business. However he said he had an agent here in Jamaica that was doing some looking around for him. The agent called him, told him there was a licence about to be dispersed and was he interested? He said he asked a couple of questions like "How many people are living there? What's the competition like?" You know how simple those questions are? He won the bid and he got the opportunity and he came to Jamaica and Digicel started.

Today, 15 years later, Digicel is a billion dollar enterprise. They can branch out into the Caribbean, branch out into the world. That is development happening in this very bloody country, this terrible place where people can't even move from place to place without being raped. If there wasn't an investment opportunity here they wouldn't come. So we are saying "If you can come here and set up from scratch, you did your ads and got people to buy your phones". They were selling phones for a dollar when they just came here! (Laughs) I can count on one hand the people now who can walk into a store and buy a phone and walk out. So that's you really working a strategy out in how you will get what you want from this audience. But what is the audience getting back from that? That is the problem.
So what's the solution?
We're saying "Come in, develop, do all the things you do but don't just give back in the form of doing beautiful commercials, or at Christmas time coming to the town you give away a few hats and T-shirts. Not just doing some little giveaways in school or building a toilet here and there. We want to see serious infrastructural organs being set up where youth are taught to be entrepreneurs themselves."

Let me use another example. There was a fast food joint here where a girl was killed. She was working at this fast food joint. Terrible gruesome death. Everybody was thinking it would be nice for that branch, not the entire establishment, but for that branch to give those workers a day off. Let them mourn that they have seen this girl every day in this space. I was watching something where I saw that they went to the store to interview the workers. Her best friend that saw her last, you could see the literal pain and weakness and confusion. She was like "This can happen to me". And you're saying "Just move on. These burgers have to be sold".

It is a disconnect with humanity. It's an exploitation of people who are only used to being exploited. It would seem as if I'm an enemy of development and all these good things coming into the space. But at the end of the day it's the same issues you hear in America. That's the same reason there is a Brexit in England, because people feel other people are coming into their spaces and doing what they want and the locals are not benefiting from it in any way.

That's all Jamaicans need, an opportunity to be the people that they want. The powers that be know this but then there is IMF money to be paid off. All these debts and who is going to pay them? So you have to clamp down on the free-for-all and doing what you feel like and come put things back. It puts you in a sphere of 'enemy of the state' because they'll say "She's talking nonsense". But then the majority is echoing "That's true". It means that you need to, for once, listen to the mass. Listen to the voices of the people because they are the ones who make you. So they should have a say. In everything.
You've also talked about energy drinks and how they're marketed. In Europe energy drinks are marketed a bit differently. "Get that extra energy to get more done in your day".
Thank you! Responsible marketing! The difference in Jamaica is the only marketing strategies are ladies with very voluptuous arses shaking it beside one of these so-called energy drinks. It is only suggestive of what is going to happen in the bedroom. There's nothing about that little athlete who is running to become like Bolt. No commercials about "If I drink this I might get an A tomorrow". Nothing along those lines!
And what they do is they use the language of the people. They call the drinks a word that Jamaicans use naturally. I'm not going to name them because I'm giving them too much free advertising as it is! What they do is use the emotions of your accent and how you communicate. That is how technical they are with this. But it is never used to facilitate helping a little girl who doesn't know how to get home from school and not get raped. It is not used blatantly and profoundly in that manner.

And they have some very eloquent, I call them "house slaves", who come and say "Yes this is the new product and its energy". They say all the things that they should say in the broader scope but they only say it responsibly on the television that is being nationally watched when they want to desensitise it and make it look normal. Then you walk in to the bar and the first thing you see is some breasts and the brand name.
Too many of our young people are exposed to drinking these things and they all have side-effects. And not only that - they are mixing it with other stuff. Everybody is just doing whatever. It pans out in the dances. You see how these ladies are beating their private parts as if they want to take it out. They're like "What is under me!" (Laughs) Because they are oversexed up. The artists are there pumping them, these drinks are there, they're sipping on this and popping that and it's all this big party and everybody suffers.
It feels like the world is very fragmented at the moment. On the one side you're being critical of these businesses. You've said that you support Bernie Sanders and you don't support Donald Trump. At the same time many of the other people around the world who are anti-corporate might disagree with you about other issues such as feminism, promiscuity and so on. Is there any way that people can all come together in these difficult times?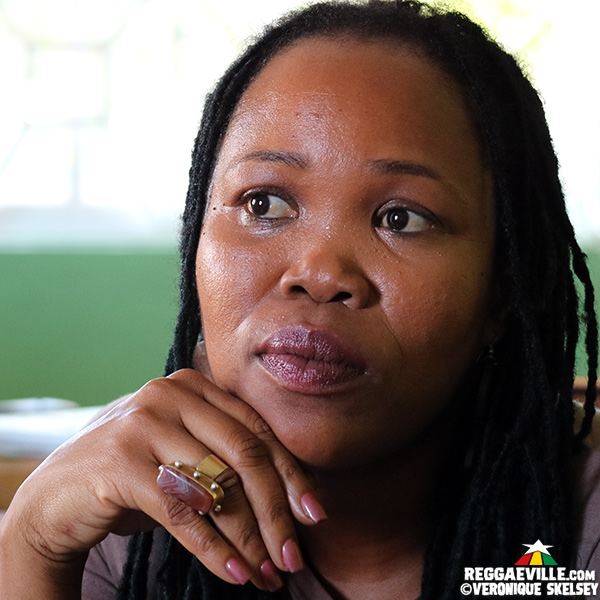 There is you know? How I look at it is - there is the church and then there is the party. That's life in a nutshell. You are free to act in whatever way with youthful exuberance. It is your time to do whatever. But there comes a time in life when there are realities to be faced. And that's where everybody heads to the church - "Lord, I know I might have stayed away a little too long but I am ready now to do what's right". What we're saying and I think people in general are saying is - darkness-light. Good-evil. Happy-sad. All of these things coexist alongside each other. They are always being used alongside each other. So let's first understand that.

People in Aleppo don't care what's happening with Russia and whatever. They just want to get up, send their kids to school, have a meal, tuck them into bed. They might not even have a religious outlook on life. But because of where they find themselves living in this time, they are bombarded by "justifiable-reason bombings" and "not so justifiable" but at the end of the day it all boils down to bombings. So we're saying "Come to the table, take a different approach. It can't be that killing from either side is justifiable."
That is why we remain relevant. Without the fanfare of the big support, because the big support comes from who supports the negative. So if I were to switch around and change up a few of the things I say and take off a few garments and come to the flock and say "I am here. I am not going to do the culture thing anymore. I think I just need to wind out and break out and because at the end of the day I have a right to do what I want". Then you check how many people would also be disappointed? But in the case of a Lady Saw, God bless her soul she is now a Christian, who would say "Look I am tired of supporting this negative. I am going to do something more positive with my talent. With the people I influence." They would not even get the praise like if I were to leave and do something negative.

Because at the end of the day, that is what facilitates the selling of drinks and the selling of lewdness and promiscuity and fornication because the money comes in big there. Child pornography, child slavery, human trafficking, all for the satisfaction of some sex. It all boils down to big greedy men and women wanting sex. And politicians who want to be the only one - big and mighty and powerful. All Christians wanting to be Jesus the only God or Allah or Buddha, if you know what I mean?

We are all humans. You might have a lighter, white complexion, I might have a black complexion. We have eyes in the same place, nostrils in the same place, ears in the same place. Men's beards grow in the same way, women's vaginas grow hair in the same place. That is the example that nature has in front of our faces to say "You don't have to be a divided world. We can all be around each other with all the differences that we have and there could be harmony in the world."

That's what we represent in music. We need it in politics. We need it in the communities from the social workers. We need the gatekeepers. It shouldn't be that so many pastors in Jamaica are raping girls. They just simply shouldn't be. We are humans and we err. But we also get a second before we do anything good or bad to make that decision. It's for us to tap back into that energy as people. Until the day I die I will speak from this place, not being perfect, but understanding that even though you're not, it doesn't mean that you should lend yourself to imperfection. You should strive to be a little bit above what is expected of you.