World Reggae Contest 2016 - Meet The Finalists... QUARTIERE COFFEE
08/08/2016 by Gardy Stein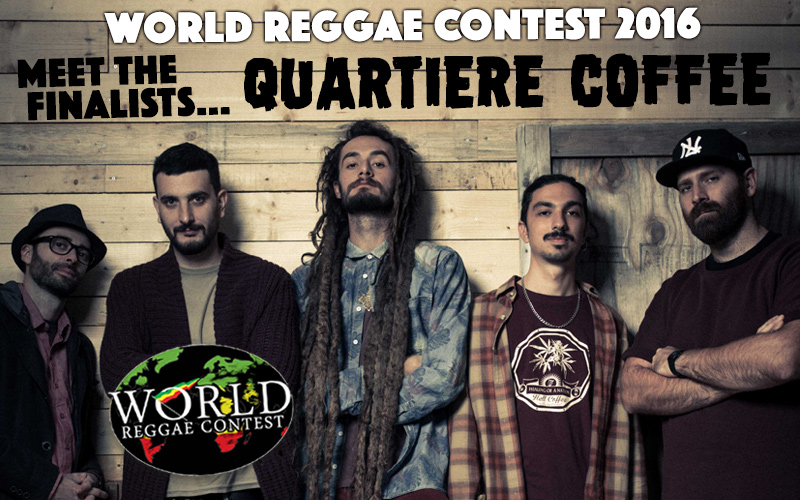 The next finalist that will perform at the World Reggae Contest in Ostroda come from Italy. Filippo "Rootman" Fratangeli (vocals), Matteo "Mr. Maggio" Maggio (drums), Matteo "Bigga" Varricchio (bass), Marco Vagheggini (keys) and Filippo Scandroglio (guitar) started out in 2004 under the band name Quartiere Coffee and have come a long way since. Three studio albums (In-A 2008, Vibratown in 2010 and Italian Reggae Familia in 2013), collaborations with the likes of Lion D and Elephant Man as well as countless gigs on local and international stages have firmly established their innovative musical concept in the European Reggae community. With inspiring lyrics and a charismatic lead singer, the band is now ready to take the next step – from Italy to the world! They share the following answers with us:
 
1. Your expectations of Poland:
In Poland, as in the rest of the Europe, Reggae culture is very alive and active, there are so many venues and promoters that support Jamaican music. We are definitely expecting a lot of interest towards our sound and we hope to expand our fan base even further.
 
2. What can people in Ostroda expect when you appear on stage? What does your live performance look, feel and sound like?
Our show features the sound and arrangements of the new, modern roots productions. Our tracks are really engaging and catchy and we expect to connect with Ostroda's massive and get them going!
 
3. Why do you deserve to win the contest?
I think the two most important factors that the winner should have: novelty and potential. And we believe to have both!
 
4. If you are the lucky winner of the contest, you will have the chance to record at a studio in Jamica. What does this mean to you? Do you have plans for that recording session already? Share your thoughts…
Winning means to have the chance to go to Jamaica and record our next album - that's a dream coming true! It would mean pretty much to achieve one of the biggest goals of a carrier for a musician, a true reward. We've been playing and promoting reggae music for 12 years now and we think this could be a showcase to promote our music all around the world. We've already put in motion the new album in these first months of 2016 with the release of two singles, We Are and Sometimes.
 
5. If you could choose freely, who would join you in the studio to record a feature/ combination track and why?
Many are the artists we admire and follow all around the globe, but for this work it would be amazing to be able to collaborate with Bunny Wailer!
WATCH QUARTIERE COFFEE LIVE ON STAGE - August 14th!
LIVE STREAM INFORMATION HERE!