Review
Album Review: Lee Scratch Perry & Pura Vida - The Super Ape Strikes Again
11/30/2015
by Gardy Stein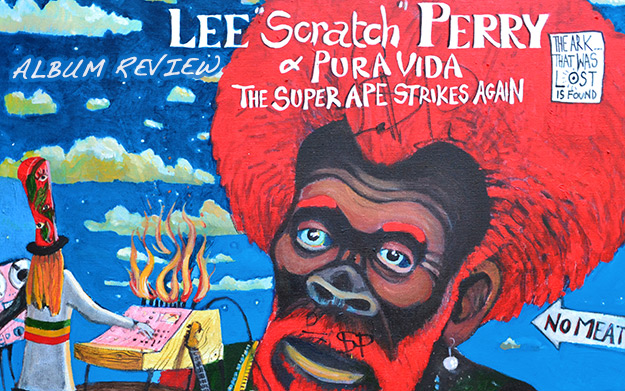 THE ARK THAT WAS LOST IS FOUND

With above statement boldly written on the hand-painted cover picture, the Super Ape is back! While other artists strive to be as conscious as possible and want to be taken utmostly serious, Lee Perry seems to intend the opposite. Both his stage shows and his productions tend to celebrate the odd, the bizarre, the peculiar – the weirder the better! His new release is no exception to this mission, the results of which are certainly unique, but not necessarily agreeable to everyone's ears. With lyrical snippets like "Haters will be killed and traitors will be killed by ecstasy pill." (Heavens Gate) or "King Solomon, KungFu-Man!" (Roots Of Creation), he delivers his more or less understandable messages in his more or less pleasant singsong speech. Good thing that, with the Belgian Bregt Puraman DeBoever, the Scratch found a devoted student who made sure that the accompanying melodies are indeed enjoyable, successfully setting his band Pura Vida and formidable guest musicians such as Ernest Ranglin, Addis Pablo and Tommy Tornado to the task.

In Mystic Morning, for instance, flute and saxophone patterns as well as the melodica played by Addis Pablo create an open, magnificent dome of sound. Likewise, the To Lee & Mirri Dub (a livication to Lee & his wife Mireille Perry) wraps us in a spherical melodic creation spreading joy and well-being - without any vocals! Puraman's voice, by the way, can be heard on the subsequent Treat Me Right, a laid-back contribution by Pura Vida.

While Feeling So Good asks for the benediction of the herb, the title track Super Ape Strikes Again immerses us in questionable monkey noises and more of the eccentric artist's characteristic, ostensibly preposterous babble.

Most fun I had listening to Jesus Christ (although I couldn't establish the connection between song and title) and its beautiful dubbed version, Bamb Bamb Dub. Here, Perry is actually singing, and although the 79 years of his life have not left his voice unaffected, it sounds dulcet in combination with the backing vocals of Puraman and Nina Schelfthout. Two more dub versions (Apeman Cave Dub and Roots Of Dub) round off the 11-track package of music that brings back memories of the analogue seventies, a feat entirely accomplished with vintage equipment in the Lost Ark Music studio in Belgium.

Since 1969, not a year has passed in which Mr. Perry has not released, contributed to or at least recorded and prepared material for an album. With the current production, the Super Ape, accompanied by a like-minded Puraman, once more lures us into his extraterrestrial empire that only true fans can really appreciate, talking about the Last Ark (obviously referring to his former Black Ark Studio that burnt – or was burnt – down in 1979), butterfly attacks and cockroach killers. "Abracadabra, we are angel!".
---
Release details
Lee Scratch Perry & Pura Vida - The Super Ape Strikes Again
DIGITAL RELEASE / VINYL [Lost Ark Music]
Release date: 11/27/2015
Tracks
01. Heaven Gate X-tended
02. Mystic Morning
03. Feeling so Good
04. Jesus Christ
05. Bamb Bamb Dub
06. The Super Ape Strikes Again
07. Roots of Creation
08. To Lee & Mirri Dub
09. Treat Me Right
10. Roots of Dub
11. Dub Me Right
12. Feeling so Dub