Review
EP Review: Publik Report - The Journey
01/17/2020
by Steve Topple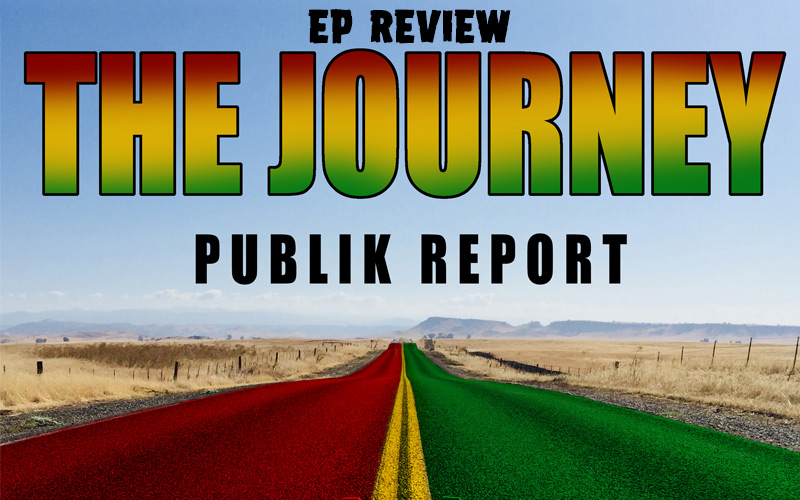 It's often said "the best things come in small packages". And with Publik Report's new EP, that cliché is certainly true.
Kemar Williams (who's also known for touring with Alborosie as a backing vocalist) and Nerada Brissette are Publik Report. The group was originally a four piece back in 2012, but since 2015 Kemar and Nerada have worked as a duo, releasing a sporadic string of singles.
The Journey, released via their own label, is an astonishing piece of work. Along with producers C & R Mcleod, Lincoln Thomas and Daniele Maruccio, they have created an EP which acts every bit as a taster of the potential to come.
It opens with Journey, which is probably the most Roots-orientated track of the EP. It's deceptive at first, though, as the intense Funky Soul electric guitars catch you off guard. But it then moves into more familiar territory. A Rocksteady bass, bubble rhythm and a syncopated one drop signpost to where Publik Report have taken you. Remember those Funky Soul guitars, though – as they hint at the rest of the EP's direction.
Babylon Have The Nerve (originally released in 2017) features the instantly recognisable talents of Freddie McGregor and Gentleman. The track keeps us in Roots, but starts to introduce more musical themes. Dub gets a look in with the heavy use of reverb and some choral synths. Meanwhile, the drums bash an almost Hip Hop/one drop line, with the bass on an incessant lick. The backing vocals switch between call and response and something near to Doo Wop. All this leaves just a bubble rhythm, almost out of earshot, as the indicator of Roots.
Next up, Only A Kiss featuring the gorgeous vocals of Colombian Reggae artist La Tifa, again moves further away from Roots. It's in some respects a 21st century take on Lover's Rock. The bass is Rocksteady, the bubble pattern is there – but the track leans straight towards Soul, with its lazy electric guitars accentuating the second and fourth beat and an intricate percussive line. Meanwhile, Publik Report and La Tifa's melodic vocals follow a far more RnB-driven pattern, filled with syncopation, beaming of notes, improvised riffs and runs, and light and shade. The exception to this is La Tifa's solo verse, where she goes full on singjay. Perfection, personified.
The EP ends with Find A Way. It's certainly the most ambiguous of the four tracks. It tricks you at first, with EDM-like keys which are super-heavy on the dampening and reverb. But suddenly you're into Hip Hop/RnB as the chorus kicks in and the drums take the lead. Then, sharp breaks cut the start of the first verse up. And then, you suddenly notice there is a bubble rhythm in there, too. But wait – there's a separate, double time, Soft Rock piano line, as well! This awesome amalgamation of styles into a fusion piece finishes the EP's musical voyage perfectly.
But Publik Report's vocal performances and lyricism also truly impress.
They both have a timbre and delivery which exude the qualities of Soul singers. Kemar and Nerada effortlessly glide across a wide pitch range, being equally at home in raspy baritones, rich tenors and at times soaring falsettos. Their individual talents are possibly best displayed on Journey. But it also shows the duo's innate connection. Because their voices, while recognisably different, work perfectly together. Sublime.
Lyrically, The Journey is inspired. Journey's overt pronunciation of faith, despite whatever life throws at you, is perhaps the most poignant of the EP. "My heart may be in pieces but my faith's like the sun" exudes moving positivity. Babylon Have The Nerve is a damning narrative on the suppression of cannabis and "herbiologists" by the system and its actors. Then, Only A Kiss gives some lighter, more romantic relief.
But the albums conclusion, Find A Way, is lyrically as powerful as it is musically. The duo discusses how hard it can be to maintain a righteous path in life, when faced with temptation and turmoil. "Please protect me from the man in the mirror, 'cause he's the only one that can bring me sorrow". That some heavy philosophising if ever there was. The track's almost troubled lyrics and narrative finishes the EP perfectly; leaving the story open-ended.
The Journey is delectable. How Publik Report have managed to fit so much musical variety into just four tracks is truly impressive. But moreover, the complex vocal arrangements and performances are scintillating. And lyrically, they have created a thoroughly engaging project. The only drawback? This should have been an album. I await that with truly baited breath. Stunning.
---
Release details
Publik Report - The Journey
DIGITAL RELEASE
Release date: 01/17/2020
Tracks
01. Journey
02. Babylon Have The Nerve feat. Freddie McGregor & Gentleman
03. Only A Kiss feat. La Ti Fa
04. Find A Way
Featured artists
Freddie McGregor
/
Gentleman