Review
Album-Review: Protoje - 7 Year Itch
01/24/2011
by Angus Taylor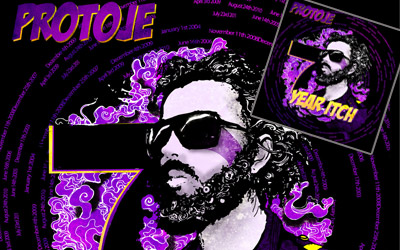 Protoje (born Oje Ken Ollivierre, St Elizabeth Jamaica) comes from a very musical clan. His mother is the singer Lorna Bennett while his cousin is dancehall and one drop producer Donovan "Vendetta" Bennett of Don Corleon records. Even so, it has taken him seven years from ending his studies to releasing his full length debut, produced by the Don, fittingly titled the 7 Year Itch.
The album uses the typically soft and soulful rhythms of Corleon (with almost no digital sounds whatsoever) to build some precociously ear-grabbing songs. Many readers will be familiar with the singles: the DJ Karim breakout hit Arguments, rootical prophecy Dread, auto-tuned island anthem JA, and hip hop Ky-Mani Marley combination Rasta Love. But it is the strength of the less commercial, more rootsy tracks on the set's second half – such as Wrong Side Of The Law and On The Road (on Freddy McKay's Nah Mek It Look So riddim) - which consolidates his success.
Protoje's lyrics are not sufferers laments. A fair chunk of his rhyming concerns girls and ganja yet – save his recollection of seeing a few harsh things go down on JA – he doesn't talk much about guns, just being arrested for weed on Wrong Side Of The Law. He spits pop culture references that will resonate with an international audience: during the catchy Roll, pre-released with the singles on a free download EP, he promises to "keep you posh like Beckham girl" whereas for booty call Overtime he confesses "you're my precious like Lord Of The Rings"!
That the penultimate track is a duet with frequent Corleon vocalist Gentleman should give a good idea of what to expect. This isn't rough and tough music, nor is it trying to be. But as examples of the poppier side of conscious reggae go, it's a male vocal album from the Don to rival Pressure Buss Pipe's.
---
Release details
Protoje - 7 Year Itch
DIGITAL RELEASE [Don Corleon Records]
Release date: 01/25/2011
Tracks
01. The Seven Year Itch
02. Dread
03. Arguments
04. Rasta Love feat. Ky-Mani Marley
05. Overtime
06. Roll
07. In The Streets (Interlude)
08. JA
09. Wrong Side of the Law
10. No Lipstick
11. On The Road
12. Growing Up feat. Gentleman
13. After I'm Gone feat. Jah9
Produced by
Don Corleon
Featured artists
Ky-Mani Marley
/
Gentleman
/
Jah9