The 8 Year Affair - Tune Fi Tune by Protoje
02/11/2013 by Protoje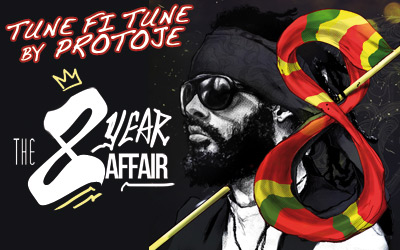 Tune 1: The 8 Year Affair
I started The 7 Year Itch with the same-named song, too, so since The 8 Year Affair is a continuation I wanted to set the tone as well. This song is talking about my journey and updating people as to where I'm at. I wanted the first song to be an introduction to give the vibe, where I'm coming from. This song was the last song I recorded and finished writing for the album. I always do my first song last. There is a lyric in the second verse saying "All the praise you gain can be taken all the same, I've seen it happen to you Usain. That made no sense to me, because look at his resume. Willing to say you're finished just because of a second place." That was when he had lost the race at the trials to Yohan Blake. I remember a lot of people in Jamaica were ready to write him off and saying so much bad stuff about him. If people can turn on Usain Bolt like that after what he has accomplished for this country, that just shows that ratings don't really matter. What matters is what you get from the music and what you feel. If you feel good about what you're doing, the praise shouldn't really matter because it can just be taken away by man any time. Jason Worton plays guitar and flute on it. He used to just play that little phrase in rehearsal and somebody suggested to use the flute, so we did it. It was just a good vibe.

Tune 2: I&I
That song was the first one we did experimenting with the new sound. It was the night when we just got the equipment and decided to test what it sounds like. When I heard the drums on that song I was like "Yeah, this is going to be it. It's on now!" I really liked the sound and also the flow. People haven't really heard me approach a song like that stylistically. I wanted to show that on that song and deliver a strong message to kick off the album.

Tune 3: Kingston Be Wise
I wrote that song in May 2010, when police and soldiers went down to Tivoli. We were up on the hill by Gabre Selassie that day watching the city burning. I got the idea for that song off that and that was when I wrote it. I really hope people listen to the lyrics. In the second verse when I am saying "Ah no Sons of Solomon dem have down there" I am referring to Back-O-Wall, also linking back Rastafari and putting it into perspective, what they did up by Pinnacle to Leonard Howell.

Tune 4: Hold You Know
I am from Santa Cruz, St. Elizabeth which is in the Western part of Jamaica and Kingston people call anywhere out of town "the country". This song is about a country youth taking a lady outside of Kingston and showing her the vibes of the country, the livity there, just the whole energy. He is giving her a nice time in a place that would be so unfamiliar to her and hoping that she is open enough to accept it and even wants to make it permanent.

Tune 5: Someone Like You (feat. Tessanne Chin)
I wanted to work with Tessanne Chin for years. She came to my show at Usain Bolt's Tracks & Records and I just told her in front of everybody "Yo, you got to do a song with me" and she agreed. So we went and worked on the tune. It is the slowest track on the album, really groovy and Tessanne is just brilliant. Vocally she destroys it. It was a joy working with her.

Tune 6: Around The World (feat. Chris Watts)
That was actually the first song I recorded after The 7 Year Itch in 2011. It just reflects the vibe when I am on the road travelling and someone wants you to come back home, so I was doing that in the form of a female. We were recording a demo version of the song for Maxi Priest or John Legend. So there was this youth who does a lot of background vocals on both of my albums and also sings with Tarrus Riley and tours with him. He did the demo version so good that ZJ Sparks and ZJ Liquid told me to give him a try and let him just do it. That was the first song he ever recorded.

Tune 7: Who Dem A Program
I heard the beat for that song at the start of 2011 and it was a new vibe. It was the first official single to come out since The 7 Year Itch, so I wanted it to change the tone and who I was, because I was evolving in real life and I wanted to sing about that. That's why Who Dem A Program signals a more militant side to my music than people were used to at the time.

Tune 8: This Is NOT A Marijuana Song
I didn't want the song to just be a song about burning ganja, burning weed. That's why it says "This is not marijuana music, just a message from the ones that use it, don't abuse it, 'cause a mind that's fertile brings forth something that's worth while". We can talk about marijuana, but I want to talk about it in a way that people understand, that it is not just to sit down and waste time, but it is to reach heights, to hold a meditation. The title for that song was something that I wanted people to see and wonder what it is about.

Tune 9: Reggae Revival (feat. Romain Virgo)
Romain Virgo is an artist whom I respect very much, so it was a joy to do a song with him. I speak about Tubbys, Winston Riley, Coxsone Dodd and Junjo Lawes, a lot of producers that I really rate and their sound. I was just paying homage to the greats and what they have done. I want to make them know that music is still here, alive and I'm ready to take it forward. Romain and I are bredrins, we see each other and we wouldn't leave each other out. He is a youth whose energy I rate and he is cool to hang around with. He is humble and we got along very well.

Tune 10: Come My Way
I really like that song. It's an acoustic track with the violin on it played by Sean Roberts. We were just jamming one day, Don Corleon played guitar, he played violin and we just wrote the song, we just came up with that energy. You can also watch that in a video on Youtube. I like the line in there that says "Better queen makes a better king, so let us elevate from lesser things". The song is to put the woman/man dynamic into perspective and deliver that with a strong message.

Tune 11: Shot By Love (feat. Toi)
There was a song that was supposed to be for Sean Paul's album but for some reason he didn't use the beat. I kinda liked the riddim, so I wanted to use it and Don Corleon agreed. Toi wrote the hook and I wrote the verses, and it was just a good vibe. I love the sound of this song, it is so different: the kick drum on it is just punching. I'm really interested to see how this song does.

Tune 12: Black Cinderella
This tune is a big one. We sampled the Black Cinderella by Errol Dunkley and it is a real rub-a-dub tune. There's a twist in it saying "She couldn't be my black Cinderella", so I'm talking about a girl, who is going on with a lot of things. I'm trying to tell a youth to be aware in these times and not to make the pretty glasses trick him. This song really has this big and heavy roots reggae sound. I'm looking forward to that one also.


Tune 13: Hail Ras Tafari
That song is one of my favourites on the album. I really love the sound of this one. It was just a reference to write this. Zuggu, Jah9 and me were at my house, just holding a vibe, singing, deejaying to it. That atmosphere made this song very special. It is hailing to the King. I sing this song in every set I play, so you better get used to this one. It is so nice to be singing it and performing it live. The first two lines of the song are "He giveth and He taketh away, understanding nothing is belonging to me", which is a constant reminder to me to live life in the now because nothing is promised.


Tune 14: Music From My Heart
This is my favourite song. It has so much power! When I recorded it, I was like "Should I put Music From My Heart at the start and put The 8 Year Affair at the end?". That was a real question, because it has such a good start. So I'll make sure I do it live. When I perform, I'll kick it off with that song. The last three songs of the album were really set to finish the album off strong and those final tracks drive home the point and the sound. Every time I feel like I'm going to cry when I write a song, I know it's really special. That tune truly reached me, especially the second verse. I'm just being so honest about how I feel about music and what is really important. It is one of my favourite songs I have ever done and I can't wait to perform this song on stage.


Originally appeared in the REGGAEVILLE YEARBOOK 2012