Reggaeville Yearbook 2020 - IN.DIGG.NATION COLLECTIVE Feature
01/23/2021 by Gardy Stein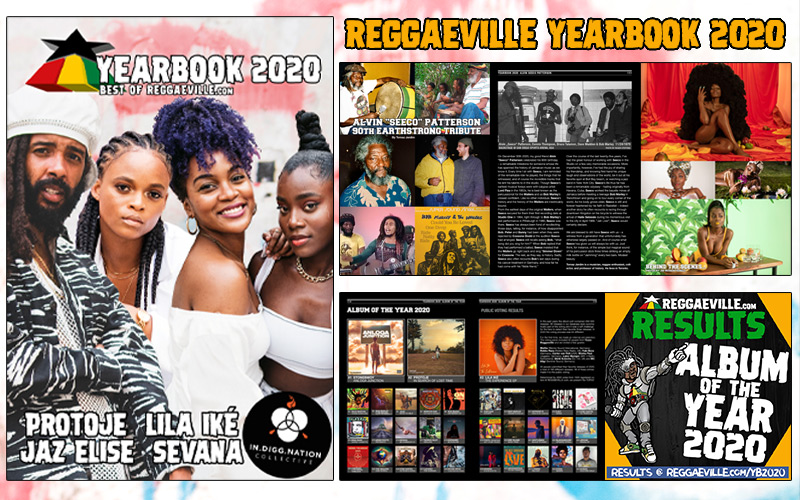 2020 is over - but hardly anyone regrets that fact. Global pandemic, a harrowing death-toll, lockdown, social distancing, cancelled festivals, a loopy president, droughts, fires, locust plagues... the list of personal tragedies and unpleasant memories is long.

Not everything was bad, however, and the stout-hearted chroniclers of Castle Reggaeville have set forth once more to gather those unique releases, special moments and remarkable developments from all reaches of our Reggae-Kingdom for our annual YEARBOOK.

Queendom, rather, as 2020 had an undeniable female energy: it was the 100th anniversary of women's suffrage in the US, the year of lawful gender-equality in German companies, and it saw an impressive legion of female singers conquering the international Reggae music platforms. Three of them (Sevana, Lila Iké and Jaz Elise) grace our cover together with Protoje, as his In.Digg.Nation Collective is the focus of an extensive feature.

Of course, we'll give the other great artists out there a spot as well, listening to what they have to tell us about their 2020 highlights and taking a close look at their releases. From a pre-selected 56 of these, we asked you, dear readers, to pick your favourite in our annual ALBUM OF THE YEAR Poll, and the winner iiiiis... *drumroll* STONEBWOY and his album Anloga Junction! The Ghanaian artist is followed by Protoje (In Search Of Lost Time) and Lila Iké (The ExPerience), while Buju Banton (Upside Down 2020) and Bob Marley (Live at The Rainbow) were voted on places 4 and 5, respectively. For the full results of the poll, check the Yearbook pages 114-115. READ & DOWNLOAD THE YEARBOOK 2020 HERE!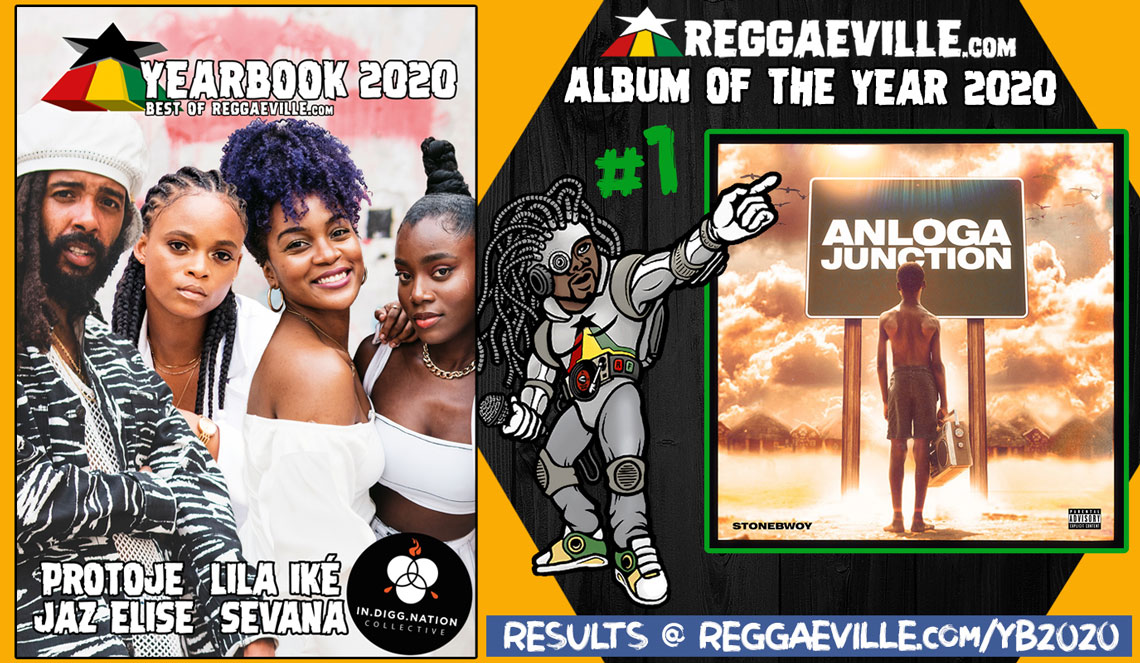 Speaking of drums: an additional gift is the article about the Earthstrong of Seeco Patterson who turned incredible 90 on December 30th. Since not all artists are blessed to reach such a biblical age, we devoted a few pages of farewell to those who have left us during the last twelve months, including Toots Hibbert, Johnny Nash, Bunny "Striker" Lee, Denver "Feluké" Smith, Bobby Digital and Millie Small. May they all rest in eternal power!

What else? Oh, you know what, just flip through the following pages and discover all there is to discover. As for us, we'll continue to do what we know best: we'll present you with our usual extensive, up-to-date coverage of what's going on in the world of Reggae, so make sure you follow us on YouTube, Instagram, Facebook and our website. And Spotify, as we have a choice of Playlists waiting for your ears.

Also, let's look ahead optimistically to a new decade that is full of promises. Off to the year of the buffalo, soldiers!

READ & DOWNLOAD THE YEARBOOK 2020 HERE!