Review
Album Review: Harrison Stafford & The Professor Crew – One Dance
05/15/2016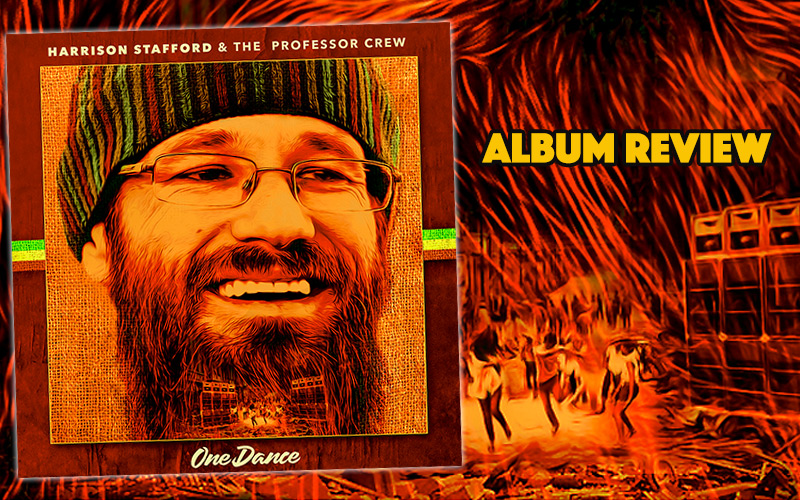 "The music will never let you down." Music has led Harrison "Professor" Stafford to an astounding number of some of the world's most amazing festivals and concert venues, music has shaped his academic, professional, and private life. While the Professor enjoys a successful recording and touring career with the reggae/jazz project Groundation, he likes to release a solo album every now and then to run free in his love for classic roots reggae.

After Madness (2011) and Throw Down Your Arms (2012), Harrison Stafford releases his third solo album now, called One Dance. While Madness was more of a concept album that dealt with his impressions from a journey to the West Bank, and Throw Down Your Arms basically a live version of the first, One Dance celebrates the roots reggae of the golden 1970s.

And bwoy, does he get it right! He invited some good friends to join him in studio, friends that happen to be some of those heroes he loved listening to when he was a youth still. The rhythm section consists of Leroy "Horsemouth" Wallace of Rockers' fame and The Roots Radics' own Errol Carter, more familiarly known as Flabba Holt. On keys, it's Lloyd "Obeah" Brown, and Dalton Browne on guitar. Together, they created an album that evokes the heydays of roots reggae perfectly from the first to the last note played. One Dance comes with nine songs and three dub versions.

The opening track, Jah Shine, calls for love and unity, denouncing both organized religions and politics as dividing people. Hush is a lullaby that makes you want to dance rather than fall asleep. Morality testifies for the Professor's irrefutable hope that things will change to the better eventually, based on a deep spirituality. The album's title track reminds us of the transitoriness of "the riches of this earth".

The Music explicitly connects Harrison Stafford's spirituality with the music itself. Young Dread sounds angrier, it's a cry to rally and "change the status quo". A bit unexpected is California, a tribute to the Professor's home state that isn't entirely uncritical. Giddeon plays with Old Testament imagery and is in line with Morality and Young Dread–a religious take to criticize the prevailing political conditions. So does Balance, but with a more positive angle.

Like any of his solo albums or the ones he records with Groundation, One Dance will be one of the most outstanding releases of the year. This all killer, no filler album shows Harrison Stafford on the zenith of his creativity. Listening to him and his crew is an absolute delight.
---
Release details
Harrison Stafford & The Professor Crew - One Dance
DIGITAL RELEASE [Soulbeats Records]
Release date: 05/13/2016
Tracks
01. Jah Shine
02. Hush
03. Morality
04. One Dance
05. The Music
06. Young Dread
07. California
08. Giddeon
09. Balance
10. Dub Shine
11. One Dub
12. Dubbeon