Review
Album Review: Prince Alla - Run Come
06/05/2016
by Gardy Stein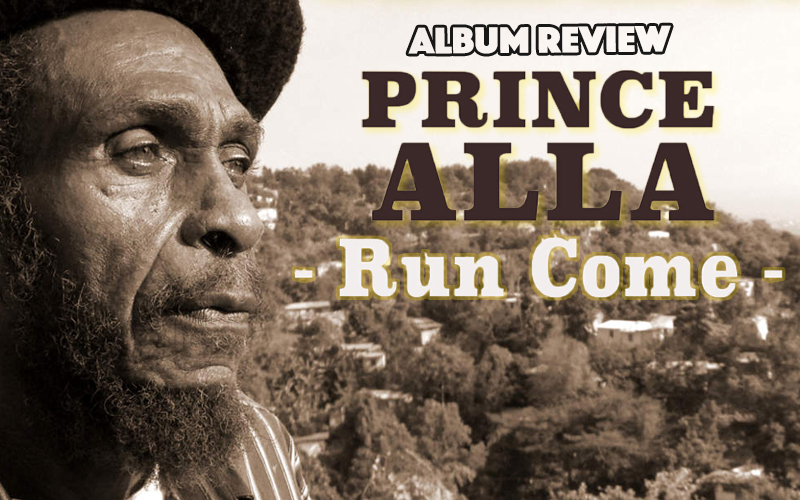 Foundation artists are the roots of Reggae music, no doubt. They are the ones who, back in the sixties and seventies, provided the basis from which the genre has grown and keeps growing. Unfortunately, many of them were not treated fair by promoters and music-companies, and even though their songs were and continue to be tremendously successful abroad (especially in the UK and Europe), they rarely reaped the fruits of their talents and efforts. This is the reason why, outrageous as this may seem, several big names die in poverty or are in dire need of financial help or medical assistance. Those few who are still active in the music business (such as Israel Vibration or Max Romeo) deserve our fullest support, be it in visiting the occasional stage-shows they manage to perform, by ordering dub plates or, if none of the above, by purchasing their music. This is your chance to do so: Run Come is the title of a new release by 11-7 Records that presents veteran Prince Alla fit as ever, delivering six brand-new tracks in his inimitable fervent vocal style.

The lyrics treat biblical subjects and issues of Rastafarian faith (as in Rasta Love) and reflect the influence of the years the artist has spent in the Bobo Camp under Prince Emmanuel I. Thus, we find a new interpretation of his classic Lot's Wife in Pillar Of Salt, and the title track Run Come is a direct call to the "Zion children" to assemble in worship. Apart from these spiritual musings, Prince Alla also has some real-life advice for us. Always Crying tells us to dry our tears and stop sighing and crying, while Be Thankful advocates an humble, grateful way of living, among others: "You have to be focused with a positive mind, you have to be creative and always be kind." In Ethiopian Vibes, the elder sings about his heartfelt wish to go to the promised land, if only once in his life. This track is actually the highlight of the album (and can be had on Vinyl as well, since Irie Ites published it on 7''), for which both the emotional delivery of the singer and the powerful additions of Lone Ranger are responsible, apart from its instrumental finesse, of course.

The cherry on the cake for lovers of Dub: Felix Wolter aka The Dubvisionist has carefully attended to the six original tracks, creating warm, analogue Dub versions for each single one of them.

With Stone, Keith Blake aka Prince Alla created a timeless hymn that his fans adhere to. With Run Come, he continues this legacy and adds new sparkles to his foundation shine. Big respect to this humble artist, and to Lennart Tacke and Felix Wolter of 11-7 Records who made sure that Prince Alla's voice doesn't remain muted!


---
Release details
Prince Alla - Run Come
DIGITAL RELEASE [Eleven Seven Records]
Release date: 06/03/2016
Tracks
01. Run Come
02. Run Come Dub feat. Dubvisionist
03. Ethiopian Vibes feat. Lone Ranger
04. Ethiopian Dub feat. Dubvisionist
05. Always Crying
06. Always Dubbing feat. Dubvisionist
07. Rasta love
08. Dub Love feat. Dubvisionist
09. Pillar Of Salt
10. Pillar Of Dub feat. Dubvisionist
11. Be Thankful
12. Thankful Dub feat. Dubvisionist