Review
Album Review: Raymond Wright - Strikly Real
12/11/2019
by Steve Topple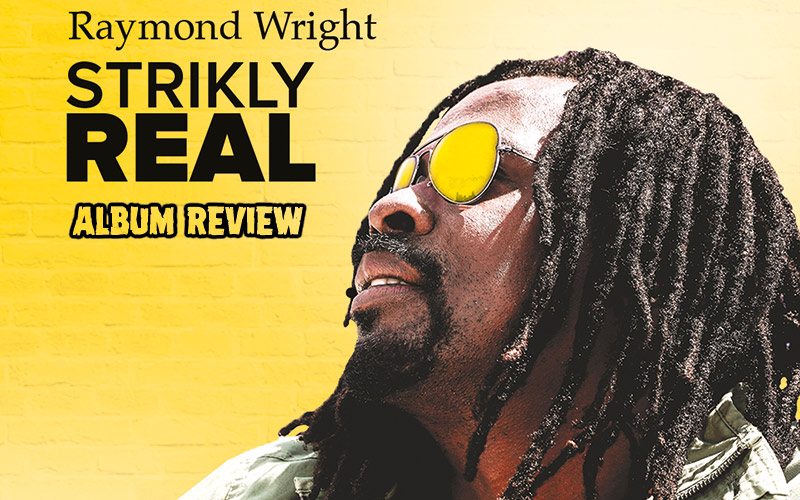 It's a brave artist who attempts to cross the divides between Roots, Gospel, Soul and Dancehall all in one album. But Raymond Wright may have just pulled it off with his new record Strikly Real.

Veteran musician Raymond is hardly making headline news dabbling in genre-mashing, given his signature style is a combination of Roots and Soul. But on Strikly Real, released by Vibes Point Music, he maintains this eclecticism at a level his audience would expect of him. The result is a soulful blem of musical styles, bursting with positive vibes and Raymond's highly versatile voice.

On first listen, the album can be divided up into two distinct musical groups: Soul and Roots. But dig a little deeper, and the crossing over of genres becomes apparent. And, there's one track which is a completely unexpected, but pleasant, surprise.

Let's deal with the soul. Strikly Real's opening track, My Lord, is a pertinent example of Raymond and producer Piero Dread's use of RnB and Gospel as influencers. A syncopated main vocal line has the chorus beginning between the 2nd and 3rd beat. It's accompanied by equally complex call and response backing harmonies, in part expertly executed by Fiona "Cleary" Forrest. The instrumentation is stripped back, leaning towards RnB not Gospel, allowing Raymond's impressive vocal to shine. He covers quite a range in My Lord, flexing from a husky baritone, into a rich tenor and then on step further into a rasping falsetto. His vocal runs are particularly impressive, full of control and purpose. Stirring stuff, which put me in mind of Brian McKnight.

Everytime leans more towards Soul than Gospel, although the vocals are derived from the latter. The keys play a particularly jazzy riff; the bass is on a steady, regulated phrase; the percussive focus is on the 2nd and 4th beats while the drums are almost absent, and a Hammond organ puts in an appearance. But Raymond can't help but mix this up by throwing in some cheeky singjay.

Competing for musical dominance on Strikly Real is Roots, the influence of which appears on many tracks. Jah If You Let Him is probably the standout track. The punchy drums are more Hip Hop than one drop. But the track more than makes up the Reggae credentials with a persistent bubble rhythm, some dubby use of synths and the reverb, and a bass that drives the track forward, using a one bar, double and triple time riff. Raymond's impressive, rapid-fire singjay is back again, along with some scintillating accompaniment from Lion D.

But Raymond can't help but nod to his more soulful side on the Roots tracks as well. Take My Brother, a duet with PieroDread (who vocally impresses in his own right). A one drop plus a bubble rhythm take us to Roots. The Hammond organ is back, and some funky electric guitars move some Soul in. The breaks in the drum line also push My Brother into more RnB territory. But then horns drop a solo bridge, shifting us back to Roots/Ska.

The mashing up of genres is also clear on tracks like Woman. Gospel-derived, mildly syncopated vocals wind over a bubble rhythm and a played-down one drop, paired with a Rocksteady bass plus call and response horns. It's a fine Soul-Roots fusion.

But Strikly Real's trump card shows some interesting potential from Raymond. Because Make Dem Come suddenly moves the album straight into Dancehall territory. The 808 is on a solid three beat, twice per bar riff. The use of synths is heavy, along with a vocoder across the vocal. Grime-like staccato strings create a sense of tension. Of note is the clever use of just two chords: the root as the dominant, with the fourth coming in occasionally and only for two or four bars at a time. This whole combination makes the track feel edgy, brooding and tense. And again, Raymond shows off an impressive singjay – rhythmically intricate with crystal clear enunciation and clever syllable accenting. More please, Mr. Wright.

The positivity-laced lyrical and thematic content on the album is highly contagious. Raymond's clearly not set out to smash the system to pieces in one record. Instead, he's delivered an album of praise and overly heart-warming tracks, equally focused on faith, humanity, spiritual love and self-affirmation. It's becoming a rare quality to hear a complete album that comes from a place of spiritual pragmatism. But even on the most searing tracks like the Roots/Funky Soul Crosses, he has achieved it.

Strikly Real may not break any ground in terms of its musical composition and lyrical content. Admittedly though, the crossing of genres is well executed. But Raymond is a skilled vocalist and performer, whose song interpretation and storytelling draws you in. And with Piero's finely tuned arrangement and production, it's a reliably enjoyable listen, perfect if you're on some downtime. Classy.

---
Release details
Raymond Wright - Strikly Real
[Vibes Point Music]
Release date: 12/11/2019
Tracks
01. My Lord
02. Woman
03. Meet Again
04. Make Dem Come
05. My Brother feat. PieroDread
06. Everytime
07. Cornerstone
08. Crosses
09. Jah If You Let Him feat. Lion D
10. Fliction
11. Keeping You feat. Ale Soresini
12. Change My Name
13. 2Gedda
Featured artists
Lion D
/
PieroDread