Peter Tosh Music Festival 2018 - Schedule of Events
09/26/2018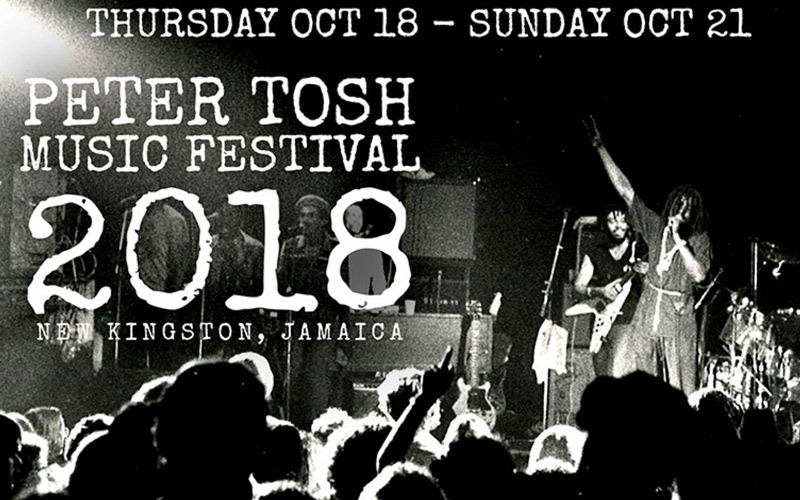 The Peter Tosh Music Festival returns to the Peter Tosh Museum at the Pulse Center in Kingston, Jamaica October 18-21, 2018. The Peter Tosh Museum is again presenting this year's event. The weekend's festivities, set to coincide with Peter's Birthday on October 19, will include musical performances, a ceremony to distribute the 2nd annual Peter Tosh Awards, and a celebratory gala.

CLICK HERE FOR THE REGGAEVILLE REPORT: PETER TOSH MUSIC FESTIVAL 2017

The Peter Tosh Awards recognize those individuals who have contributed in a major way to furthering the goals of Peter's activism during his life and career. Three awards will be bestowed during the ceremony. The Peter Tosh Equal Rights Award will honor an individual whose efforts advance the cause of equal rights for all. The Peter Tosh Steppin' Razor Award will recognize influential contributors to the arts and entertainment. Finally, the Legalize It Award will distinguish the recipients as leaders in advancing Peter's efforts to legalize cannabis and encourage cannabis research throughout the world.

Team Tosh is honored to welcome back Luciano aka The Messenger to perform again at this year's event as well as Freddie McGregor and the 809 Band. Additional talent will be announced in the coming weeks.

The 2018 Peter Tosh Music Festival Schedule of Events:
Thursday, October 18: The Peter Tosh Awards Gala at Pulse Rooms at Trafalgar. This is a black-tie affair. The gala starts at 7 p.m. Tickets for the gala awards are $150 USD.

Friday, October 19: The Peter Tosh Symposium at University of the West Indies, 6 p.m., This event is FREE to the Public

Saturday, October 20: Peter Tosh Tribute Concert at the Peter Tosh Museum, 8:30 p.m. Tickets to the tribute concert are $30 USD.

Sunday, October 21: Excursion to the Peter Tosh Memorial Garden in Belmont, Westmoreland. Transportation will depart New Kingston at 9 a.m. and will return around 6:30 p.m. Lunch is included in the ticket for the excursion. Tickets for this excursion are $100 USD.

We are also proud to offer the Stepping Razor Package for $500 which includes two tickets to each event included in the festival.

Aa limited number of student discount tickets are available on a first come first serve basis for only $10 USD ($1500 JMD) with a valid student ID, offer can be withdrawn without prior notice. These tickets will not be sold online or at the door - they will ONLY be available to purchase at the Symposium.

Finally, there is an opportunity to sponsor a student to attend the tribute concert!

Sponsor a college student to attend the Tribute Concert (including a tour to The Peter Tosh Museum). For every $10 USD donated, one college student, in attendance at the Symposium with Student ID, will be sponsored to attend the Tribute concert that will also include a tour of the Peter Tosh Museum.

GET YOUR TICKETS HERE!