Review
EP Review: Perfect Giddimani - Dumplin Shop
10/30/2020
by Gardy Stein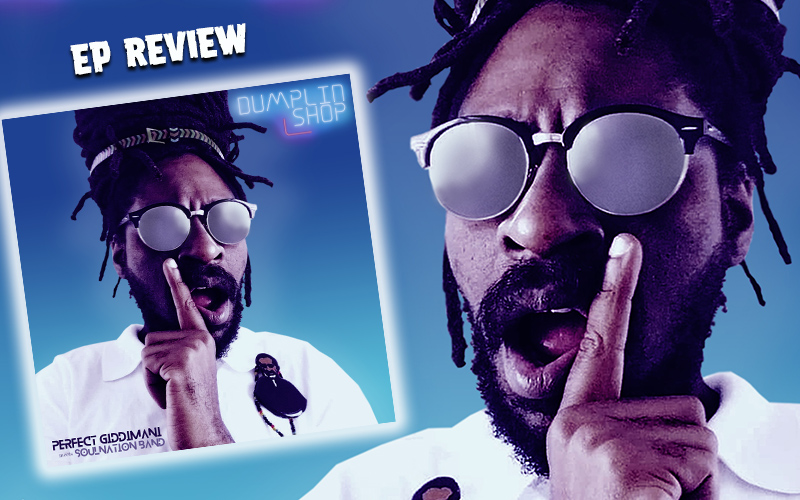 In 2017, Perfect Giddimani shocked his fans with the statement that Live My Life Again would be his final album: "This is my last album," he said back then, "but I will still be making music." As an artist who is true to his word, both promises were fulfilled. More than 32 singles or riddim compilations have been released to his name since then, but no album.
And even though there is a new release to be celebrated now, it's an EP, not a longplayer. But, away with the hair-splitting, in comes the Dumplin Shop! Prepared with the able chefs of Soulnation (band, producers and label from Nantes, France), it brings 6 freshly brewed songs to the table, awaiting your consumption.
The menu starts with some appetizing brainfood. Inna Marcus Name mentions some of the biggest names in black history, and in case any of these is unknown to you, make sure you do some research and educate yourself. Resting on a solid Reggae instrumental, the expertise of the sound cooks involved becomes obvious. Maxime "Suga" Mignot on guitar, Brendan Allenet on bass, Jonas "Koffi" Gouraud on drums and percussions (and responsible for the artwork, by the way) as well as Valentin Bidet and co-producer Mikael Toux on keyboard provide the vibrant ingredients that are refined by the equally vibrant voice of the singer.
Next course: Soul Of Creation. "That tune nah ordinary, Giddimani alongside Omar Perry!" On a decelerated steppa's beat, the Scratch-offspring and Mr. Perfect skank in unison, providing some easily digestable freestyle.
Ready for the main dish? The Dumplin Shop of Miss Muriel opens with a tasty meal of fry plantain, festival and a hot cup of mint - irresistible! Spiced up with a catchy riddim, this track is an instant favourite and will cheer you up on many a grey November day. Special mention deserves Abi Morgan, whose sweet backing vocals blend well with Perfect's trademark rasp.
On a calmer pace, Wire Fence invites us to go on a postprandial walk and "roam this land from East to West", discovering the beauty of its rivers and waters. In direct succession, Blessings Fall praises the singer's Jamaican heritage, wrapped around a digital beat that features synthies and electronic guitar soli for those who enjoy this.
Speaking of enjoyment: don't be late for afters! If this song was a dessert, it would probably be a mango-chili-icecream. Choppa is a revolutionary piece that speaks up against former and present-day injustice with chilly pungency, soothed slightly by the fruitful sweetness of the riddim.
Just like that, we have reached the end of this meal - good thing the nourishment is mental and nothing prevents us from starting all over! Dumplin Shop is a delicious serving from the hands of Perfect Giddimani, an artist that will hopefully dine with us again soon. Those who follow him on social media are aware of his bright personality (his posts bring a smile to my face more often than anybody else's), but it's his musical output that makes us aware of his true talent, so you better listen to this. Yeah ayee!
---
Release details
Perfect Giddimani & Soulnation Band - Dumplin Shop EP
DIGITAL RELEASE [Evidence Music]
Release date: 10/30/2020
Tracks
01. Inna Marcus Name
02. Soul Of Creation
03. Dumplin Shoop
04. Wire Fence
05. Blessings Fall
06. Choppa