Review
Review: Perfect Giddimani - Self Gxxxxy EP
05/19/2015
by Dan Dabber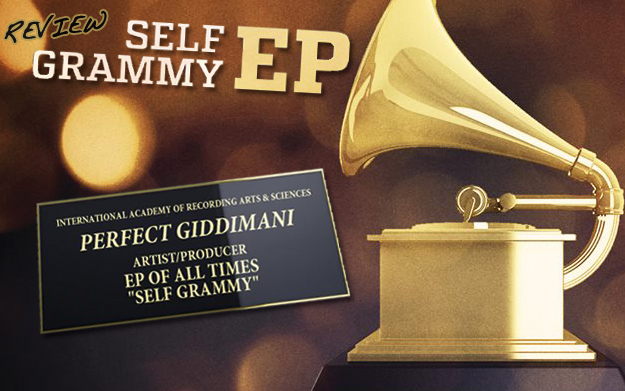 Nobody is perfect, except of course for reggae artist, Greg Rose, known to his fans as either Mr. Perfect, Perfect Giddimani, or, most simply, Perfect. Perfect made a name for himself in 2004 with his hit song Hand Cart Bwoy and he has remained a staple in the reggae world ever since. Over the last decade, he has released eight full-length albums, four mixtapes, and countless singles. The latest project titled Self Gxxxxy EP, released on his Giddimani Records label on May 19th, is an accurate cross-section of Perfect's diverse talents, which include singing, chanting, and production, as well as a showcase of his unique sense of humor, his charismatic personality, and his message of personal upliftment.

Before conjuring and awarding oneself a Grammy, it is advisable to establish credibility. In case his prolific career and stage name aren't enough, Perfect chose to start Self Gxxxxy with a whimsical tune called Reggae Einstein, featuring guest artists Ras Attitude, and Perkymani & Frenz. This one drop number was written as a metaphor-laced mood-setter, informing the listener that they are now embarking on a musical cruise with Captain Perfect at the helm. Although this track may be too busy for some, accents like the whirlwind sound effects and children singing the chorus make the tune interesting, as does the "reggae einstein" himself who pulls out some of his signature vocal tricks for the song, including his distinct falsetto.

No Weed is a ganja tune with a twist, set to a feel good one drop riddim in the classic roots reggae style. Although a listener may assume from the title that No Weed is about a shortage of marijuana, the song is actually about Perfect's preferred appellation of cannabis, and some of his reasons for not using other aliases for the plant. This track is a fantastic example of Perfect's unique personality and how it shines through in his songwriting with interesting turns of phrase and pointed humor.

On a more serious vibe, Positive, featuring Dada Yute, is another standout tune, voiced over a re-lick of the Dennis Brown classic, Promised Land. Perfect's standard gruff approach to chanting is balanced quite well in this song by Dada Yute's smooth singing style, giving the track an appealing overall harmony. As one would likely suspect from the title, Positive is about maintaining a good attitude through trying times, an idea that fits well into the Self Gxxxxxy theme.

Finally, the title track, Self Gxxxxxy, which is the last track on the EP, is notable for several reasons. Conceptually, it is the glue that binds together the theme of the EP, putting all of the other songs in their proper context. Perfect must have understood the importance of Self Gxxxxxy when he wrote and recorded it because, more than any other tune on the EP, he employs all of his patented vocal gimmicks. The riddim is also epic, borrowing from reggae, hip hop, and dubstep to create a powerful backdrop for Perfect to vent his frustrations with what he sees as a lack of recognition for his hard work and creative contributions.

With seven songs, Perfect was rather conservative to call Self Gxxxxxy an EP. It feels more like a short album, and with the loose Self Gxxxxxy theme that is woven throughout, this project pushes into territory that borders on a "concept album," which speaks to Perfect's imagination and songwriting abilities. All in all, the Self Gxxxxxy EP is a quality project and fully deserving of any awards that it may earn in the future, even the one Perfect has already bestowed upon it.
---
Release details
Perfect Giddimani - Self Gxxxxy EP
DIGITAL RELEASE [Giddimani Records]
Release date: 05/19/2015
Tracks
01. Reggae Ship feat. Ras Attiude, Perkimani & Frenz
02. No Weed
03. Trench Town
04. Positive feat. Dada Yute
05. Got To Save
06. Moving Forward feat. Deadly Hunta
07. Self Grxxxxy (Bam Boom)
Featured artists
Ras Attitude