Review
Album Review: Perfect - Better Off Dread
04/15/2014
by Angus Taylor
A decent compilation of Perfect tunes you haven't heard before.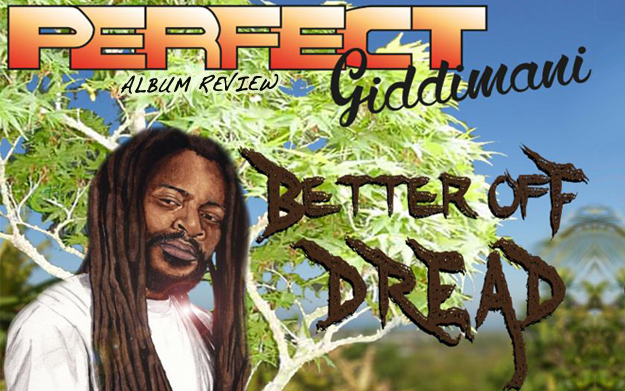 In a 2013 interview [click here to read], busy Bobo Ashanti Perfect hinted his next album would be with Le Mans based French label Irie Ites. Of course reggae releases rarely run to plan, so instead his 8th long-player gathers a conglomerate of producers for Hawaii's Jah Youth Productions - who put out Rob Symeonn's well-received Indigenous this year. Rhythms come courtesy of units Perfect has met on his restless travels - from Sweden, Austria, Switzerland, Poland, the USA, and gratifyingly, his home of Jamaica.
 
If you've followed Perfect's trajectory you may be thinking "Hang on, is this a regressive step? Isn't he going back to the days of first compilation Giddimani rather than the single-concept, one-producer albums he has believed in throughout his career?" However, this record seems to be a deliberately eclectic venture, not a pragmatic throw together. Each selection is handpicked and none are previously released.

Even so, the result is a mixed bag of styles and sounds that probably won't please all the people all the time. Roots purists will love the title track by Philadelphia's Rumble Rock Recordz but may initially be horrified by Miami's Drew Keys very un-Marley-like Like Marley with its heavy metal guitars, Public Enemy style screeching noises and Vybz Kartel flow. However, once you get over the shock, it's actually a good tune.
 
Most of the songs fall into the category of roots and dancehall with a twist. There's Keys' hip hop reggae collab with Lutan Fyah and Jahdan Blakkamore, Revolution Come, Jonahgold's deep and dubby Hail The King (on a semi update of the Gladiators Streets of Gold), and Weedy G Soundforce's Gussie Clarke era dancehall Market Ram. Perfect has achieved a career ambition with the South African flavoured Awake on a heavily produced Sly & Robbie rhythm. His delivery seems mellower than his fiery squawking early days with a tendency towards a Sizzla like falsetto.

Perfect has always combined a cultural seriousness with a dapper dress sense and pride in the finer things in life. The gentle House of Riddim helmed Black Man Wagon is an ode to driving a BMW. It might strike as commercial product placement – but is intended as a Rasta betterment tribute to the make of car owned by Bob Marley. It also joins the long tailback of songs about automobiles by 1950s R&B artists – which represented freedom of movement in a racist world.
 
Perfect tends to go for one crowd pleasing roots album then a more risky diverse one. Better Off Dread follows House of Riddim's fairly straight up Over The Top in that regard. Perfect's benchmark is of course Irie Vibrations' Born Dead With Life - with only Lustre Kings' Back For The First Time coming close. Better Off Dread is superior to 2012's Journey Of A Thousand Miles (which had a couple of below par tracks) and similarly wide-ranging to 2009's French Connection.

Ultimately it is a compilation - just a comp of tunes you haven't heard before. It's a solid stopgap while fans of the foundation loving Perfect of Born Dead With Life await the Irie ites album due for release later this year.
---
Release details
Perfect Giddimani - Better Off Dread
DIGITAL RELEASE [Jah Youth Productions]
Release date: 04/15/2014
Tracks
01. Better Off Dread
02. Like Marley
03. Awake
04. Revolution Come feat. Lutan Fyah & Jahdan Blakkamoore
05. Market Ram
06. Bad Boy
07. B.M.W. (Black Man Wagon)
08. Baby Boom
09. Trim To Rass
10. Haile The King feat. Dada Yute
11. Fake Friends
12. For Mama
13. Once Upon A Time
14. Better Than Liquor


Featured artists
Jahdan Blakkamoore
/
Lutan Fyah