Review & Photos: Perfect Giddimani in Hamburg, Germany - May 2nd 2014
05/07/2014 by Gardy Stein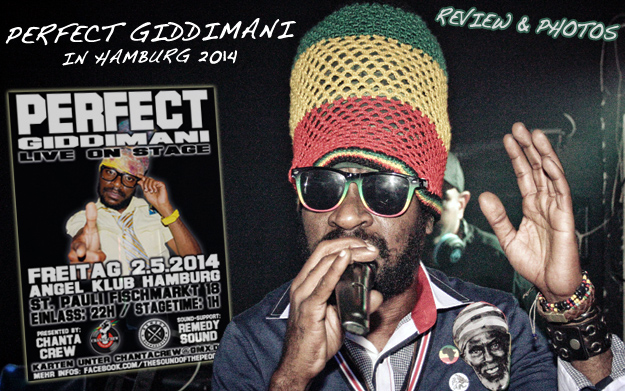 Perfect! Associations with this name take me back to last year's Reggaeville Easter Special, where Mr. Giddimani opened the show in lieu of the inhibited Anthony B. Last Friday, the Tsunami-man was back to the City of Hamburg on his Better Off Dread-Tour (read the interview here), brought to us by Che and Choco from Düsseldorf's Chanta Crew. Directly located at the harbor, the venue Angel Klub was an interesting choice to host an artist of Perfect's league. Due to its relatively small size, it filled up rather quickly, so that by 1 am the party was on with about 100 visitors.

The mood was set right by local warriors Nico and Big Luke of Remedy Sound, working the people with a nice selection of dancehall-classics. Chanta Crew then took over and played for about an hour before Greg Rose aka Perfect Giddimani was announced and made his entrance just after 2am. Before he appeared on the makeshift-stage, his booming voice could already be heard through the crowd, greeting the massive.

Starting off with a dedication to Di General, Hold On Buju elicited a passionate response, so that the second song saw a pull-up already. Followed by Rasta Rebel and HIM Smile, it was 30 Pieces Of Silver that had most people present dancing AND singing along.

Giddimani then delivered tune after tune, keeping up a constant interaction with the fans. Whether he asked us for "hands up if you want Marihuana to be legal!" in Ganja Love, made us jump to Nuh Badda Me or give a cussing lesson in Bomboclaat, most of us willingly followed his lead.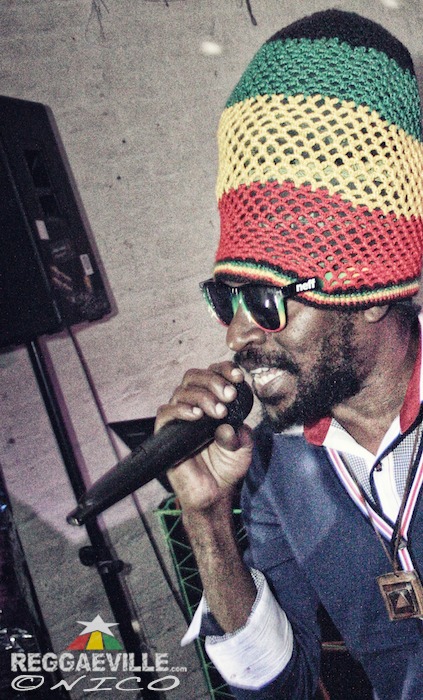 Spicing up his show with an anecdote of how he once smoked in the bathroom of an airplane and the fire-alarm went off, he dived from heavy riddims (Doctor's Darling or Under Mi Sleng Teng, for instance) through the highly parodic I Smoked A Spliff to a grand final.

Obviously warmed up by now, Perfect did a highly energetic Laugh which was enthusiastically received by the people. When the notes of the next tune hit, however, everyone surged forward again as if not to miss a word of his Hand Cart Bwoy. Its timeless appeal was definitely a highlight of the evening, and the club was boiling over. After that, the artist took time to send a big respect out to the massive, greet the promoters, soundsystems, location owners and members of the befriended Talawah Clan (of which Mammasita and Juggla were present).

A wicked freestyle bore proof of his vocal versatility (this man is a wicked singer, and his sometimes criticized trademark shouting but a stylistic tool!) before he said his goodbyes after around 80 minutes with Over Di Top. Time to catch our breath! But not for long, since the night was still young and the dancing mood about to be kindled by the two Soundsystems once more.

Perfect! Associations with that word will from now on stand for evenings like this one. Whatever the external or surrounding conditions might be, it stands in your power to find the gold of a moment and make it shine! My treasure today was getting in touch with a wonderful person and experiencing an exceptional artist. Your perfect moment might be just around the corner!

➜ VIEW THE PHOTOS HERE