Reggaeville Riddim Corner #17
01/11/2017 by Dan Dabber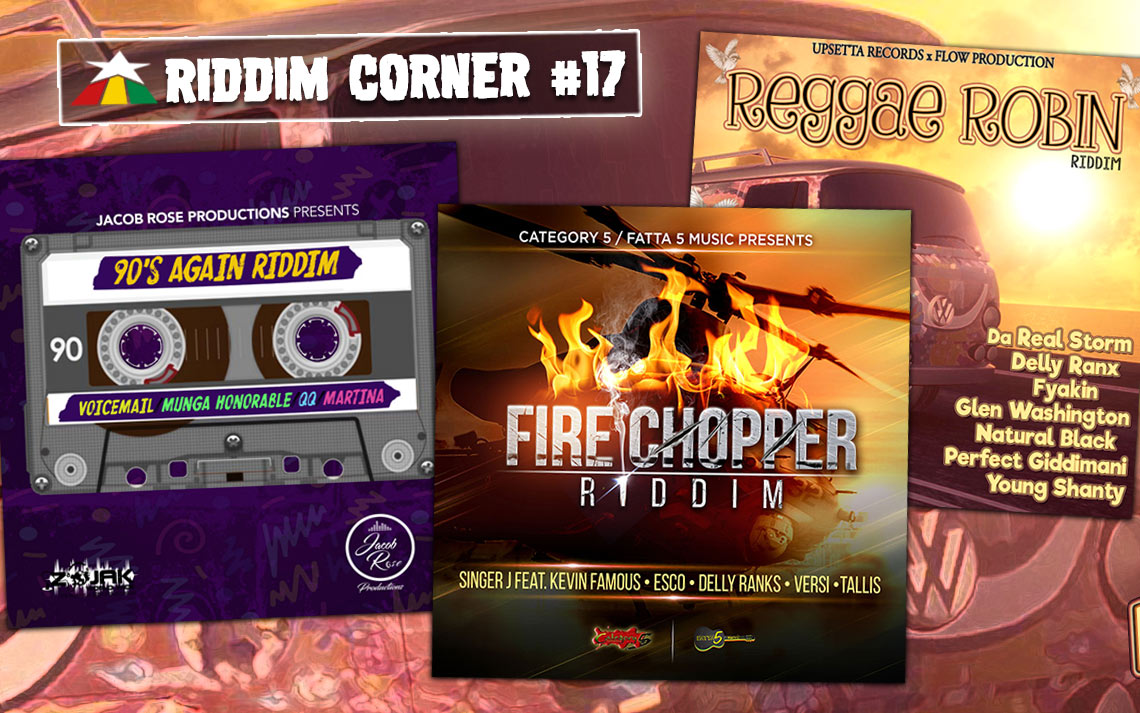 REGGAE ROBIN RIDDIM (UPSETTA RECORDS/FLOW PRODUCTION)
Upsetta Records and Flow Production are both accomplished reggae labels with several co-releases and many more individual credits outside of their longstanding collaboration. Their newest riddim co-selection is Reggae Robin and it is one of their best jugglings to date. Borrowing the intro from Bobby Day's classic 50's rock 'n roll tune, Rockin' Robin, Reggae Robin makes listeners feel comfortable and familiar with songs or artists that they may not have heard before and it accomplishes this within the first four bars of every track. Those four bars also inspire lighthearted nostalgia and a universally fun, inviting vibe. The vibe builds throughout the intro, and then it is dumped into a drum fill that bridges the end of the intro with the rest of the song. As that drum fill plays, in most cases without accompaniment, there's a palpable tension until the riddim kicks in and immediately soothes. With a heavy Studio 1 or perhaps Treasure Isle-like early reggae influence, Reggae Robin reveals itself as a late 60's-style reggae groove, built from skanking guitars, syncopated drums, and a bubbly bassline. The riddim sounds authentic to the point that it might actually be a re-lick of something specific from that era, but it has yet to occur to me what that original riddim could be.
Hold The Faith by Delly Ranx is the only song that doesn't lean into the 60's reggae or 50's rock 'n roll styles of the riddim, and this more modern take is exactly what the Reggae Robin juggling needed to be relevant in today's reggae scene. Ranx's tune, which is sort of a survival guide for grassroots spirituality, is also a brilliant piece of songwriting and an example of the prolific 20 year veteran in top form. Other artists decided to write songs more in line with the vintage musical theme, and their approach also turned out well. As a singer whose career dates back to the early seventies, Glen Washington applies some of the most authentic vintage flavor with Beat Of My Heart, and he even broke out some expertly wielded "shiddilly-doops" in the intro to help set the mood. Perfect Giddimani's Be Wise (Solomon Says) goes the gospel route to achieve old-timey vibes, and Fyakin takes a more bluesy approach with Jean. Showing a lot of potential on her oldies-style track, Alone, female artist Da Real Storm performs one of the most entertaining minutes on the juggling, but the eye of Da Real Storm wanders early in the song, throwing the atmosphere of the track off course.
FIRE CHOPPER RIDDIM (FATTA5MUSIC/CATEGORY5)
I have no idea what the 5 means, but the connections between Fatta5 Music and Category 5 appear to run much deeper than just that one digit. Based on the only information I could find on the two dancehall labels - a Twitter page for each of them - I'm not even sure that there is more than one person behind these imprints. What I do know is that they each have one previous solo release to their credit. Category 5 dropped a riddim called Frame A Mind in 2014 and Fatta5 put out a 3-version EP juggling called Spirit in 2015. Neither made a big impact, but both showed some promise. Both also share a similar comforting style that is built from a guitar base and incorporates familiar elements from hip hop and gospel. That guitar base carries over into their new juggling, Fire Chopper, but in a way that is much more jarring and aggressive than the first two releases from The 5 Digit Connection. Like the cover art that features a burning helicopter, Fire Chopper Riddim is extreme and likely to inspire extreme reactions from listeners.
Although Fire Chopper is a completely original riddim, it falls closely in line with an edgier, mid-tempo dancehall trend that has been popular for the last several years. The composition fits in nicely among more well known riddims from this vein of production, but it also lacks the kind of musical innovation that it takes to stand on its own. The production doesn't set Fire Chopper apart from other riddims like it, and that leaves it up to the artists to make something memorable out of this project. Fortunately, Fatta5 and Category 5 were able to bring together a handful of names who are more than capable of making that happen. Esco likely did the most for the release with his track, Look Back, a perfectly executed gyal tune and the top selection from the Fire Chopper juggling. The remarkably consistent Delly Ranx stands out again, this time with an explicit ganja anthem called Nuh Coke. Some may like Versitile's Unruly, but it is derivitive and it bores me. The other two tracks - Talis' Weed Chick and a combination from Singer J and Kevin Famous - are about as adequate and forgettable as the instrumental.
90'S AGAIN RIDDIM (JACOB ROSE PRODUCTIONS)
Several years and multiple riddims deep into their catalogue, it's tough to give Fatta5 and Category 5 a pass for not having their bios posted somewhere in the vastness of the web. However I can't fault Jacob Rose Productions for their lack of accessible information because 90's Again appears to be their very first release. I do feel a bit frustrated about their Facebook page having a blank "About" tab and about the name of their label being nearly impossible to Google, but I choose to focus on their music. For a first release, whoever is behind Jacob Rose did a lot of things right. They simplified the process a great deal by choosing to do a lean and mean EP project that only features four artists. Three out of four of those artists have names that are highly recognizable and respected in dancehall, and Jacob Rose managed to get strong performances from all of them, including the one lesser known artist. The subtle familiarity of the riddim further solidifies its potency, bringing together elements from multiple styles of 90's dancehall production in a cool and futuristic way.
90's Again Riddim is built from raw, hollow kick drums and playful, approachable synths, creating a balanced cocktail that packs a strong enough punch to persuade even the least likely dancer to move. QQ, who has a long history of hit dance tunes, takes advantage of this opportunity with the baddest tune on the juggling, Cute Gal Whine, a dance-centric number aimed at the best looking females. Munga is another artist who fits in well with 90's Again, mainly due to the rawer elements of the instrumental and the singjay's propensity for gangster lyrics. His version, Nuh Funny Money, is successful because of Munga's innovative flows and an infectious chorus. Voicemail has similar success with Like A Queen, which is the kind of tune that might need a little time to grow on certain listeners. The hook may be a little awkward at first but after hearing it few times, it becomes strangely addictive and many listeners may find themselves returning to the juggling to scratch the itch that Voicemail left in their brain with that weird, creeper chorus. The fourth version, Best Friend by the one lesser known artist on 90's Again, Martina, has a similar, creeping effect on me, having risen within my personal ranking system from "decent" to "solid" within the span of about ten listens. That final satisfaction left me completely devoid of disappointment with the 90's Again EP, so there is probably no use complaining about their blank "About" tab quite yet.