Interview with Perfect Giddimani
05/05/2014 by Gardy Stein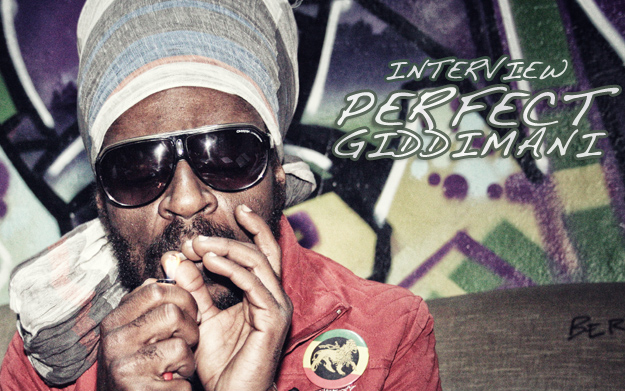 On a promo-mission for his most recent album, Perfect Giddimani is currently touring extensively throughout Europe. Described as "one of Reggae Music's most unusual and abnormal artists and talents", it was personal curiosity as much as professional interest in his release that brought Reggaeville face to face with this inspiring man just prior to his show in Hamburg's AngelKlub [May 2nd]. We spoke about ghost tracks, upcoming surprises and – of course – Better Off Dread.

Let's start with the obvious. What does your artist name Giddimani mean? I couldn't find an explanation for that…
Giddimani is a self-given name. It's a word created by me. I created it using two words. The first one is Armagideon, which I shortened to 'Giddi'. The second one is morning, and you know, in Jamaican Patois people say maaning, so I used 'Mani'. So Giddimani means Armagideon Morning.

And did that inspiration come to you in a flash or did you think about for a long time?
I thought about it! Because, you know, as an artist you need…. Your name is very important. Your name has to enhance your game and it helps to create that character. Definitely!

At the end of your last Reggaeville-Interview with Angus Taylor you announced an album coming from a label in Le Mans…

Yeah, we did an album with Irie Ites there. I was over in France last year March, I think, and I had like a week off in Le Mans. I was with Irie Ites Records, so the studio was there, the riddims were there…

And you just completed a whole album in one week?
Actually, we talked about doing an album before. You know, the moment presented itself, so we just took advantage of it. We really did a lovely album. It is not officially named as yet - we are looking forward to release it sometime between September or October of this year. We are going to be releasing the first single of the album, I would think sometime within the next two months. Cause we already have shot a video in California. We have some good scenes, it's lovely… actually it's a Marihuana Song (laughs) entitled Straight To Me Heart. It's a remake of a Sharon Jones classic. It's awesome! And you know, Irie Ites is one of my favourite labels within the Reggae business. I'm really happy to do an album with them!

Something to look forward to! But back to the now: the Better Off Dread album was produced in Hawaii, with Jah Youth Productions?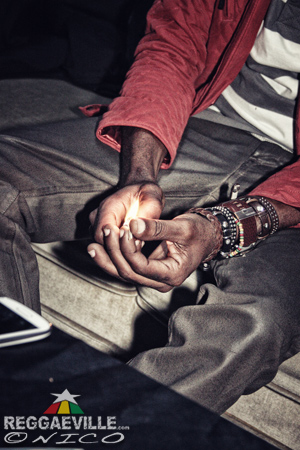 Actually the album is officially done by Giddimani Records and Jah Youth Productions. This label is the partner label which is involved in the project. I met the producer Jeffrey Bohler back in 2010 when I was over in Hawaii, and he was interested in doing some works, but you know, family and stuff like that… sometimes you have to give it a break. Then in 2012 he sent me this riddim track and asked me to voice it and the song Better Off Dread was born. It was voiced in Oregon, and the moment I voiced the song, the essence of the song and the title of the song inspired me to do an album with that name. So, the song was sitting there and I knew that this was a project to be done. That one song gave me the inspiration to do the project, to do an entire album entitled Better Off Dread.

Then in 2013 Jeffrey called me up and I told him "Look, that track you sent me, I'm really feeling an album for it!" and he was like "Well, Perfect, let's do this!" and we came together and discussed it and we decided that we wanted to flavour the album with different producers that I have done well with over the years. For example Weedy G, who is one of my favorite labels again, House of Riddim, Sly and Robbie, whom I always wanted to work with also. On board there is a newcomer, Drew Keys from New World Music. He is a producer from Miami, a very talented young producer in the business. I was introduced to him by a friend. We went to the studio and I was like "Look, I am in the middle of doing an album and I need tracks exclusive for my album." So he went into his creative mode and I gave him some ideas and he came up with the tracks for Like Marley, Revolution Come with Lutan Fyah and Jahdan Blakkamoore, Fake Friends and also Trim To Rass… he has four songs on the album.

So, after you had the initial idea for the album you just contacted people to collect songs?
Yes, totally… Because… I mean I just came out of an album with House of Riddim which was entirely a House of Riddim project. Very awesome, 20 tracks produced entirely by them and Perfect Giddimani, that was an album that has just one producer and it was flavoured with all the musicians that are part of the House of Riddim Band…
So, for this project, I just wanted to… you know, it's like I'm cooking the same diner, but this time I'm using herbs and spices from different parts of the world, I'm using more than one cook, you know? You understand what I'm saying?

Yes, and you can feel it in the ready served food… you hear it in the songs! Every song anew gets you on a different level and it's very interesting to hear the variety. Hail The King, for instance, there is a clear reference to Michael Jackson's We Are The World. How comes?
Yeah, I mean (pauses) Michael Jackson is an icon. He is somebody I grew up listening to back in the eighties. I mean, he was played I would think in everybody's household on earth back in the eighties, so I was a huge Michael Jackson fan! And regardless of what critics might have to say about him, that's not my business. I'm looking at the good side. He was an awesome artist, one of the greatest artists the world has ever seen. His melodies keep lingering in the atmosphere so, yeah, I just used a piece of Michaels melodies to top it off!

I have to admit, at first I only heard half of the song, but today I listened to all of the songs again until the end and I heard the lines from We Are The World…
A song should grow! That's why I tell every fan it's good to listen to a record from the start to the finish, especially when you are listening to an exciting and colourful artist like Perfect Giddimani. Cause the more we go into a song, the more we will bring out different melodies and different styles and different techniques in the song. Maybe the end might be your favourite part of the song, and you will never know it! Sometimes one melody or one line that I might say, maybe even one word will be the part that you will really like, but you have to listen to the song until the end!

Yes! I did a review last year for the debut album of a young artist called Rass Motivated from the Netherlands, and while listening to the album I discovered a hidden track at the very end of the last song!
That's what you call a ghost track. I did that also on French Connection. There is a ghost track on it, it's called Forget Everything. You have to keep listening at least for three minutes before that pops in. You have a few people who realized that it was there, but the majority of the fans don't know that it's there! Awesome track, it's a rock track and a love song, check it out!

I will! About Market Ram… you sing about how you take produce and sell it on the market to keep up the community. Do you really have activities in farming in California or Jamaica?
Yeah man, we keep the farm going! I have a farm like just 10 steps next to my house in Jamaica… Carrots, cabbage, pumpkin, banana, plums… we have all that stuff! You know, the market is 50 minutes away, plus in the community where I am you have higglers that come to buy your produce and take it to the market. We keep it going! Where I am from is a farming community. It's a country side. There is nothing else there. So, you don't have a factory where you can get jobs… Just farming! It's essential.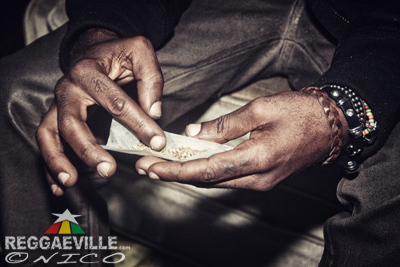 Which is good! It would be nice to have more of that over here too… You have kids that grow up in the city and never see a carrot plant; they only know that from the supermarket… But back to the album. All of the tracks are exclusive productions for the album, you said?
Yes. All of them were released with the album except for Bad Boy and Awake. Ever since we voiced that one, the producer asked me if he could use it because he had a project going on and they were releasing it prior to the album. They asked me for permission so I told them they could go ahead and use it. So only those two tracks were released before.

What about the backing vocals on the tracks, is it you yourself doing them?
Yes! The harmonies on most of the songs are Perfect Giddimani… plus some female vocalists on Awake and Bad Boy. So, you know, for 90% of the tracks I did the harmonies.

Do you have a favourite song on the album?
(laughs) I would say I have some favourites. From the release of the album, apart from Bad Boy I should say Better Off Dread, Like Marley, definitely, Trim To Rass and BMW, ok? But over a period of time Baby Boom has grown on me - that's a big tune from Weedy G - and Market Ram has grown on me and then Once Upon A Time, produced by Dreadsquad.

I like that one. It is a bit sarcastic, even the way you sing it - is that intentional?
Yes! I use sarcasm as an artistic means to express myself, so… of course it's intentional! (laughs)

Ok, sarcasm aside… Tell me about the reactions to Like Marley.
To be honest with you, when the album was released, the reactions that I got for that song were like: "A rock song? On a Reggae Album? Naaa!" But if you look at Soundcloud, that song is getting a lot of views versus some other songs. Plus, I just released the video for Awake and Like Marley, and it's really getting into the people! You see, apart from being a Reggae artist, I do a lot of Dancehall songs too that have become a number one in different countries. But apart from that, music is music for me, regardless of the genre. Yes, I am a Roots artist from Jamaica and I respect that as my foundation, but I also love to experiment!

And it's good to bring Reggae to other circles!
Example: If a Reggae fan invites one of his cousins who is a Rock fan to one of my concerts, than at least Like Marley will be a track that he can bump to and enjoy and maybe make him interested in my music. So, for me it's a plus, but maybe for the fans, the real Roots listeners who wanna hear that other side of Perfect it's probably a disappointment.

Well, they could just skip that song. Ok, that's so much input already. Let me give the word back to you. Is there anything you want to let the people know?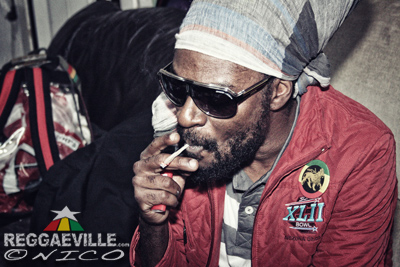 Well, it's all about the album right now. We are doing a lot of ground work surrounding the album. In about two months time we go back to Hawaii to shoot the video for the title track there. Jeffrey, he requested that the video be shot in Hawaii. That's why it's not done yet, because I haven't been there since. Promotion continues, we are getting ready for the massive! And physical copies of the Album will be out soon as well, we are in negotiations right now with Zojak Records for that.

Will we see you at any Festival?
Yes, of course! We have Ruhr Reggae Summer, Sumol Summer Fest in Portugal with Anthony B and Lutan Fyah, Summerjam, Sunrise Festival, another one in Holland and offers that are coming right now… Those are just a few.

Thank you very much!
Thanks a lot too. Big respect to Reggaeville, big respect to Julian to support the artists over the years. Not just me, you know, but the artist community. We really needed something like that, it really keeps you updated and informed and I really appreciate that movement!