Review
Album Review: Patko - Maroon
10/27/2015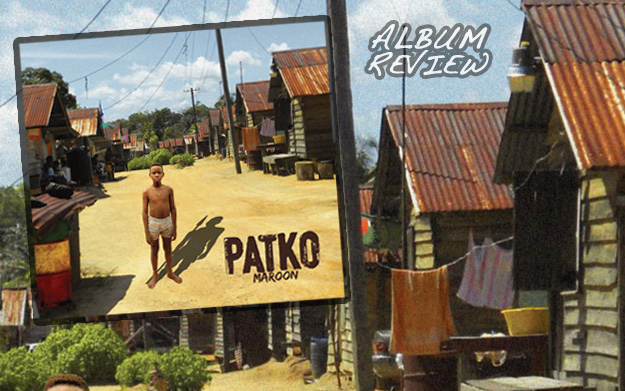 Patko made quite a splash with his debut album Just Take It Easy in 2013. At a time when considerable parts of the Jamaican reggae scene showed real determination to renew their sound, this versatile talent hailing from Suriname, but residing in France since 2001, participated in doing the same for France and Europe. Equally at ease with melodic chanting and energetic singjaying, Patko presents his conscious messages in French, Jamaican Patois, and Sranan.

For his second album, Maroon, Patko invited guest musicians including Alborosie's drummer Fitzroy "Dave" Green and bassist Strickland Stone of Dubtonic Kru. The album was recorded in France and Jamaica.

Hip hop, electronic music, rock, and Mandé music influences spice up this solid album of twelve tracks plus an outro in surprising ways. Despite the musical variety, Maroon doesn't feel too much like a compilation.

The album title refers to the Maroons, African slaves in the Americas that freed themselves long before the abolishment of slavery. The entire album is a socially conscious wake-up call, a call to action to change the many ways the world is going wrong. Tears and Egalité & Justice, the latter featuring Balik and Natty Jean of Danakil fame, both denounce the screaming inequality that defines the world today. Dutty Money points out the neocolonialist system that keeps the Caribbean down.

Lob Suriname is Patko's love song to his home country. It features Fantan Mojah and fellow Surinamese Joggo. The most outstanding tune on Maroon is the title track. It features Malian djelymouso Djely Kouyaté and merges "traditional" Mandé music with Patko's own style. This daring combination works surprisingly well and might invite quite some listeners to dive deeper into the more modern sides of Mandé music.

In Here To Learn, Patko proclaims to adhere to the principle of life-long learning and warns us to beware of propaganda and lies. The crossover Kingdom Of Ashes features Rockin' Squat from the successful French rap group Assasin. It denounces the impossibility of "living correctly" in this system.

I Know is sung from the same hymn sheet, talking about the toughness of life on those dark alleys. Because is mostly autobiographical and has Patko claiming to be a freedom fighter. She's In Love changes tune to lovers rock and features Kerri-Ann Lewis. Solid As A Rock speaks out against racism. It features the great Dean Fraser on saxophone. Daddy stands out as the most personal song on Maroon. In it, Patko tells about how much he's missing his father that died decades ago when he looks at his own children.

Maroon is a step forward for this conscious soldier of peace.
---
Release details
Patko - Maroon
DIGITAL RELEASE [Dibyz/Musicast]
Release date: 10/23/2015
Tracks
01. Tears
02. Lob Suriname feat. Fantan Mojah & Joggo
03. Maroon feat. Djely Kouyaté
04. Here To Learn
05. Egalité & Justice feat. Balik & Natty Jean 
06. Dutty Money
07. Kingdom of Ashes Ft Rockin' Squat 
08. I Know
09. Because
10.She's in Love feat. Kerri-Ann Lewis
11.Solid As A Rock feat. Dean Fraser
12.Daddy
13.Outro
Featured artists
Fantan Mojah
/
Joggo