Review
EP Review: Papa Michigan - DJ Legend
10/06/2014
by Angus Taylor
Every track's a winner on this punchy little EP.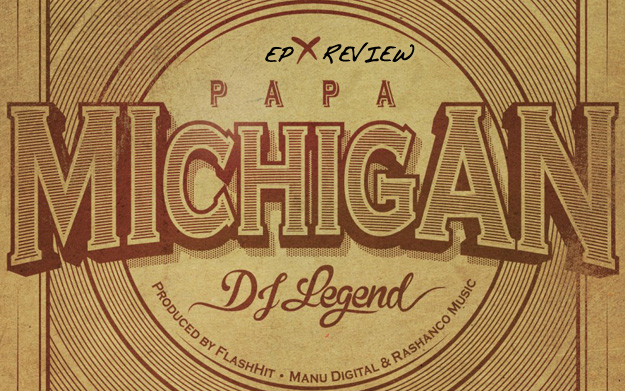 Deejay Anthony "Papa Michigan" Fairclough is best known as one half of the duo Michigan & Smiley. Discovered in the late 70s by Clement Coxsone Dodd of Studio 1, they went on to enjoy a series of dancehall hits in the 80s – most notably the women's fashion critiquing Diseases over the Mad Mad rhythm for Junjo Lawes.

Michigan and Smiley eventually parted but Fairclough has continued to tour release and produce via his production company Rashanco Music. Recent albums such as 2009's Love Iz and 2011's Empress By My Side have heard him expanding his palate into various forms of contemporary reggae – including US R&B tinged lovers styles.

His new six track EP DJ Legend is a conscious return to his dancehall bread and butter. A co-production between Rashanco, France's Flash Hit Records and bassist Manu Digital it's a no fillers excursion through the sounds of the age that made his name.

Like many from his era Michigan, is more about compelling flow than lyrical intricacy. Cloaked in huge amounts of reverb, his voice is hypnotic as he rides dubby organic and chirpy digital constructions with vigour. Lately Michigan has increasingly favoured his badman nickname Baddingo – and here he combines both monikers when referring to himself.

Flash Hit's rhythms often reference familiar backings of the past without being full re-licks. You can hear elements of Ras Michael's None A Jah Jah Children in the bass to opener Wa Mi Come From - a detailed history of Michigan's career (albeit omitting mention of General Smiley).

Meanwhile the title track uses a quite deliberate remake of the Heptones' Pretty Looks. People Rise is a deep roots combination featuring the unmistakable tones of Yami Bolo, warning of impending revolution.

With its vintage yet never too retro flavour every track's a winner on this punchy little EP.


---
Release details
Papa Michigan - DJ Legend
DIGITAL RELEASE [Flash Hit Records]
Release date: 09/30/2014
Tracks
1. Wah Mi Come From
2. Original Ina Town
3. DJ Legend
4. Hi Grade
5. People Rise feat. Yami Bolo
6. Dance Nice All The Time