Review
Album Review: Dreadsquad - The Riddim Machine Vol. 2 & Vol. 3
11/24/2017
by Gardy Stein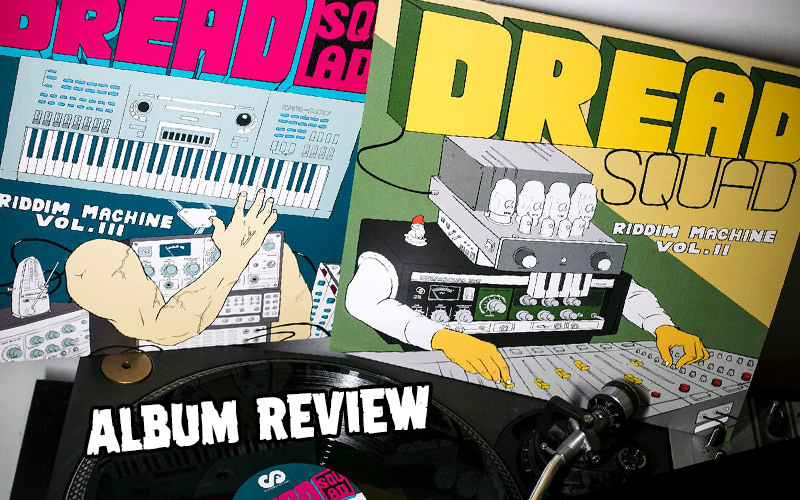 26!!! That's not only a beautiful figure (my day of birth and "8" in numerology, representing Karma), but also the number of tracks on Dreadsquad's new releases The Riddim Machine Vol. 2 & 3. Just to make that clear from the start: there is no way I can mention every one of them in this review, even though they all deserve attention. Marek Bogdanski himself, the man behind this monumental work, introduces his release thus: "It's a compilation of my favourite productions that I made in last few years since I released Riddim Machine vol. 1. I decided to divide them in two separate albums. Vol. 2 is a Reggae and Dub compilation, while vol. 3 explores genres such as Dancehall, Jungle, World Music, Electro and HipHop."
Being familiar with the incredible amount and quality of production this man puts out (in fact, he is one of the leading producers from Poland, if not Europe!), his favourites are bound to become our favourites as well. In a collaborative effort of his own Superfly Studio and the renowned Moonshine Recordings, both volumes will be available digitally and on vinyl, catering to the increasing appetite of black gold lovers worldwide.
But let's take a look at each release in more detail. As previewed by their creator, the twelve tracks on volume 2 lean heavily on Roots and Dub traditions, as the opening piece No Walls by UK singer Dub Princess and the closing Space aptly demonstrate. Soulful contributions such as the moral Clean Up by Greg Blackman or the vocal splendour of Takeyce-Ti in Freedom Train are present as well. And, since Steppas and Digital elements are heavily celebrated in the vital Polish Reggae scene, you also find pushing beats in Rolling Thunder (with vocal lightning added by Kojo Neatness and Gardna) and All Night Long. My personal highlights include YT's conscious Issues and El Fata's Murderers as well as the extremely exciting cross-over of Afrobeats, Latin, Bass and Horns in Africa spiced up by Brazilian singer MonkeyJhayam. I can't wait to hear these on some biiiig speakers!
Pressing the "increase speed" button on volume 3, Dreadsquad made sure these fourteen tracks are a hell of a ride. Kicking it off Full Time with Doubla J, it quickly becomes clear that the producer doesn't differentiate between established artists and upcoming voices as long as the talent is right. We thus find the likes of Skarra Mucci or France's Tomawok next to Zico MC (who does an amazing job in the mood-lifter And We Do It Like This) and rapper Jman.
"Dreadsquad mix dung the bass and treble, another big tune from di Polish Label!" Perfect Giddimani perfectly summarizes the feel most of these tracks deliver in his take on Rebel. And indeed, the remixes of Taiwan MC's Gwaan Gyal and Papa Michigan on a wicked version of the Real Rock riddim in Nice Up The Dance are among the biggest I've heard in a long time. Speaking of big: the moment that bass drops in She Wants Ganja (be prepared… 0:42!) was a huge revelations during my first listening round. Ward 21, mad as ever, ride the Indian Gyal riddim without apology, only equalled by Million Stylez & Richie Riott in the cyan-sit-still Gimmi Di Vapor.
Powerful and versatile, Dreadsquad and his productions are the living proof what huge, rich and diversified breeding ground the Polish Reggae Scene is. Both the riddims he created and the artists he selected to voice them deserve utmost respect and will enrich every dance, whether Roots, Dub, Dancehall or Jungle. Boom!
---
Release details
Dreadsquad - The Riddim Machine Vol. 3
DIGITAL RELEASE / 2LP [Superfly Studio / Moonshine Records]
Release date: 11/17/2017
Tracks
01. Full time feat. Doubla J
02. Papa Michigan - Nice Up The Dance (Dreadsquad RMX)
03. Friendenemy feat. Skarra Mucci
04. And we do it like this feat. Zico MC
05. She wants ganja feat Ward 21 (Kunley Da Kulprit)
06. Screw face feat. Jman
07. Get away feat. MenaceLive & Jman & Zico MC
08. Boom Sound feat. Kojo Neatness
09. That is life (RMX) feat. Charlie P
10. Taiwan MC - Gwaan gyal (Dreadsquad RMX)
11. Gimmi di vapor feat. Million Stylez & Richie Riott
12. Rebel feat. Perfect Giddimani
13. Non stop feat. Tomawok
14. Strong & Free feat. Kasia Malenda (Dubtime Remix)
Featured artists
Perfect Giddimani
/
Papa Michigan
/
Skarra Mucci
/
Ward 21
/
Million Stylez