New Video for Ninjaman & Monkey Marc - Badness
07/22/2019 by Press Release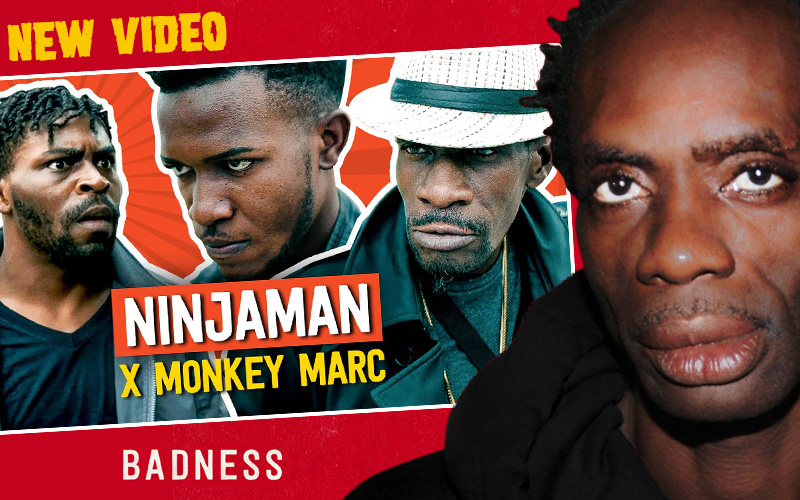 This music video brings Ninjaman's most important message to Jamaica and the world.

With a powerful local cast, the video was filmed in Kingston, Jamaica by leading filmmaker Dameon Gayle (Warrior Films JA). The track is a collaboration between the iconic deejay and producer Monkey Marc, who built the heavyweight hip hop riddim on the Akai MPC300. The bass-heavy track incorporates elements of hip hop and dancehall, harkening back to a brief but formative time in the 90s when American and Jamaican music were more visibly intertwined. Ninjaman was a key player in that era, and his presence on Badness strengthens the song's connection to this important time in dancehall history.

Ninjaman, who is currently serving a life sentence for murder in Jamaica, brings a cautionary message to the youth, telling them to reject a life of crime rather than meet his fate.

When he founded his Jamaica All for Peace One Umbrella Movement community organization in 2008, Ninjaman said, "Only a man like me who has lived the life I've lived can be a role model to these youths, and telling them that if they go the path of drugs, they will end up like this, or if they take up a gun, they will end up like that. I've been down that road ...and it's time for me to take up this cause to save the youths from a life that's not good. ... We know that violence will never be eliminated, but we can at least bring violence down".

ABOUT MONKEY MARC: Monkey Marc is an artist on a mission, having focused on political activism throughout his 15+ year music career and community work with indigenous Australian youth.

Working out of his solar-powered recording studio in Melbourne, Australia, Monkey weaves together hip hop, bass music, digital roots, dancehall and dub. His lengthy catalogue includes collaborations with UK artist, Soom T, releases on the avant-garde German dub label, Jahtari, and multiple singles and EPs featuring Jamaican artists.

Monkey Marc is releasing a full-length album Vital Sound this September.