Reggaeville Riddim Corner #15
10/11/2016 by Dan Dabber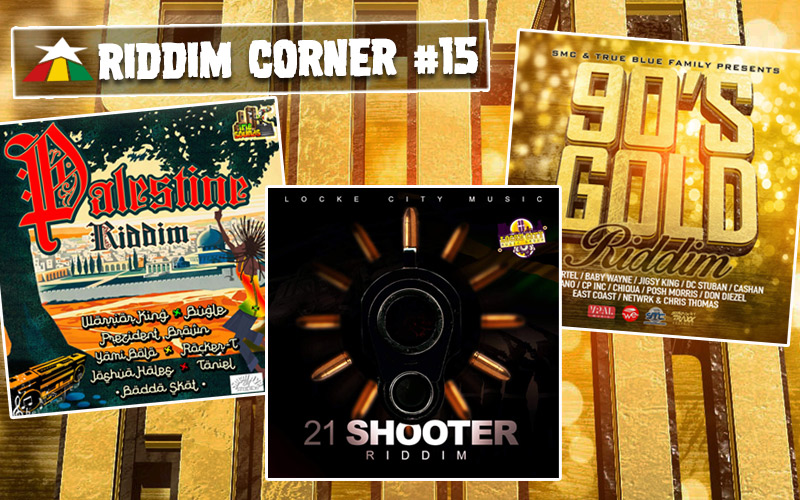 PALESTINE RIDDIM [IRIE SOUNDS INTERNATIONAL]
Irie Sounds International is both a record label and a sound system based out of Northern California. Led by producer James "Dr. Suess" Lord, the imprint has been a small but steady presence in the international reggae scene since the release of its first riddim, Lead Di Way, in 2004. With a focus on one drop riddims, Lord has maintained a consistent approach to his music, focusing on classic roots sounds and voicing American, as well as Jamaican, artists. The newest Irie Sounds project, Palestine Riddim, is a continuation of this approach with a Roots Radics-esque instrumentation that would be as relevant in the early 1980's as it is now, and with a diverse artist line up that hails from the US to JA.


The Jamaican baritone singjay, Bugle, is probably the most relevant contributor to the juggling and his song, Choice Is Yours, is a good example of what a world class artist in top form can do. Reggae vets Yami Bolo and Prezident Brown may be a bit past their prime, but you wouldn't know it based on their versions of Palestine. Yami Bolo's Jah Is In His Kingdom is equal parts spiritually and socially conscious, and his distinctive voice expertly croons rasta-centric lyrics. Prezident Brown's track, Soul Skank, is not as catchy as Bolo's or Bugle's tune, but his musical experience is obvious in the effortless way he rides the riddim with thoughtful, party-oriented lyrics. American artist Rocker T is also experienced, with a resume that goes back to the days of New York dancehall-hip hop fusion in the late 80's and early 90's. His Palestine track, Sorrow & Shame, is one of the better tunes from the juggling, and the song reveals an artist who, although not a native Jamaican, is quite comfortable in his role as a reggae singer. Equally at home on the riddim is Bay-area singer Joshua Hales, who adds a surprisingly solid effort with his tune, Calling.


One of the best performances on the Palestine juggling is from Warrior King, whose talent shines through in the melody and emotional intensity of President Yahya Jammeh, an homage to the controversial president of Gambia. Critics of Jammeh, who has been openly hostile to dissenting journalists and homosexuals since taking power in a 1994 coup, would say he is unworthy of such a complimentary song, but Warrior King's tune argues that the leader is misunderstood, citing Jemmeh's alleged cure for HIV and his presumed love of "Mama Africa" as evidence of his benevolent greatness. In reply to Jemmeh's critics, Warrior King sings, Evil forces a spread propaganda.

90'S GOLD RIDDIM [SMC & TRUE BLUE FAMILY]
Since the Jamaican music scene doesn't rely on big corporate record labels, it is not uncommon for new imprints to appear out of thin air and start releasing dancehall riddims. SMC and True Blue Family, who collaborated on a recently released juggling called 90's Gold, are two such grassroots startups trying to break into the dancehall market in 2016. Although the 90's Gold's artist lineup leaves much to be desired, the concept behind the riddim is incredibly clever, and the performances of the lesser-known artists maximize their talents while tapping dancehall history for some proven raw material.


The 90's Gold instrumental track is a Franken-riddim, mashing up pieces of several of the biggest riddims from the 90's, including Showtime, Punanny, and Mud Up. The result is unique but familiar, and the influence of the riddims used to construct 90's Gold goes beyond just the core dancehall markets, making the SMC-True Blue release perfect for selectors to play for outsider audiences. However, even the most accessible dancehall riddims aren't worth playing if they have not been voiced well, which is why it's wise to search for riddims with a solid list of well-known contributing artists. 90's Gold is the exception however, as there are only two tracks voiced by familiar performers- one by Vybz Kartel and one by the slightly more obscure Jigsy King.

In most cases a Kartel tune would be all the credibility a riddim would need. In the case of 90's Gold, the incarcerated deejay's vocals can be dated by the artist's signature catch phrase, Up to di time - a tag that he has not used on a record for well over a decade. The timestamp is an obvious sign that he did not record Own Your Man over 90's Gold, which does diminish the effect his starpower adds to the juggling. It is not surprising to hear dated material from the artist, as Kartel's older vocals are often recycled by contemporary producers, however Jigsy King, who sets the tone for the juggling with 90's Throwback, contributes an original song that describes exactly what 90's Gold is going for stylistically. This theme is further fleshed out by some of the other, less familiar artists on the juggling who incorporate parts of popular dancehall songs from the late 80's and early-to-mid 90's into their 90's Gold versions. Chris Thomas and Netwrk use Ini Kamoze's Hot Stepper hook verbatim for their tune of the same name. DC Stuban works in a bit of Daddy Screw and Donovan Steele's classic Pepperseed Riddim combination, Big Tings Ah Gwan, in his almost identically titled tune Big Tings A Gwaan, and Gevano pays homage to Supercat's Mud Up by inserting a bit of Don Dada's flow into his 90's Gold version, Wine Yu Body.


21 SHOOTER RIDDIM [LOCKECITY MUSIC]
Reggaeville Riddim Corner has featured LockeCity Music's riddims twice before. The label's founder and producer, Adrian Locke, continues to put out top quality projects, and his latest, 21 Shooter may be one of LockeCity's best projects to date. Similar to 90's Gold, 21 Shooter has a little bit of a 90's throwback feel, but where 90's Gold lacks in artist recognition, Locke put together a small and diverse crew of proven dancehall vocalists to bless 21 Shooter. This tactic worked, and every one of the six contributing performers delivered in a big way for this juggling, resulting in one of the rarest animals in the riddim world - a one-riddim release that can be enjoyed from beginning to end.


Although 21 Shooter has a vintage dancehall vibe, it possesses elements that modernize and add interesting texture to the riddim. What sounds like a distorted guitar appears in the intro and third bar of each verse - a component that adds just a splash of aggressive energy to the beat. The lead synth, a distorted, wah wah-ed-out, synthesized violin, carries the hook and is both creepy and happy, creating a perfect backdrop for a wide variety of subject matter. Much of the 90's feel comes from the tom toms and bass that drive the riddim, and Locke uses choppy snare and hi hat rolls to accent the riddim with a subtle contemporary bounce. All of these ingredients come together in a way that is approachable and fun, but still edgy and mean.


For his newest release, Locke drew upon two of dancehall's brightest rising stars including Gully artist, 3 Star, who writes amazing songs on an unbelievably consistent basis. His lyrical and melodic 21 Shooter version, Circle Dem, fits right in with the rest of his catalogue as he curses and threatens his perceived distractors, haters, and naysayers. Iyara also contributes an excellent track to the juggling with his tune, Get It Clear, which has a similar theme as Circle Dem and features a contagious hook that lists all the people that the artist does not fear - a list that essentially adds up to everybody. The remaining artists featured on 21 Shooter are deejays who came up in the nineties and their dominant presence adds to the nostalgic vibes of the riddim. New Kidz's Nuh Tek Stylings is another aggressive tune, but a smooth, sing-songy hook balances out the rugged lyrics, creating a well-balanced, dynamic composition. Wah Dis is a fun track from dancehall veteran, Mr. Lexx, in which he questions all things in the world which he finds perplexing, and Flex superstar, Mad Cobra, comes tough on his tune, Fimmi Place. Finally, Beenie Man takes the star power of the juggling into the stratosphere with his badmind song, Inna This Life.


LISTEN TO THE MIX HERE: