Review
Album Review: Natural Black – My Life
05/04/2016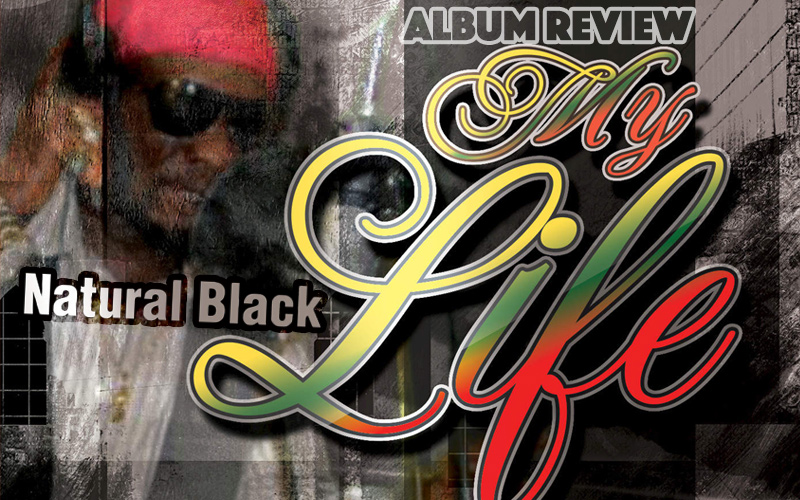 The Cooperative Republic of Guyana celebrates the fiftieth anniversary of its independence this year. The country's president, David Granger, took this as an opportunity to proclaim this year of golden jubilee one of "National Renaissance" in an ambitious New Year address full of emotiveness. Christian Duncan, the director of Brutal Tracks Recording Studios, included this speech in the press release text for Natural Black's new album My Life, a twelve-track modern roots/dancehall effort of similar emotiveness. The official logo of the festivities even made it on the album's cover.
Despite being embedded in the context of fifty years of independence, My Life isn't a very political album. Only Eighty Three Thousand Square Miles speaks about Guyana, and the track is even less critical of the current state of things in the country than President Granger's speech.
The other eleven tracks of My Life are of much more personal lyrical content. Natural Black looks back on his life (Full Of Experience and the title track), he gives positive advice on how to live your life (You Gotta Pay Attention), claims to be one with his wisdom weed (Can't Take My Chalis), tells his mother that she's his "special lady" (Mamma I Love You), and sings about love much, both about love gone wrong (Love Ain't Going Nowhere, Things And Time Has Changed, Success Doesn't Come That, Why Can't We Be Friends) and with a positive outlook (Kidnapped My Love, Your Love).
Unfortunately, the quality of the recording isn't entirely up to the standards we're used to these days from successful Jamaican artists. My Life is a solid effort, but this album would have profited much from giving preference to live instruments over software ones. The songs on the album are good ones without exception, and classy enough to deserve traditional instrumentation. On the other hand, the exaggerated use of synthesizers adds a late 1980s touch to My Life that isn't without charm, either.
Natural Black's latest LP won't exactly write music history, but it definitively deserves to get heard.
---
Release details
Natural Black - My Life
DIGITAL RELEASE [Brutal Tracks Records / VPAL Music]
Release date: 05/02/2016
Tracks
01. Kidnapped My Love
02. Eighty Three Thousand Square Miles
03. Why Can't We Be Friends
04. Full of Experience
05. My Life
06. Can't Take My Chalis
07. Love Ain't Going Nowhere
08. Mamma I Love You
09. Things and Time Has Changed
10. Success Doesn't Come Like That
11. Your Love
12. You Gotta Pay Attention