Review
Album Review: Danakil - Entre Les Lignes
02/24/2014
by Gardy Stein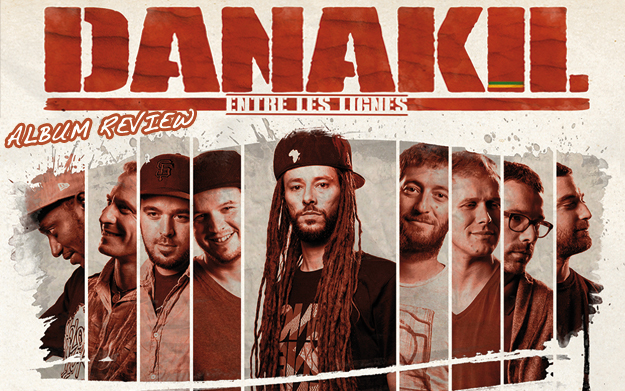 Touché! On a mission to discover the new album Entre Les Lignes of France's celebrated Reggae Export Danakil (they won the French Reggae Album Polls in 2012 and 2013), their powerful music and poetic lyrics will captured you at once, especially if you have the tiniest knowledge of French to understand what they're singing about.

In the opening track Poupees Russes, singer Balik reflects about the question how it would feel to be born in another person's place, to live several lives in one, just like Matryoshkas. Vivid metaphors like this make their music such a joy to listen to, a refreshing counter-pole to the often over-used phrases many Roots-Reggae-Artists keep repeating. Another great bonus is the well-directed use of surprising elements, such as (to come back to the title under discussion) a Wolof Rap-part by Senegalese band-member Natty Jean.

Homage to the motherland is not only paid linguistically, though. As their Africa-inspired name suggests (Danakil is a desert in Ethiopia), the issues of this huge continent feature prominently in their creative output. Mali Mali, for instance, condemns corruption as one of its major problems: "ils veulent vendre le Mali comme s'ils étaient des marchands" ('they want to sell Mali as if they were merchants').

This international focus becomes evident once more in Le Reve, which contains a Spanish bridge and impresses once more by intricately woven lyrics such as "cette réalité glacée qui m'encercle, m'étouffe, m'empeche d'avancer" ('this frozen reality that surrounds me, suffocates me, prevents me from advancing').

No, the overall tone is not flowery and joyful. Instead, it shows a critical observation of the circumstances we live in that sometimes leads to angry outbursts as in Hypocrites or Ne Touche Pas, a song with wonderfully timed lyrics and exactly the right verve and energy to dance along to. Actually, this high quality standard set by the band lets the appearance of the legendary Twinkle Brothers in title track Entre Les Lignes look a bit pale, at least lyrically. The second feature is no textual masterstroke either, but the voices of Groundation-members Harrison Stafford and Marcus Urani blend nicely into the instrumental background of We Drop. Only those who go for the best option altogether and buy the Vinyl will be able to enjoy a third feature. The Voice is a bonus track included in the versions mentioned, and none other than Ky-Mani Marley lends his to create a touching song about the power our conscience has over us (or at least should have, if heeded).


Back to the unique Danakil pieces, Les Signes and Mahatma reveal once more the considerable driving force of innovative lyrics spread out on a handmade musical carpet. Especially remarkable in this context is the length of the songs. Only two tracks are shorter than four minutes, the record being held with 6:39 by Le Reve – a pleasant deceleration that allows for lengthy instrumental solos in a genre that is used to clipping songs to hardly a minute when played at dances.

The band's trademark sound dominated by brass players guides us though L'Or Noir and Larmes D'Or, while Fool On The Hill seems to break the ranks a bit, almost reminding me of Lionel Richie's Hello.

With their Outro, Danakil display again their intrinsic strength and likeability that is probably the key to their success. They create a vibe which is easily sensible, talking directly to their fans and putting themselves in a position of comrades rather than idols: "Mettez vous bien! A tous ceux qui nous suivent, qui nous poussent: ONE LOVE et à bientot sur le route!" ('Keep yourselves well! To all those who follow us, push us: ONE LOVE and see you soon on the road!). Hopefully they cross our roads soon so we can read between their lines!
---
Release details
Danakil - Entre Les Lignes
DIGITAL RELEASE / CD / VINYL [Baco Records]
Release date: 02/24/2014
Tracks
01. Poupées Russes feat. Natty Jean
02. Mali Mali
03. Le Rêve
04. Hypocrites
05. Entre Les Lignes feat. Twinkle Brothers
06. Les Signes
07. Mahatma
08. Ne Touche Pas feat. Natty Jean
09. L'or Noir
10. We Drop feat. Harrison Stafford
11. Larmes D'or
12. Fool On The Hill
13. Outro
14. The Voice feat. Ky-Mani Marley [Vinyl Bonus Track Only]


Featured artists
Twinkle Brothers
/
Professor
/
Natty Jean