Review
Album Review: Mykal Rose - The Healing Of The Nation
11/03/2018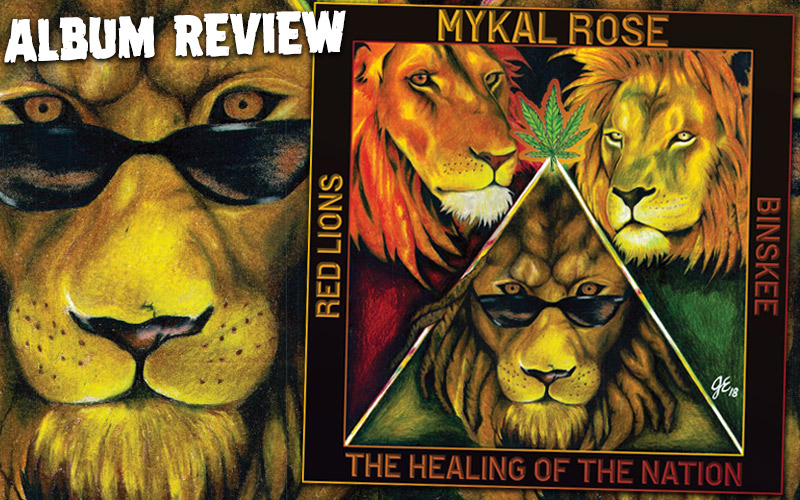 Even as the years accumulate behind him, Mykal Rose remains age-defiant, at least in performance. When the singer makes an album like this one, it's nearly impossible to assign it to an era based on his indefatigable energy and sterling tone, let alone define it in any other way than as the next in a series of recent records by the Black Uhuru frontman that build on the legend. Where, however, his previous Sidewalk Steppa [2016] was loaded in diversity of style, genre, and input from guests, this is classic roots reggae with Rose, front and center, given a complementary, contemporary buffing.

Rose teams with Red Lions and Binskee for this 14-track collection, and they match his nasal-driven tone nicely with spacious riddim and minimal instrumentation darting between that inimitable voice and the backing track. There are plenty of Rose's trademark syllabic strings of words and utterances standing in as notes, serving as both melody and percussive pulses alongside the impassioned delivery of verse and chorus. It's as though Rose's vocal is both instrument and messenger, at once.

The album flows comfortably without distraction from the opening Bad Face into the lighter Dung a Yaad, delighting in harmonies. It's on the third track, My Friend Herb, where Rose really digs in, letting the smoky repetition generate a hypnotic, verbal simulation of the plant he praises throughout; the marijuana is calling, indeed. No Vampires and Gully Bank Life play it rather straight rhythmically, elevated by colorful lyrics playing on metaphor and slang to tell the tales.

Reverberating percussion and keys mark the sobering, ironic nostalgia of When I Was A Boy, then more chanting choruses on Get a Life and More Fyah. The final three songs, before a trio of dub tracks, are dips back to Rose's past provided with a collaborative dusting by Red Lions and Binskee. First, is Sinsemilla, as dreamy and intoxicating at its title implies as it fades away into an echoing finish. Then, it's the hooky, bouncy synth of Solidarity, and Rose's call for unity in the fight of the oppressed. Finally, Rose revisits his classic General Penitentiary that scrubs away some of the affecting emotion generated in a live context, for a studio version that, while still powerful, suggests potential rather than maximum potency; more hazy than indicting.

The culminating three tracks are dubs of My Friend Herb, Gully Bank Life, and General Penitentiary that are serviceable enough efforts, fun in their inclusion. Yet, it's the preceding 11 cuts that do the real healing. All totaled, this is Rose at his most direct; focused on vocal performances that rival his earlier years, showing the gains from his wisdom of experience, his continued enthusiasm for his craft, and his ability to gauge the mood of the moment and fittingly react.

---
Release details
Mykal Rose - The Healing Of The Nation
DIGITAL RELEASE / 2LP [I-Sight Records]
Release date: 11/02/2018
Tracks
01. Bad Face
02. Dung A Yaad
03. My Friend Herb
04. No Vampire
05. Gully Bank Life
06. When I Was A Boy
07. Get A Life
08. More Fire
09. Sinsemilla
10. Solidarity
11. General Penitentary
12. My Friend Dub
13. Gully Bank Dub
14. General Dub