Review
Album Review: Mykal Rose - Rasta State
07/10/2016
by Larson Sutton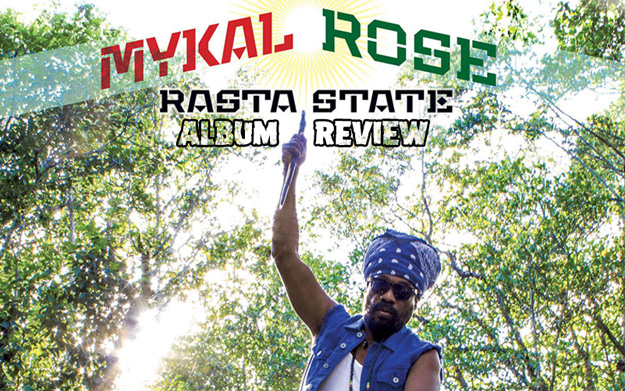 On his second album released in just as many months, Mykal Rose is again teamed up with an old friend for a stellar collaboration. Back in May, Sidewalk Steppa saw Rose working with Sly and Robbie on several tracks, and now on his latest, Rasta State, the venerable singer reunites with legendary producer King Jammy. Except, here, Jammy (Lloyd James) is not simply a guest helping out on a few numbers; he co-writes all 15 of the album's cuts and more than leaves his mark as producer, crafting beds of grooves with the Fire House Crew that support each of Rose's pointed themes.

Structurally, the results of this songwriting pairing appear rather uncomplicated. Jammy and Rose have essentially deconstructed most of the entries to a simple verse-and-chorus pattern over mostly looping riddims serving as platforms for the vocal. This is deceptively simple as a form, and ultimately, almost trance-inducing as music, if not for Rose's intent for centering every song around a central message. Each one is unique on its own, yet connected back to the album's overarching social commentary. The subtle, dark shading of the opening African Queen, or mining history of the man who called for repatriation to Africa, Marcus Garvey, on the Judegment that follows establishes early that the message is king.

Rose references the United Nations and Mussolini on Golden Throne, celebrates the step-by-step cultivation of cannabis on Gimme the Herb amidst piano jabs, and steadies the beat on Unity. Horn lines signal the call on the all-inclusive Rasta rally cry of Hail H.I.M, before turning dark again on Woe Unto Those, spotlighting the continuing plague of racial oppression. This notion of freedom from bondage, both historic and current, continues on Reply from the Queen, and a plea for us to open our eyes on Israelites.

It's a very heavy record, softened slightly by the appearance of the backing vocalists, the Daffodils, whose presence buttresses and rounds off Rose both musically and emotionally. Lucifer is on the loose on Hungryness, before the lighter fare of Free Education. Its breezy temperament is short-lived, however, as Rose ventures back into the bleak, employing a weeping willow as metaphor on the desperately optimistic Peace and Love in the Ghetto.

The final trio of tunes does lessen the load, in a relative way, delving into Muslim/Christian questions on Inna Di Saga, but alleviating some of the weight with Love, Love, Love, and the natty patois of the closing Anything You Want, Gal.

On Rasta State, Rose and King Jammy do what each does best. Rose, a master of delivery and feel, makes sure the message gets neither watered down, lost, or forgotten, while Jammy provides accompaniments that express themselves with just enough symbiosis and variety to braze that message. Releasing an album so quickly on the heels of another could hurt both, but because this and Sidewalk Steppa take different paths in arriving at the same destination, they are equally worthy of attention, making Rasta State another triumph for Mykal Rose.
---
Release details
Michael Rose - Rasta State
DIGITAL RELEASE / CD / VINYL [Greensleeves/VP Records]
Release date: 07/08/2016
Tracks
01. African Queen
02. Judgement
03. Golden Throne
04. Gimme The Herb
05. Unity
06. Hail H.I.M.
07. Woe Unto Those
08. Reply From The Queen
09. Israelites
10. Hungryness
11. Free Education
12. Peace And Love In The Ghetto
13. Inna Di Saga
14. Love, Love, Love
15. Anything You Want Gal