Review
Album Review: Mungo's Hi Fi & Eva Lazarus - More Fyah
07/20/2019
by Gardy Stein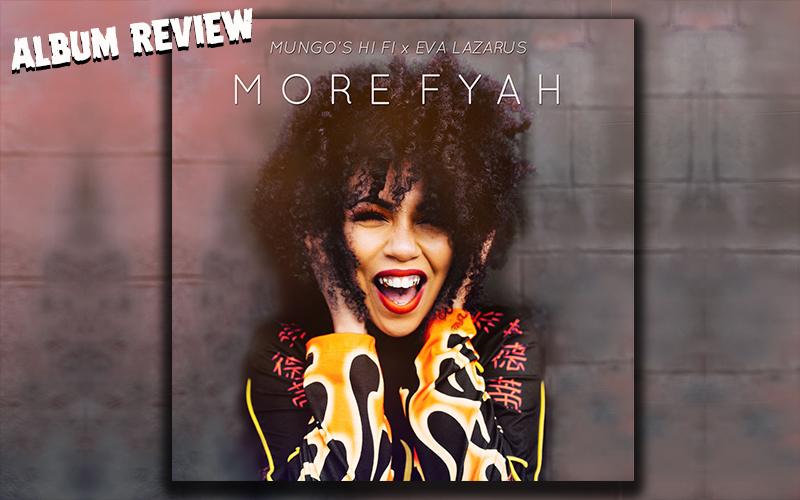 With some releases, you simply know that they are fire, even before you press play. In the case of More Fyah, this knowledge is not only transmitted by the title alone, but by a combination of a promising artist, renowned producers and obvious professionals at work in both press and cover art work.
Mungo's Hi Fi, who developed from a Soundsystem founded in Glasgow in 2000, provide the world with high quality releases for more than 15 years now (whereas the first steps were taken on an old Atari), and their associated label Scotch Bonnet Records stands for top international collaborations and vinyl love. Eva Lazarus has hit the scene more recently, enthusing audiences all around the globe during her live shows, and prepares to release her first solo EP later this year. On my watch-list since the fantastic Gentlemen's Dub Club/ Parly B combination Fire In The Hole, the collaboration with Mungo's Hi Fi is a perfect fit.
Right from the first notes of Dub Be Good To Me, it's clear that we're in for a treat. It is quite rare that cover versions are better than the original, but this dubby adaption of the 80ies S.O.S. Band hit Just Be Good To Me definitely is. Mungo's concept of thus re-interpreting classics is taken to highest heights in Babylon Raid. The Max Romeo evergreen Three Blind Mice in itself is worth any remix or cover anyway, but nothing prepares you for the sheer joy when that bass hits at 00:43 - a grip you will wish to never be released.
In fact, that grip will hug you tight until the last notes of the final Bad Gyal. Due to the amazing variety of the ten tracks included, each one is a new discovery and will appeal to the different emphases of your musical taste. Take We Weren't Made For This, for instance. On a lively Ska beat, it informs us that we were made for bigger things than that 9 to 5 - don't work for other's dreams! Calm and pensive but extremely powerful, Warrior Code reflects on the toughness it takes to go through life in general (and the music biz in particular).
For the title track, I just want to say thank you, Mungo's Hi Fi. More Fyah combines the good old Dancehall vibe so few modern productions manage to evoke with a club-worthy dubstep bass, and Eva's vocal delivery is spicing up the track additionally. Equally fun is listening to Live My Life: no chance to sit still through that!
In stark contrast, Amsterdam chimes in with a more relaxed, almost soulful flavour, while Light As A Feather, introducing London singer Kiko Bun, nods to the traditional feel-good quality of Reggae. "Lady like Eva Lazarus got the remedy" - the sweetness of her singing here is indeed of medicinal value!
No way you can pick a favourite here. More Fyah is an incredible display of talent and love for music, a gem everyone involved deserves biggest respect for!
---
Release details
Mungo's Hi Fi & Eva Lazarus - More Fyah
DIGITAL RELEASE / CD [Scotch Bonnet Records]
Release date: 07/19/2019
Tracks
01. Dub Be Good To Me
02. We Weren't Made For This
03. More Fyah
04. Amsterdam
05. Light As A Feather feat. Kiko Bun
06. Babylon Raid feat. Max Romeo
07. Live My Life
08. Gasoline
09. Warrior Code
10. Bad Gyal
Featured artists
Max Romeo