Review
Album Review: Mr. Vegas - This Is Dancehall
09/26/2016
by Dan Dabber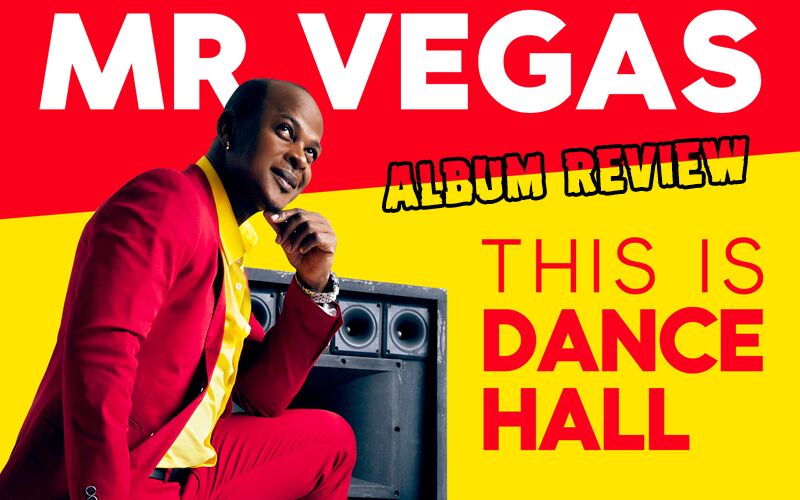 Veteran dancehall artist Mr. Vegas was in a plane that narrowly avoided crashing last December. It was an experience that changed his life immensely. He made a promise to himself that he would find a more righteous path in this world. Several months would pass before Vegas put a plan into action, but with the release of his newest album, This Is Dancehall, he has now officially retired from the genre after more than two decades, and he will be pivoting into gospel music as a full time pursuit. He is not doing promo for This Is Dancehall - no interviews and no new live bookings. Vegas is now exclusively dedicated to serving God, but by answering this religious call, he has abandoned his previous cause - championing true dancehall in pop music.

Mr. Vegas was very vocal about pop's appropriation of dancehall in the spring when he released a series of widely circulated social media videos in which he criticised pop artists like Drake, Major Lazer, Skrillex, and Justin Bieber for capitalising on the music of Jamaica without giving proper opportunities or credit to Jamaican artists. The outspoken singjay made some thought-provoking points in his rants, and he elaborated further in a phone interview with New York's famous hip hop station, HOT 97. "It's not even taking shots at Drake, man. It's standing up for a culture… When I look at it, it's like if you were really into our culture and into the artists that you profess your respect for, at least (you) would of put some respect on the name (for) the album."

In August Mr. Vegas moved on to higher causes, but This Is Dancehall is still a reflection of a singjay on a mission to defend the musical culture of his island. As a whole, the project feels almost entirely directed at pop artists and fans, either attempting to scorn, educate, or infiltrate them at different points throughout the record. A quick glance at just the title of the album suggests that the intended listener is an outsider, and a thorough listen reveals examples of tracks that are informative about the history and culture that surrounds dancehall, as well as songs that hint at Vegas' anger toward the exploitation of his nation's music. Still many of the tunes on This Is Dancehall do not feel like true dancehall but rather a mutation of the genre, watered down by soca, pop, and EDM in an apparent attempt to appease mainstream markets.

Although informative, tracks that utilize vintage dancehall production like Own Leader and Real Dancehall are the least likely to excite pop markets. However, Real Dancehall, a tune voiced to a re-lick of Supercat's classic Ghetto Red Hot, also appears to be a lyrical shot at those pop artists he previously declared "culture vultures" in his viral videos. (Notably, another unofficial version of Real Dancehall began circulating in late May and was titled Dancehall Pirate. It was specifically focused on dissing Drake. Musical elements from Dancehall Pirate are still present in Real Dancehall.)

If a neva dancehall, there wah noh be noh hip hop.
Now dem waan tek it weh and tek wi fi idiot.
Radio station got mi song under lock.
True a yard mi come from. Dem nah waan fi see dat.
Original dancehall a play pon di block.
Dem a try tek it weh and call it tropical pop.

Less lyrically dense than Real Dancehall, the final track of This Is Dancehall, Adamis, is another tune with a rich backstory. There are two versions of this song and both were built on a riddim called Tetris by LIZI, an obscure producer from the French West Indian island of Martinique. The first version appeared on LIZI's Soundcloud profile in the fall of 2014 and much of the promo and chat surrounding it referred to the song as a remix. This was because the vocals appeared to be sampled from a common Vegas acappella that bedroom producers have been playing with for at least a decade.

LIZI's oddly titled remix (lyrics are actually under mi - as in under mi sensi - not the nonsensical adamis, as the title implies) found its way into many corners of the internet, but it failed to make any significant impact on dancehall in its first two years. However, it appears that Major Lazer's Walshy Fire - a DJ/producer who is exceptionally skilled at facilitating unlikely collaborations - was paying attention to LIZI's work. The This Is Dancehall version of Adamis has newly recorded vocals from Mr. Vegas that include name drops for both LIZI and Walshy Fire. It is interesting that Vegas would work with Walshy Fire after calling out Major Lazer just this past spring. But then again, Walshy Fire is the token Jamaican member of the EDM/pop supergroup, so it would be hard to argue that he is one of the "vultures" pillaging dancehall's culture.

Dancehall Dab, Vegas' take on the popular American dance, was a big hit with dancehall fans in 2016, and it is fitting that the artist would include the remix, which features London-based artist Nadia Rose, on This Is Dancehall. The song adds a layer to the vulture drama, as Vegas is taking back from the culture that he says poached the musical resources of Jamaica. The island's most popular export this year was Olympians, and Mr. Vegas's Olympic dedication, Go Before Dem, which he voiced over Christopher Birch's smash riddim, Moskato, was one of the singer's most memorable releases of the summer. For the album, Vegas flipped the Go Before Dem concept into a dancehall theme, paying respect to great artists like Yellowman, Shabba Ranks, and Ninjaman and renaming the tune Champs. However, the high point in This Is Dancehall may be his latest single, Stopper Wine. Stopper Wine, which was produced by Full Chaarge Records, is a high energy, dance oriented banger, and it has the ere of a tune that may go places, at least in the dancehall market.

If Vegas's dancehall career is truly over (smart money says it is not), then This Is Dancehall is a decent finale. It is probably not his most impactful work, but the music is skillfully assembled and adequately engaging and the mission at the heart of the album gives it a purposeful and cohesive feel. However Vegas' mission will sadly collapse without the energy of the man who created it, and dancehall will likely continue to be exploited without acknowledgement, credit, or proper compensation. Hopefully, Mr. Vegas will keep dancehall's artists, producers, and fans in his prayers.


---
Release details
Mr. Vegas - This Is Dancehall
DIGITAL RELEASE [MV Music]
Release date: 09/23/2016
Tracks
01. Intoxicated
02. Wuk It
03. Identify My Love (Remix)
04. Misbehave
05. Keep Whining
06. Paintbrush feat. Natel 
07. Real Dancehall
08. Dancehall Dab feat. Nadia Rose [Remix]
09. Stopper Whine
10. Wish List feat. Tasha Fuller
11. Champs (DJ Edition)
12. No Tomorrow feat. John Hart
13. Gimme Some Love (Pull Up)
14. Own Leader
15. Adamis