Reggaeville Riddim Corner #12
03/16/2016 by Dan Dabber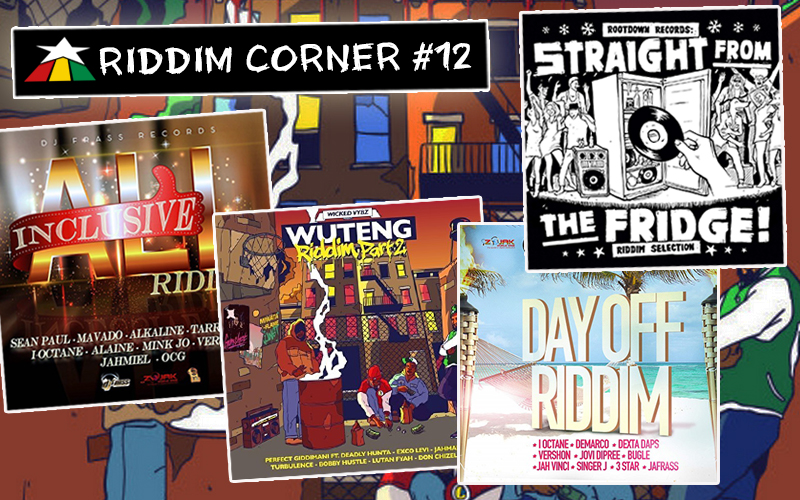 STRAIGHT FROM THE FRIDGE RIDDIM - ROOTDOWN RECORDS
Although the phrase "root down" probably conjures images of the Beastie Boys for most music fans, those of us partial to reggae know that, if the word "riddim" is also in play, we are most likely talking about the long established German reggae label, based in Huerth. Having started their label in 2000, the collective known as Rootdown Records has released many riddim selections over the years, including Racer (2001), Crystal Woman (2005), and Tek A Train (2009). Led by producer/artist, Teka, Rootdown has consistently issued quality reggae music and has voiced a mixture of both European and Jamaican artists, the latter group including Lutan Fyah, Chuck Fender, and Junior Kelly. True to form, their latest release, Straight From The Fridge, is a fierce, dubwise, Teka-produced riddim that gives listeners a bit of both European and Caribbean flavors and features some big artists like Mr. Vegas.

Without a doubt, Vegas' tune, Reggae Live, is the top selection from the juggling, capturing the dancehall artist in rare roots form. What is particularly impressive about Straight From The Fridge is how well the rest of the artists fill out the release, which includes big tunes from other well known reggae voices. Anthony B's High Grade Herb and Randy Valentine's Marijuana Session provide the essential ganja anthems for the juggling, and both are examples of top work from those artists.
The talented, and multi-national, Cali P also puts his best foot forward with his contribution to Straight From The Fridge, Guiding Shield, which is an uplifting Rastafarian-infused track, designed to inspire faith in the face of hard times. Similarly, Perfect Giddimani performs the powerful tune, Bout Ya, a rebellious song with an aggressive tone. Even the lesser known artists like Latty J, RC (featuring Lutan Fyah), and Ziggi Recado do this outstanding riddim justice, and the one German language version, Was Solls by Trettmann featuring Megaloh, will have non-German speakers bobbing their heads.

WUTENG RIDDIM PART2 - WICKED VYBZ
When I covered Wuteng Part One by Jugglerz in Riddim Corner #11, it was mentioned that a second installment of the hip hop-inspired riddim would be released in the near future. The future has arrived and Part Two, released under the American-based Wicked Vybz label, has completed the circle, creating a novel, two-label presentation of a riddim juggling that is unique to Wuteng. As expected for such a project, the instrumental for Part Two is identical to the Jugglerz release, but all of the versions are new and specific to the most recent and final chapter of juggling. The Wicked Vybz imprint, run by New England selector, DJ Nuggiez, is also fairly new, having released their first riddim EP, Northern Lights, this past December.

Although dancehall artists have traditionally been the ones to take on hip hop riddims, both Jugglerz and Wicked Vybz relied heavily on artists more commonly found on reggae riddims to voice their respective segments of the Wuteng release(s). In regards to recent Wicked Vybz juggling, these rootical roster choices created songs with a variety of themes while still remaining close to the reggae blueprint. Turbulence, the singer who came to prominence with his 2006 hip hop influenced single, Notorious, approached Wuteng in a similar fashion, choosing to infuse the Wuteng boom bap beat with lyrics that highlight his Rastafarian faith on his track, Deh With Jah.
However Turbulence's Rasta brethren, Lutan Fyah, took a different route with his offering, Ghetto Life, which takes an in depth look at the reality of living in society's forgotten neighborhoods - a lyrical concept that is quite familiar to hip hop as well as reggae/dancehall audiences. American artist, Bobby Hustle, gives the juggling another track with a theme that is a common element in both reggae and hip hop, marijuana. His tune, Like Every Day, would likely make the late Nate Dogg, known for his Smoke Weed Every Day lyric from Dr. Dre's The Next Episode, very proud, but Hustle's song is completely unrelated, other than by subject matter, to the famous hip hop anthem.

DAY OFF RIDDIM - FRENZ FOR REAL
Although the Jamaican conglomerate known as Frenz For Real began their journey in 2001 as a recording studio, their standing as a prominent dancehall label has only come to fruition in recent years. Since throwing their hat into the production fray, they have been behind several releases, including jugglings like Gwaany Gwaany (2013), Supa Juggling (2014), and Run In (2015). Their riddims always represent high quality Jamaican music, but their most successful release is actually a single, Gully Bop's Pussy Specialist from 2015, which was produced in collaboration with Hard@Work Musiq and provided a strong follow up to the artist's breakout smash, Dem Nuh Bad Like Me.

Day Off is the newest juggling from Frenz For Real, and the line up boasts some of the biggest names in dancehall music. Produced by Ricardo "Redboom" Reid, the riddim is built from acoustic guitar strums, piano chords, and subtle synth riffs to create a laidback, beach-friendly appeal.
The vibe is perfect for singing sensation Dexta Daps to masterfully ply his craft with Chinese Jordan, a lyrically complex tune about a messy break up. Day Off is also an appropriate backdrop for Bugle, who has blessed similar riddims with big tunes in the past. His contribution to this juggling, Naah Sell Out, showcases all of his best qualities, both vocally and lyrically. 3 Star also puts his best foot forward with Wul' Out, an inspirational song that, similar to Bugle's tune, is about holding onto one's identity despite the temptation of money and fame. I-Octane's Jealousy is also notable, if for no other reason, than for the age old wisdom that he embeds in the chorus - Jealousy a fuck up dem vision.

ALL INCLUSIVE RIDDIM - DJ FRASS RECORDS
Kimani Palmer, aka DJ Frass, has built a reputation as one of the most consistent, prolific, and successful producers out of Jamaica. His label, DJ Frass Records, has released a plethora of jugglings like Cane River (2014), Jelly Wata (2015), and Wild Wild West (2015). He also works regularly with the biggest names in Jamaican music, including Alkaline, Mavado, I-Octane, and others. 2013 and 2014 were probably Frass' biggest years to date, having released two riddims, Pop Style and Gwaan Bad, with multiple tunes that rose to heavy rotation status in the dance, including Cobra's Diss Dem Anyweh and Vybz Kartel's Mek Di Star Shine. In addition to music, Frass also made news in 2011 after a studio altercation with the artist Gyptian escalated to the point that a weapon was drawn by a member of Gyptian's entourage and a man at the studio was killed. Neither Gyptian nor Frass were found to be responsible for the death in any way, and those darker days appear to be far behind both the producer and the artist.

The first riddim from DJ Frass Records in 2016 is All Inclusive, a minimal but masterful dancehall banger that is peppered with heavy filters, air horns, and a pitched-down voice proclaiming, Bring that beat back.
All Inclusive will undoubtedly inspire many selectors to pull up a tune, and there are plenty of potentially big songs for them to choose from. Tarrus Riley brings his unique brand of reggae singing to the juggling with the reassuring Nuh Need To Worry and Alaine skillfully croons lyrics of confidence on Born To Win. Jahmiel's You Can Do It Too and I-Octane's Me Nah Do It are both nice tunes which are unrelated despite titles that suggest a lyrical debate. Controversial artist, Alkaline, applies his undeniable talents to yet another sexy song, One More Time, directed at his female-majority fan base. Mavado takes a similar approach with Big Bumpa Gal, which may have the most potential for success out of all the All Inclusive tracks. The biggest surprise from the juggling is that, despite contributing two tunes to the release, Billboard's recently proclaimed dancehall king, Sean Paul, fails to stand out in this selection.


LISTEN TO THE RIDDIM MIX