Mr. Vegas Sings Adios Irma and Starts Hurricane Irma Relief Fundraising 
09/18/2017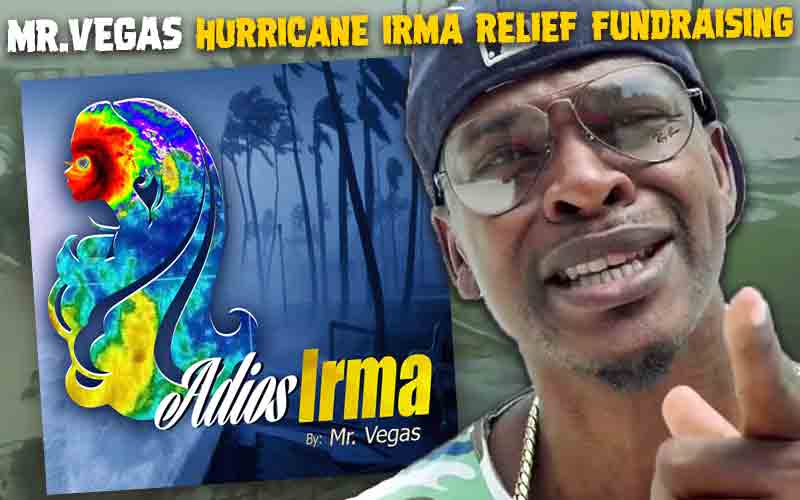 On September 8th, when Hurricane Irma passed over The Bahamas and Cuba, Mr.Vegas released the song Adios Irma in support of the victims of the storm. He also created a fundraising campaign on gofundme with a target of $200,000 (US Dollars).

Recently the official video for Adios Irma was published on Youtube. Watch the video below and check all details to support the fundraising here:

Music and sports have always bonded us together as Caribbean people. Therefore, I wanted to make a song that will bring even a temporary smile and lots of donations to the Caribbean people affected by Irma.

Why Caribbean people?

I, Mr. Vegas, have seen where celebrities got on board with dire urgency to support the people that were and is still affected by Hurricane Harvey in Texas. I am hoping that this gesture and song will create the same impact and awareness.

You can donate to this cause right here on gofundme. Our target is $200,000 US dollars. The song is also available on iTunes, Amazon, Spotify and YouTube.

If you can't make a donation or pay to download, simply listen to the song in it's entirety on YouTube & Spotify, then share the song with all your your friends and family and let them know when they watch and listen to "Adios Irma" in it's entirety they are contributing to the people affected by Hurricane Irma in our beautiful Caribbean Islands.

Your donations will be transparent and all proceeds from downloads, donations, pledges and views will be donated to the Caribbean people, through Mr Vegas Foundation.

So let's Donate, Pledge, Download and share "Adios Irma",. Thank you for your impending support!!

God bless you all!