Interview with Mr.Vegas: We Are Going To Tour This Album Like There Is No Tour Left On Earth
01/10/2012 by Angus Taylor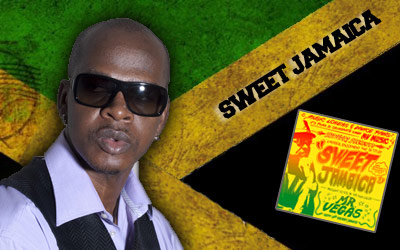 The story of "singjay" Clifford Smith AKA Mr Vegas is well known to dancehall fans. How he got his name because his cousin thought he played football like a Vegas go go dancer. How he recorded his first hit Nike Air for producer Jeremy Harding with a broken jaw. How his song Heads High on Danny Brownie's Filthy riddim hit the British charts in 1998 netting him a MOBO Award. How he retired from the business in 2008 only to return a few months later on the runaway success of his gospel dancehall fusion I Am Blessed. But now Mr Vegas is turning his music back to reggae's foundation. In November 2011 he began a campaign to "Save Foundation Reggae" in Jamaica and on February 7th he plans to drop Sweet Jamaica, a long-player of one-drop sides including Desmond Dekker, Jimmy London, Alton Ellis and Maytals covers co-produced with Mikey Bennett to celebrate the 50th anniversary of Jamaican Independence. But, as ever, Mr Vegas' dancehall hits of the last few years could not be ignored, and the album now comes with an extra disc boasting the likes of I Am Blessed, Bruck It Dung and Certain Law. Reggaeville pulled Mr Vegas out of rehearsals to chat about his new (and old!) direction, how it can help bring the dancehall business on, and why he isn't really a "singjay" at all.

You created the petition to save Foundation Reggae. Why did you decide it needed saving?
I grew up on original rub-a-dub reggae music so of course that is a type of music I enjoy. I think of late many DJs and selectors have alienated a lot of roots reggae off their playlists and started playing more hip hop sounding beats that a lot artists who say they are doing reggae now use as their type of reggae. I'm just trying to get a balance to keep some of these artists that have paved the way for artists like myself to still be mentioned and be around, so kids that are getting into the music now will know that these artists exist.

Why do you think selectors in Jamaica don't play so much original reggae?
I think it's because the internet controls everybody these days. Whatever you put on YouTube or whatever you put on Facebook and people comment the most on or view the most - that is what everyone is geared to. It's not about what is good anymore - it's about what's popular. So I think if there is an artist in Jamaica and there is a lot of controversy or hype around that artist that a lot of these DJs and selectors are trying to get ratings and be relevant so of course they are going to play what people are talking about.

Foundation reggae is popular in other countries such as in Europe. Does Jamaica need to reclaim reggae as some media figures have said?
I don't think Jamaica needs to claim reggae from anywhere because reggae is a universal music - anyone can do it. I just think in Jamaica we need to have a balance. Because music evolves, so if the youths feel they want to play something different we can't knock them for that or kill them for that. But we still have to have a balance where we produce that type of music in Jamaica and not just sit around and complain about other countries taking the music. If you have something good and you're not using it - it could be your wife! - you're going to lose it.

As a former MOBO award winner what did you think of the European artist Alborosie winning the MOBO for reggae in 2011?
Of course Alborosie has been working very hard over the years. A lot of Jamaicans maybe don't know about that. I think he has been working extremely hard and touring the whole world so I don't have a problem with that. He is one of the artists who is still putting out reggae albums. He is one of the artists who is still out there touring and spreading the music. He's not representing Italy where he's from - he's representing for the world and he's representing for Jamaica.

You have a double album release due in February. What made you decide on releasing both reggae and dancehall Sweet Jamaica albums together?
We started out just working on the reggae album - me and Mikey Bennett. Clevie from Steely and Clevie asked me to do that song A Little Love for a Memories album and Mikey Bennett came to me with the idea of doing songs like Sweet & Dandy and Ob-La-Dee and a few other covers and I was open to the idea. Then I was like "Maybe we need to do a whole album" because it is Jamaica's 50th anniversary and Sweet Jamaica is a big tune in a lot of places we go to on tour. We just started working and the songs were getting better and each song was just a better song. So we started promoting Mr Vegas doing a reggae album but then the fans started asking "Is Beautiful Life going to be on the album?" "Is Bruk It Dung going to be on the album?" "Is Certain Law going to be on the album?" But of course, we are not trying to separate ourself from what has been working for Vegas over the years. I can't be ungrateful to dancehall music because dancehall music is why I am even doing this interview right now and has taken me around the world. At first we were going to do two separate albums but then we decided that might be a problem because we were going to split the fans. So we decided to do a double album. We put two CDs in there - one is dancehall and one is reggae. If you're into roots music you can check out the Sweet Jamaica Reggae, if you're into dancehall you can check out the Sweet Jamaica Dancehall.

The way the project took shape because people wanted your songs to be on there sounds like a similar situation to when you retired in 2008 but the success of I Am Blessed brought you back. Would you say that your songs in the dancehall seem to have a life of their own?
Definitely. It's the same vibe. Sometimes it's a blessing because sometimes it is not even me directing myself. Sometimes it's just people saying something - even when we are writing music. When I was recording Hot Wuk I was at a party in Kingston when a DJ just saw me and said "Yow, you have a new dance, it's called Hot Wuk that the girls are doing" and just by him saying that it gave me a big, big tune all over the world. I Am Blessed - we were just on tour and singing on the bus when one of the backup singers started singing a church song called I Am Blessed and then I wrote the music from that. So that's the way - sometimes my thing takes a life of its own.

You've talked in the past about the need to stay relevant in the dancehall but now you want to go back to reggae's history and make the past relevant...
That's because we would love original reggae to be played in the dance. As I said before, this is something that means a lot of people like myself and other people I know. When you go into a dancehall and hear a Tenor Saw or your hear a Dennis Brown these songs used to play in the dancehall and create a major forward. So if we can be in the dancehall and hear Informer and Sweet Jamaica and those songs we expect to be relevant just the same as doing a jump up dancehall tune.

You started as a singer with Don Yute at Big Ship before you blew up with Nike Air and were called a singjay. Would you say with this album you are going back to the singing?
I wouldn't say I was going back to singing. To be honest with you there is no such word as "singjay". It's just Mr Vegas came along and people didn't want to give me awards for Deejay of the Year or for Singer of the Year so they tried to create a category because - maybe - those spots were already paid for! So people created a category and then people started saying "singjay" but there is no such word in music as singjay - you are a singer. A deejay is like what King Stitt and U Roy used to do. They'd just have the microphone so that's why people called them a deejay. It's just separated when people started deejaying with melody because of the whole singjay thing and people started using it as a category to give out awards. But if you check Tenor Saw or Half Pint or Barrington Levy's catalogue you're going to hear the same or similar type of style.

People today call those artists singjays as well.
The only difference is I was one of the first artists who did the style on an original up-tempo dancehall beat where I was going toe-to-toe with a Bounty Killa or a Beenie Man or a Spragga Benz or whosoever was on the same beat - and maybe I would have the biggest tune on the beat. That never used to be the norm. It would be that you'd play the singer's song first because it's nice and sweet and then the deejay when you'd go crazy. But then I brought more energy to the up-tempo dancehall beat with the same style that Barrington Levy did or Tenor Saw did. What I am doing on Sweet Jamaica, people are saying "He's singing now" just because I am not doing on a faster dancehall beat. You have different styles but I'm always a singer. It's just some people sing different.

You recently went to Egypt and Lebanon and then you saw in the New Year in Cyprus. How was that?
We had a transit through Egypt and Lebanon and then Cyprus was a great vibe. But I totally did that show for the love of the people. It's really sad that when you're working with the African promoters, even the good ones have to suffer for the bad. Because there is always some form of ginalship or some form of craziness that goes on with the African promoters. We were basically unhappy with the whole situation and we missed one show in Cyprus because the promoter did not pay for our flight for us to return back to our country. He wanted us to come to Cyprus on a one way ticket and we couldn't do that because I wasn't going to go on a one way ticket and not know to come back! So it was a situation where we decided "It's New Years. We don't want to start off the New Year with a no show" so we totally did that show based on merit. We were just going to go and whatever the situation is we are just going to pray that we get back here without having to spend $20,000 to fly everyone back out. So it was really hectic and it was a lot of disrespect but we did it for the fans - and of course I am happy I did it.

Luciano is on your album singing on the track Alive & Well. There have been some reports on the internet that he allegedly got a bad reception in Nigeria.
I'm not surprised one bit. Because I was just in Zimbabwe. And if you look at my concerts I have not played one show where I did not pay respect to the people before me. Even the DJ is going to play two Bob Marley or I am going to sing one Dennis Brown or one Barrington Levy because you cannot expect someone to play for one to one and a half hours and all they sing is their material. Even the great artists I see performing will perform other people's material in their set because it is a concert - it is a show. So we were in Zimbabwe and we thought that Zimbabwe by Bob Marley was going to be crazy and tear the place down because it was like national anthem in Zimbabwe when Bob Marley was alive. So we sung two Bob Marley and we sung Sweet Jamaica and A Little Love but fans were complaining that if they wanted to hear reggae music they would have called Cocoa Tea! Then the media picked up on it and it was like negative feedback.

Why do you think they reacted like that?
I think it's what the internet is feeding to the youth these days. Which is why Save Foundation Reggae Music came about. If all we feed to the youth is just Vybz Kartel and Mavado and the internet hits then the kids are going to want to hear that when they go to a concert. They're not going to want to hear Dennis Brown or Luciano. There is no way someone is going to tell me that Luciano came and he wasn't performing well. I'm 100% sure - and I can put my life on that - that Luciano would never go to a concert and give a half-hearted performance. I've seen him in front of twenty people and he was performing like it was a stadium full of people. I've seen him perform a few times and I know when we were in the studio recording Alive & Well he was basically crying when he was performing the music. So I just think that these kids are not being fed any reggae music or any rub-a-dub music and the internet is there as their new way of getting what's going on so they're just working with what's going on.

What do you think of Jamaica's new prime minister and government?
I'm not big on politics but we just have to hope for a better Jamaica and whosoever is going to do it. Maybe a woman is going to make a difference. What I do know is that I think the past government has done nothing for reggae music. There is nothing I can put my finger on and say they represented for this cause.

Are you saying what they did was negative for reggae music?
If it was negative it would have worked because people would have done more about the music. I don't think they did anything whether negative or positive. I think they gave a whole meagre $1.2 million to keep a whole Reggae Month in Jamaica and they gave millions of dollars to other entities to keep something that is not even from the culture of Jamaica. But that is political and I am trying to save myself so I can't even say everything right now.

Let's get back to the album. You covered Toots and the Maytals' Sweet & Dandy. Toots in his day is someone who fused together the reggae with church revival music in a similar way to you.
100%. Toots is someone who I perform with in Europe. We just had a show with myself, Toots Hibbert and Stephen Marley and it was one of the best shows with only three artists. People didn't want to leave the venue. It was the greatest experience to open a show for those two great artists and then Toots Hibbert came and he closed the show. He came to my tent before he went on and was like "You go on already?" and I was like "Yeah man" and he was like "Jah know star!" That's something that makes me feel like Toots Hibbert is passing something on to me where I just pray that I can even represent it.

And as well as foundation reggae you also cover the Beatles who are foundation pop music. Not only that but in Ob La Di Ob La Da, a song where Paul McCartney was trying to pay tribute to Jamaican music. Jimmy Scott-Emuakpor who came up with the phrase even played with ska bands in the UK.
That's right. The album is called Sweet Jamaica and Desmond Dekker and Jimmy Cliff covered that same Beatles song and had different versions of it. And when you're listening to the Beatles they are trying to do reggae! So if they were trying to some reggae right there we have to include it in the package. They were arguably the greatest group and they were trying to play tribute to reggae music and we are trying to take away ourselves from that music.

You did some big festivals and shows in 2011. Rototom in Spain, Reggae Jam in Germany, Reggae 4 Japan, what's in the diary for this year?
We are going to tour this album like there is no tour left on earth. If we have go out there and work on some shows to promote this album like Bob Marley did then we're going to be all over the place. If we have to perform for some people that are going to just stand and look around like it's a totally new artist on stage, we are going to work this album. We are going to try to make this a masterpiece with the help of a lot of the DJs who are giving it good feedback and really rating it as a surprise, something they weren't expecting. So we are good for what's going on but we want to take it to the next level.

How will you do that?
We want people to know that dancehall music or reggae music is not just one way. It's a fun music. It's a happy music. We want to go on stage and do Cherry Oh Baby that instrumental that Eric Donaldson made popular during festival time - that was the happy time in Jamaica, the festive season. We want people to enjoy themselves because that's why we use those beats that make people happy and make people smile. We pay tribute to Alton Ellis [with You Make Me Happy] - he's one of the greatest singers from Jamaica. I actually watched him perform his last show in England on the internet when I was researching his history. He was in that yellow suit and I watched him struggle and I watched him in pain and I watched him still giving 100% and when he could not go further and he asked for help. He was like "Here, I brought a helper". And just him saying "I brought a helper" and one of his sons came on - it was like I was one of his sons as well. I felt like, as someone who grew up on the music, he was calling out to me as well and not just his son but the sons of the music, the sons of reggae music. And I had to pay respect to that. That's why that is one of the first official singles

You've sung many songs for ladies in the dance. Would you say ladies drive what happens in the dance?
Of course. But check this out - the artists that are still getting shows are the artists that dedicate their songs to the ladies. All them badman tune and them rudeboy tune and them Man Fi Dead and whatever they want to sing is just to get a forward on the spot. To get a rudeboy forward. Nobody is going to pay to go out and see a clash in a club. What are you going to do - have a clash with yourself or with the people? So the only time some artists are going to get to tour is when they are clashing with someone and people don't even understand what you're saying in patois in a different country attending your shows. So most of the artists, the Beenie Mans, the Mad Cobra with Flex and all those songs, Shabba Ranking did a lot of girl songs in his career - a lot of the artists who dedicated their songs to the ladies are still on the road.