Interview with Mr. Vegas
09/23/2014 by Angus Taylor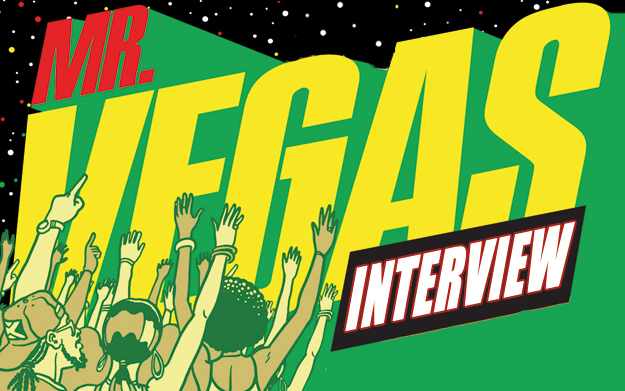 When Reggaeville interviewed Mr. Vegas in 2012, the dancehall singer with the sharp waspish tone was headed in a new direction. He was circulating a petition to "save reggae music" and preparing a double album with one disc devoted to foundation rhythms in honour of the 50th anniversary of Jamaican independence. A lot has happened since that project, Sweet Jamaica, hit our ears. Reggae has become noticeably more popular on his island and a young wave of its exponents has been well received around the world. Mr. Vegas' next album, the up tempo Bruk It Down 2.0, again proved on trend in terms of signposting Trinidadian soca's increasing global appeal. Now he is about to release his third consecutive long-player on his own MV Music label. It's called Reggae Euphoria and expands Mr. Vegas' unique and holistic approach to Caribbean music: from reggae covers of Miley Cyrus and Leonard Cohen to mento infused singalongs like My Jam.

While Mr. Vegas' musical journey in this decade has remained fruitful, the years have been rocky on a personal level. He suffered a very public relationship breakup on social media in 2012, became embroiled in disputes with various dancehall artists, and just before this interview was conducted he lost his beloved mother Lucille (who he mentions in the lyrics to God Good on the new record – another spiritual dancehall piece to rival his 2008 hit I Am Blessed).

Despite his recent bereavement Mr. Vegas preferred to move forward and schedule our chat as planned. He seemed calmer and more circumspect than usual but he still had plenty to say.


How are you feeling? Thanks for doing this interview at what must be a difficult time.
I'm not too bad. Hanging in there. I thank you for taking the time out to do it as well and I appreciate the support. I'm holding firm. I'm now the cornerstone of the house. I have to keep firm so everybody can be firm.

You've stayed in touch with your fans on social media quite a lot during this time. How important is it to stay in touch with fans as well as close friends and loved ones?
Well you know what – the support that people give – people would like to know that at least you're recognising that support. I'm the type of person who chooses to communicate with the fans. I remember back in the days when it used to be coming to a concert and meeting Mr. Vegas and signing a poster. But now everybody is a fingertip away so I choose to communicate with the fans and interact with them in any way that I can. I can't do it for everyone but I try to have an openness where they can see me as a regular normal person.

You have a new album, Reggae Euphoria – it contains a lot of different flavours but it's your second album in recent years with a heavy reggae component.
Well for this record I chose to go into the studio with Danny Browne from Main Street - that did Heads High and Red Rat and General Degree and that era - and Clevie from Steely and Clevie. We did most of the work – Clevie, Danny and myself. Most of the records on this album just take me back to the place where Mr. Vegas was born and wanted to become this vocalist. Songs like The Climb and Hallelujah show a different range to my vocal which people are not accustomed to hearing daily and the producers who could really bring that out were people like Danny and Clevie. So this record is being what I always wanted to be – a real vocalist.

Last time we did an interview you said that "Singjay" was just an invented category. So is this album a way to get away from being pigeonholed in that category?
Definitely. I keep telling people that if they are to say Mr. Vegas is a singjay then they would have to say Barrington Levy and Half Pint and all these great artists are singjays. People think that because you're not singing like Whitney Houston you're not a singer. I think singjay – there is no such genre or title. I think people sometimes have a misconception of someone having an original sound. I just think it's an original sound and it's important for artists to have an original sound.

So people hear something different and just want to give it a name?
Right. I think Tenor Saw was an original sound. Barrington Levy is an original sound. It's just that original sound so people think "I'm not used to this sound". I think this album allows people to decide whether they are going to say Mr. Vegas is a deejay like a Bounty Killer or like a Beenie Man or a Shabba Ranks or if you're going to say Mr. Vegas is a singer.

Making an album - people used to have just one or two good tracks and then you'd call the rest "album tracks". Because you're more focused on getting that one big record and then the rest are maybe less focused. So people used to be picking up records that have already been popularised and put them on albums and stuff. But making an album now in the era that we're in – in digital downloads – it is important to have every track on the album feeling like a single. Feeling like this can be a hit song instead of seeing it as an album track. So the focus going into the studio in this era is going in to make every song and every beat count and put in the same amount of work that you would put in to one track into all the tracks.

You cover Miley Cyrus and Leonard Cohen on this album, two very successful but very different artists. Tell me why those songs spoke to you.
Miley Cyrus The Climb – that song is dedicated to my daughter who I haven't seen in over two years. I was at a point at that time in my life where it was a struggle and The Climb is the song that was my "go to song" that would take me out of that vibe. The Climb was my recovery song – if you can call it that. It's a song that reminds me to keep positive and to keep moving forward.
Hallelujah, a friend of mine said "Your voice would sound really good singing this song". I realised that so many people covered that song so I couldn't have done it like everyone else was doing it. So I chose to go for that Rastafarian Akette drum Bobo Hill vibe. It reminds me of when I heard Cocoa Tea singing on stage (sings) "I hear the voice of the Rastaman saaaaaaayyyy" and I sang "Hallelujah" and it gave me that vibe so we went into the studio and tried to do that Rastafarian Akette drum Bobo Hill vibe.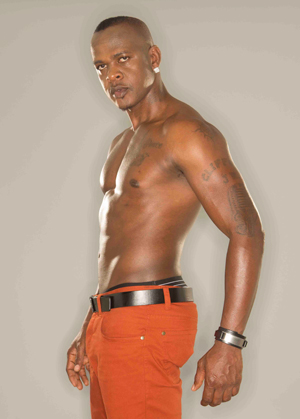 That song has a very spiritual sound but the lyrics are actually kind of slack and kind of freaky. Did you want it to have more of the spiritual vibe?
Everything that is in that song I can relate to. So if you take it from that angle I can relate to it and if you take it from the spiritual side I can relate to it. As I said before, going through a certain vibe in your life you have songs that you can relate to and it's important when covering a song. But I think if you listen to certain parts of the song you can think "That was taken from a part of the Bible?" like "Maybe he was singing about Sampson 'cut his hair'?". So different messages depend on what you are looking for in the song.

You also cover two foundation artists from Jamaica – Alton Ellis, who you've covered before, and Delroy Wilson. How do they fit into your musical upbringing?
Delroy Wilson, first of all, is one of the great Jamaican artists that people don't even talk about anymore. That's sad. If you should check Delroy Wilson's catalogue he is up there and should be mentioned with the greats. I was listening to the radio one Sunday and I heard Once Upon A Time and I was like "This man is such a great voice, great original sound." Doing songs with Jovi Rockwell like Can't Stop Now and You're Going To Need Me I realised that a song like that would fit her sound and I wondered how we could make this our track and interpret it differently from what Delroy did? We went into the studio and we knocked it out and we liked the sound of it.
Alton Ellis is my favourite rocksteady artist and I covered him on the Sweet Jamaica album. So I went for it again and this time Sherita – who is a vocalist in Jamaica who is behind the scene – I just tried to bring her to the forefront with this track.

Did you ever meet Alton?
I never met him. I started listening to Alton Ellis when I really got into music. It wasn't about Alton Ellis growing up. It was more about the sound of King Jammy's and King Tubby and that era. But when I really learned about Alton Ellis and realised the sound and originality and the great performer that he was I started doing a lot of research and watching a lot of his videos. Then I realised how great a performer he was. I watched his last performance when he was in England. And what really got me attached to Alton Ellis was the way I saw him do his last show. And when he was on the stage for a certain amount of time I saw he couldn't go any more and he reached the stage where he passed the baton on to his son. He said "Come Chris" and his son came and took over and when he said that it felt like it was not just his son alone that he was saying to come. It felt like he was talking to me as well just by watching that video. It just felt like it was a calling "Come on, take it from where I left off".

In Alton's version of the song Girl I've Got A Date the man is being a bit harsh to the lady, saying "I'm playing the field, I'm free". In your version the roles are reversed but man cheated so the man is in the wrong again.
As I said before, when I'm covering a song, if I can't make it my own I don't see the sense in doing it. It's really important for me to make the song my own. If I can't do that I cannot do a good job of covering the song. I don't want it to sound karaoke, I don't want it to sound like a cabaret song. I just want to make it my own so people can get a fresh new life off of it.

Discussing men and women leads us into the song Who Rule with Latty J. You've made quite a funny video together. It doesn't look like that's real rum you're drinking in that video though – what is it?
It was not rum – it was "pep up"! I gave that name to some stuff that was in the bottle – medina and Moringa leaf.

That song is about the relationship between men and women. What do you think of feminism and the feminist movement?
I support women 100% in their agendas. For example my artist Latty J – I'm putting out her single now called Same Pay. It's about women who are doing the same work thinking they should get the same pay. I support her on that and it was my idea to have her do a song like that because that's a concept that women are always into. I have to strongly support her on that cause because I grew up with my mum and I saw my mum acting as mother and father. So I support women's movements in fighting for equality.

On the song Plastic Dolly you say you don't like women having cosmetic surgery. What inspired those lyrics?
Just seeing what is in front of you every day. We write music off of what we are seeing and hearing. I try to write off concepts. When I'm writing something I'm trying to put visuals to it at the same time. And if you look these days you don't even know who is real sometimes. You might see a woman and she has a big butt and big breasts and all that goes along with it and you don't know what is real from what is not real anymore. I just love a natural woman and that is what the song is saying "I love a woman who is natural". I'm letting women know. All these butt injections that a lot of women are getting done – are often from people who are not qualified to do it - so women can run into trouble and end up dying or deformed. I had this experience where I had this girl and she was everything. Then I saw her a few years after and she was having a bigger butt and bigger hips and I was thinking "something is different". I was saying to myself that she was so perfect and I didn't even know she was insecure. When she told me she did it I was kind of disappointed but I have to still respect her actions.

What do you think is the cause of the pressure and insecurity that makes people do things like that?
Social media. Social media is the biggest disease when it comes to influencing people. I think it's a major disease. People do stuff just to get on social media and get the comments and the likes and I think it's something that puts a lot of pressure on females especially. I see girls I grew up with who were so beautiful and they are doing all the face and butt and everything.

One track on the album that's not produced by Danny or Clevie is the opening track Mr Shotta by the English producer Angel Camorra. It's probably the biggest departure for you of all.
That was the last track that we went into the studio with and it ended up being the number one track on the album. I was just vibing one day and saying "If a gunman comes to take you out, if you could just get that one opportunity to call up your loved ones and just say goodbye – how good would that be? Even if that was going to happen". It was basically wishful thinking which materialised into a song. She sent me the beat and the beat just had that vibe that I wanted to get for that song. I did it and it sounds totally nothing like Mr. Vegas. It was just different.

It's another example of your vocals sounding nothing like the Mr Vegas we know. I was thinking "Is this a combination? Is Mr Vegas going to come in on the next verse?"
Yeah man. I'm always trying to do a different vibe, I play with different sounds. If you listen to My Jam, everything from the Caribbean is on that track. A little bit of mento, a little bit of soca and a little bit of dancehall. I mess with sounds and it's very important for me to be different. I don't want all my songs to sound like Heads High because people will get tired of your sound.

I was just going to ask about My Jam. Your music stretches from what's happening in contemporary clubs and dances right back through history into the earliest Caribbean folk music.
My inspirations are from great artists like Barrington Levy and Tenor Saw and Half Pint because of their original sound and the way you can still listen to a Barrington Levy song after so many years. When I go into the studio I'm inspired to do music that people can listen to in 20 or 30 years. I think I am blessed to have songs like Heads High and I Am Blessed and Sweet Jamaica that people can listen to if I should never find another hit song. And of course, I do Caribbean music. I don't see myself as any different from what other Caribbean artists are doing. I see it as one music, one Caribbean, with different flavours.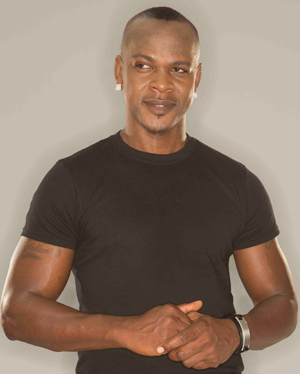 These days it's popular to say the 90s era you came from was the best for dancehall - nostalgia or truth?
I think we had fewer producers. We had fewer outlets. You find when you have less of something you get better quality. I think that's the reality of our music. It was run through a system where you had to be exceptionally good to get into the studio with a good producer. I think now it's more of a free-for-all. We're still able to keep a balance where you will find good music. You'll find good producers still doing their thing and being recognised – maybe not in Jamaica in the base market but being recognised in other parts of the world. Sly and Robbie and those people are still doing major work.

When you did Sweet Jamaica you created a petition to save reggae music. Reggae music is played on the radio more in Jamaica and the young wave of reggae artists is getting international success. Is reggae saved?
I think it was very important – and it's still important for us to continue in playing not just the new reggae but to still remember Dennis Brown and Alton Ellis and Gregory Isaacs and those great artists. Have them in your rotation, it doesn't have to be every day. I was not even talking about how we needed some new reggae artists. I was just challenging DJs – especially in Jamaica, in the base market – to remember these artists that have done so much for the music. It doesn't have to be every day in every programme that you play these artists but at least remind people of their music. Some DJs do it and some don't because some are all about the hype but that was what I was getting at. And when you play those tracks it also influences the Chronixx and the Tarrus Riley and myself to want to get back that sound.

You retired in 2008 and in 2012 you told Examiner.com you did not enjoy your career.
How do you feel now?
I tried to take a break but through the support of my mum and because I Am Blessed came out at the same time and became a mega tune I didn't get to take the break. Because for me, I really love the music, and if I feel like I'm just doing it as a nine to five then I cannot enjoy it. I'm in a place where I can work with good producers and I can go in the studio and get somebody to translate what I have. Not every producer can translate what you want to say. It's good when I can go to Clevie and say I have a song like Hallelujah and he is able to translate the difference I wanted to make with that song.

You also said Sweet Jamaica was first album you enjoyed playing back – how you feel about this album?
First of all, I do enjoy my work I've done over the years like Heads High and all those tracks. But some albums and some songs even with other artists like Michael Jackson and Whitney Houston and Bob Marley there are certain albums they did that you just put on repeat and songs that are your favourite track. On this album I just find there are a lot of songs that I have on repeat just like with the Sweet Jamaica album. I had the Alton Ellis on repeat that I covered on Sweet Jamaica on repeat and with this album I find tracks like Hallelujah, Love Yourself and The Climb and Once Upon A Time and My Jam, I just really love to hear back these songs. Because I hardly even listen to most of the work that I do. I'm not the one that is passing around the town blasting myself from a speaker. But just like how I get into a Michael Jackson track and it just puts me into a whole different mood, when I listen to The Climb and Hallelujah and Love Yourself it gives me that vibe.

Thanks very much.

Thanks for listening to the album man.