Former Jamaican Prime Minister Edward Seaga dies at 89
05/30/2019 by Munchy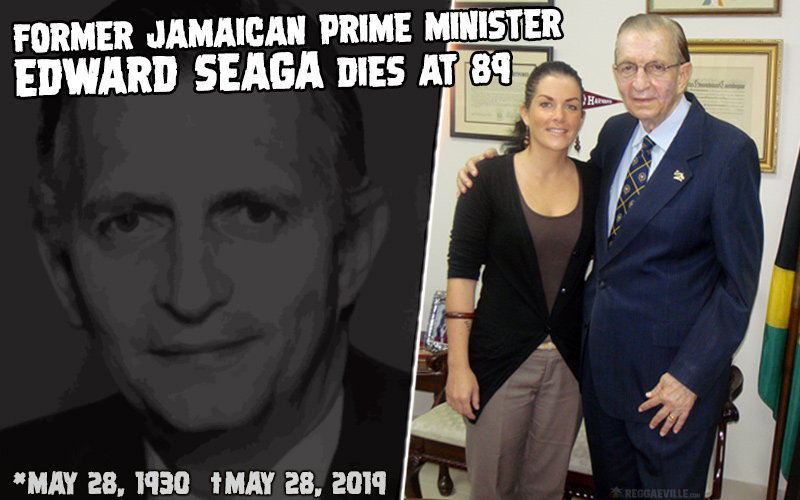 On May 28, his 89th birthday, Edward Philip George Seaga, the fifth Prime Minister of Jamaica and former leader of the Jamaica Labour Party has passed away. For 43 consecutive years he held the seat for his constituency West Kingston, the areas of Tivoli Gardens and Denham Town, which made him the longest serving Member of Parliament in the history of the island. From 1980 to 1989 he was the Prime Minister of Jamaica and at the point of his retirement from political life in 2005 he was the last serving politician to have entered public life before independence in 1962.

Fellow politicians reacted to his passing with big words such as "great mentor, friend and guide" (Prime Minister Andrew Holness), "gigantic and powerful presence" (Opposition Leader Dr. Peter Phillips ), or "one of its (Jamaica's) most accomplished nation builders" (Former Prime Minister Bruce Golding).

I got the chance to meet and interview Edward Seaga or "Sir" how I kept calling him in 2012, the year Jamaica celebrated 50 years of independence. Seaga had put together a four CD box compilation in which he presented 100 hand-picked songs, he considered the most significant to emerge from the country to celebrate the island's half-century turn of liberation.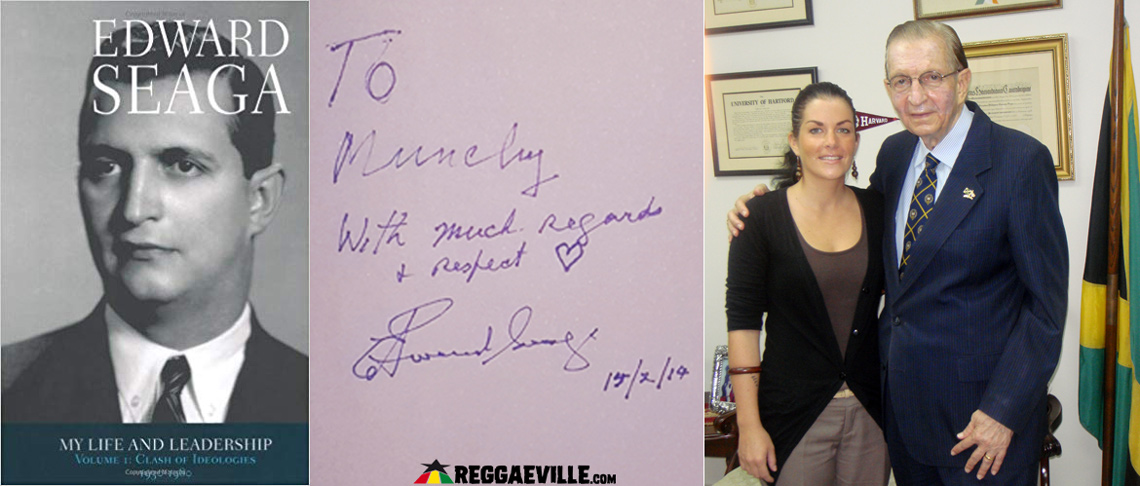 In the 1950s, even before his political career he produced records and set up his highly successful label West Indies Records Limited (WIRL), that he would later sell to Byron Lee to be renamed Dynamic Sounds. Even though leaving the industry to pursue the political path Seaga always kept the love for music and melodies in his heart. He remained interested in the different genres, the production technology, artists and their works, and mentioned Jimmy Cliff's The Harder They Come and Tarrus Riley's Contagious when I asked for his favorites in the interview.

Even after our conversation about music, history and independence, Sir and I kept in touch. We shared not only the enthusiasm for music and arts, which led us to several cultural events and one time to the Carib movie theatre to watch the live broadcasting of Aida from the Met, where we shared popcorn – in evening attire much to his amusement.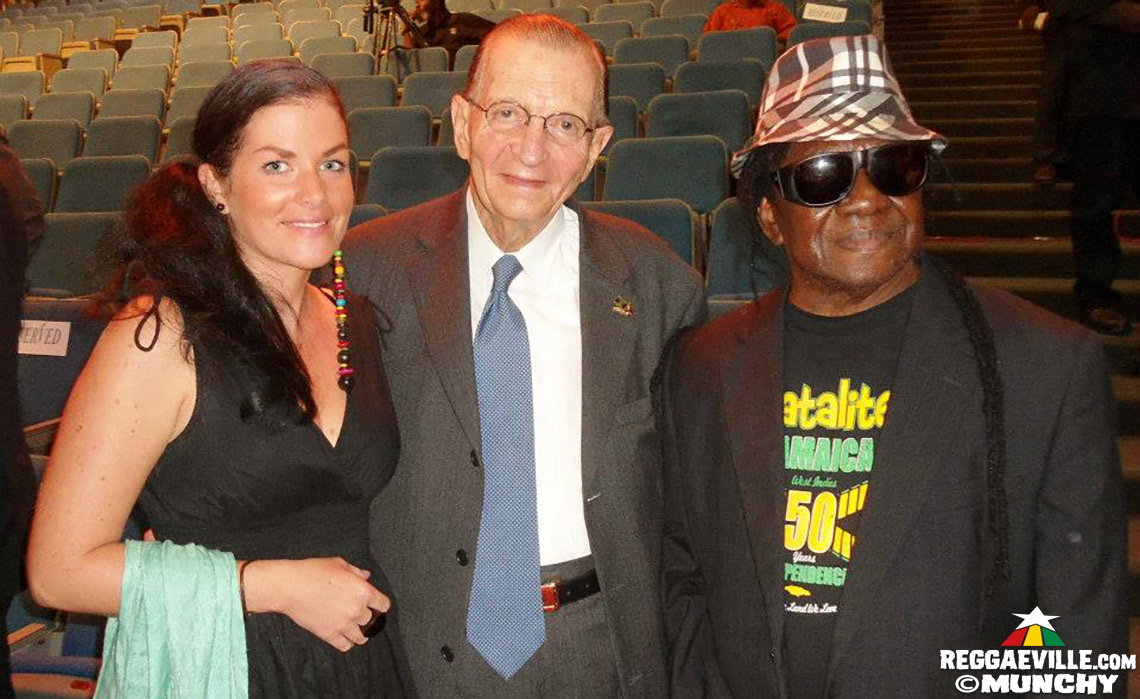 But we were also both into football and found ourselves in the stadium almost every Sunday to support his team Tivoli Gardens. It was one of these Sundays, February 16, 2014 on which we also speeded down Mountain View Road to reach the Sports Complex in Tivoli in time. Sir was very impatient because we were running late and he was about to meet another German, Winnie Schäfer who had recently become the Reggae Boyz National football trainer. One of the things Edward Seaga always admired about Germans was being on time – so there was no way we could be running late to meet the coach.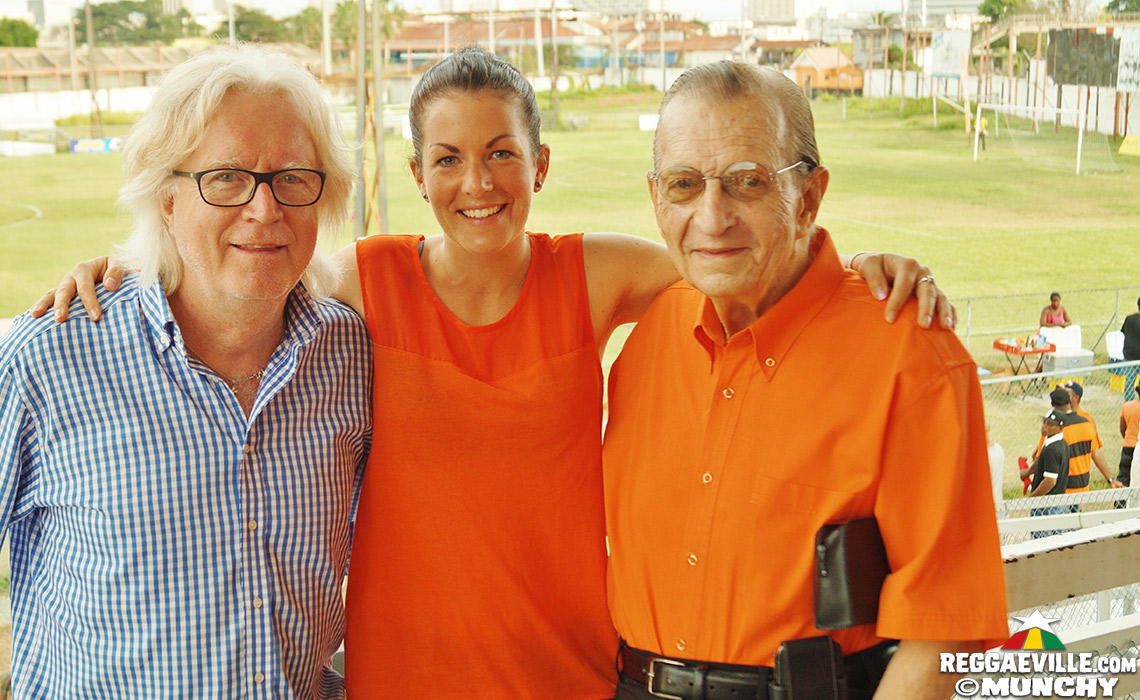 We were both in our bright tangerine (not orange, but tangerine, as he would note with a slight impish smile), the Tivoli team's color, and sat down on the stand next to the field. Schäfer had a good time looking for new talents and Tivoli eventually won over May Pen's Humble Lions. It was one of these evenings when the sun would tint the hills surrounding Kingston red and we still had another mission to go on after the match. The German print magazine Riddim had asked me for an article about Tivoli Gardens, its history and the role of Seaga. In high spirits after the win we went into the community and Sir presented not just his former constituency but this place so dear to his heart. We drove by the High School and a clinic for pregnant women, visited the community center, and met the residents, who would come running excited as he exited his car [watch the video on top]. He spent a good while listening their stories, hugging and talking to them. As we continued driving we ended up in a funeral parade and a street packed with people. When the crowd recognized their "Sir Eddie" in the vehicle they flocked his window to kiss his hand, cheer and enthusiastically show their love. It was the very moment when I realized the impact he had made throughout his life in West Kingston.

PHOTO REPORT: EDWARD SEAGA IN TIVOLI GARDENS - KINGSTON, JAMAICA [February 16, 2014]

It is this impact, the means and ways it was achieved with, the socio-economic consequences it resulted in up until today, and more aspects surrounding the matter that have been critized by certain people. I am not here to deny, to defend, nor to judge. Everytime I found myself in a discussion ranging from "the Big Man" to "CIAga" or much worse, I have explained that I am not a Jamaican, and I find it both inappropriate and arrogant to form an opinion on the country's politics as a foreigner. My condolences go out for all lifes lost on this island so dear to my heart, but today on May 28, 2019 they go out to the family of Edward Seaga, politician, statesman, thinker, producer, music enthusiast, passionate Jamaican, humorous and caring companion, Sir.