Review
Album Review: Mishka - Roots Fidelity
09/17/2015
by Gardy Stein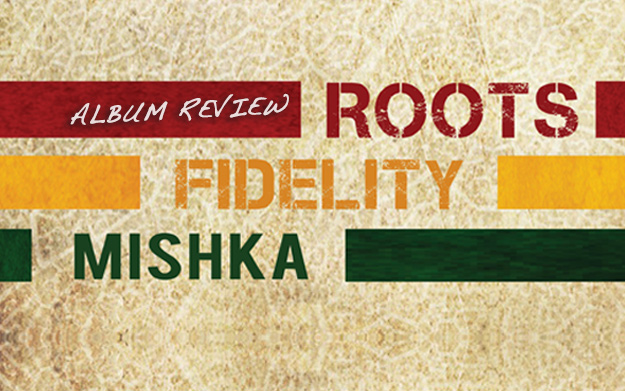 Imagine you grow up on a boat, cruising along the shores of the Caribbean. Imagine you are surrounded by the sound of waves and wind all day long, with nothing to focus your attention on but the loving members of your family, a tape recorder and a guitar. What kind of person would you become? What kind of music would you make? In the case of family Frith, we have (musically speaking) two exemplary outcomes of such an unusual childhood: Heather Nova and Mishka.

While Heather is an uncrowned queen of Indie-Rock and Songwriter-Pop, Mishka has lost his heart to Reggae early on. With Roots Fidelity, he now presents a full album celebrating this beautiful music. It is the first release he accomplished completely independently, a success he can ascribe solely to his own efforts and the support of his fans, as the album has been financed through the crowdfunding-platform Pledge. Apart from this achievement, Mishka managed to convince UK soundmaster Prince Fatty to record, mix and master the whole production, and the 12 tracks included definitely shine in Mr. Pelanconi's glory.

Kicking it off with Roots Fidelity, the title track sets the pace for the album. The extensive live instrumentation is responsible for the Roots feeling that permeates, and even though the instruments have been recorded piece by piece and oceans apart, it feels as if a massive band is standing in your living room or wherever you may listen to it. Less elaborated but one of Mishka's favourites, Face To Face describes what happens when people are confronted with a lion.

While Free advocates freedom in all fields, Honesty is a call for truth, in relationships and otherwise. The message is brought across with vocal excellence by Mishka, who rides the bass-dominated riddim in a pleasant skanky way. Only feature of the album, More Greens is a plea for a healthy lifestyle. Horseman, after he finished laying down the drums for every track, lent his distinctive voice to the educational piece, which is not about Ganja only, by the way: "More greens, and self-discipline, from the junk food and all a dat you got to wean, put more exercise ina your daily routine, next thing you know is you fit in your slim jeans!"

Despite the undeniable appeal this album has so far, I somehow miss the boy with the guitar. Earlier releases have been characterized by a minimalist simplicity, and many of Mishka's best tracks were only him and a guitar. A tune like Nah Nah Nah (or even Want You Tonight, despite its groovy riddim) might have been dispensable for the sake of some acoustic treasures such as Neva Give Up or Above The Bones. But hey, we are not even through yet.

Entering the romance-section, Rock Steady and the Ska-infused Another Like You are an open invitation to dance. On a much more personal level, Stay By My Side is a love letter to his wife and one of my favourites. First on my list, however, is Fallen To Rise. "Why worry yourself with what you don't have? Give thanks for what you do! Why so many thoughts of tomorrow when today is shining here for you?" Do I need to say any more? The song, actually a re-recording of the 2010 release on Talk About, is dripping with wisdom. Listen keenly!

The final track confirms once more that Mishka is at his best when he takes it slow. Love And Devotion is a prime example of the beauty he is able to create with the simplest means. A good riddim, some oooohs and aaaahs in the background, a brass section and his voice is all that is needed to take your stress away and put you completely at ease. Might be the rolling waves he was exposed to throughout his life, who knows… Get a copy of Roots Fidelity and try it. It works. Promise.


---
Release details
Mishka - Roots Fidelity
DIGITAL RELEASE [Gingerland Publishing]
Release date: 09/18/2015
Tracks
01. Roots Fidelity
02. Face To Face
03. Free
04. Honesty
05. More Greens feat. Horseman
06. Nah Nah Nah
07. Rock Steady
08. Stay By My Side (Roots Version)
09. Fallen To Rise (Roots Version)
10. Another Like You (Roots Version)
11. Want You Tonight
12. Love and Devotion (Roots Version)
Featured artists
Horseman