RIP Millie Small - My Boy Lollipop Singer Dies Aged 73
05/06/2020 by Gardy Stein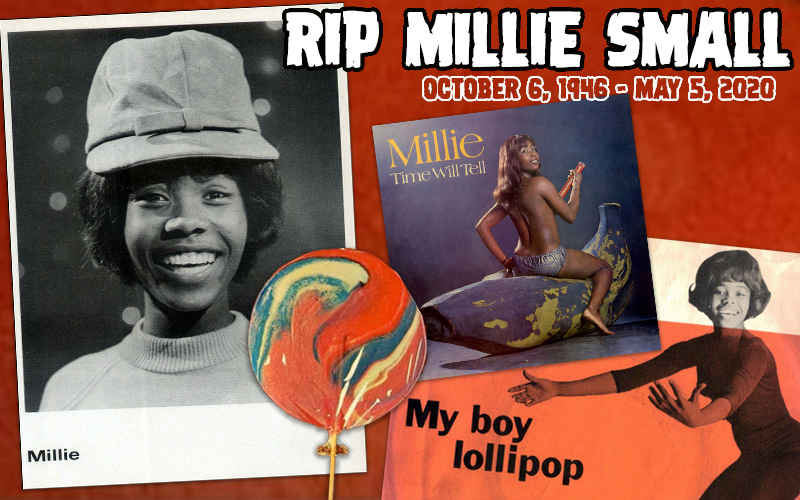 With her cover-version of My Boy Lollipop, Millicent Dolly May Small aka Millie has achieved what many of her Jamaican contemporaries only dreamed of: the 1964 single has sold more than 7 million copies worldwide. It was also the first hit song of the then freshly founded Island Records, and owner Chris Blackwell told the Jamaica Observer "I would say she's the person who took ska international (...)".
The ensuing success was incredible. Millie toured the world, appeared at TV Shows and festivals and continued recording, although none of her following works was as triumphant as My Boy Lollipop. After the release of her album Time Will Tell in 1970, Millicent stepped out of the limelight to concentrate on writing, painting and parenting.
Those who knew her remember her as a sweet, talented and down-to-earth lady who loved life despite the hardships she fell on in the 80s. In 2011, she was awarded the Jamaican Order of Distinction to honor her contribution to the Jamaican music industry.
The buoyant singer has died at age 73 last Tuesday, as a statement by Island Records reports: Small "passed away peacefully in London after having been taken ill at the weekend (...). Millie Small was a true original, a wonderful human being and will be dearly missed by everyone."



VOICES ON SOCIAL MEDIA:
Dandy Livingstone: "Walk good Millie Small! You opened the window for many of us. The year 1964 is deep in my memory.... that was the year I did my first professional recording sessions, and from those recordings, I had my first big seller "What a Life". Your cover of "My Boy Lollipop" was inspirational."
Maxi Priest: "My deepest condolences to the May and Small families, loved ones, and fans of Millie Small, the Jamaican artist that shook the world with the hit 'My Boy Lollipop' that topped the charts all over the world in 1964. Rest in Zion."
David Rodigan: "We have lost Millie Small, the first Jamaican artist to achieve international pop chart success in countless countries with 'My Boy Lollipop'. The song was so popular that it made her a household name in the UK in 1964 and blazed the way for the recognition of Ska music. The world fell in love with Millie and I was smitten by the song as soon saw her singing it live on 'Ready Steady Go'. She appeared on all the top television shows and her joyful and energetic performances endeared her to us all. She was very special and her passing is all too sad."
IN THE PRESS:
Millie Small: My Boy Lollipop singer dies aged 73 [BBC.com]
Mort de Millie Small, chanteuse de l'éternel "My Boy Lollipop [Libération.fr]
Millie Small, My Boy Lollipop singer, dies aged 73 [TheGuardian.com]
Millie Small ist tot [Sueddeutsche.de]
Ska-zangeres Millie Small ('My boy lollipop') overleden [NOS.nl]