Review
Album Review: Clinton Fearon - History Say
09/13/2019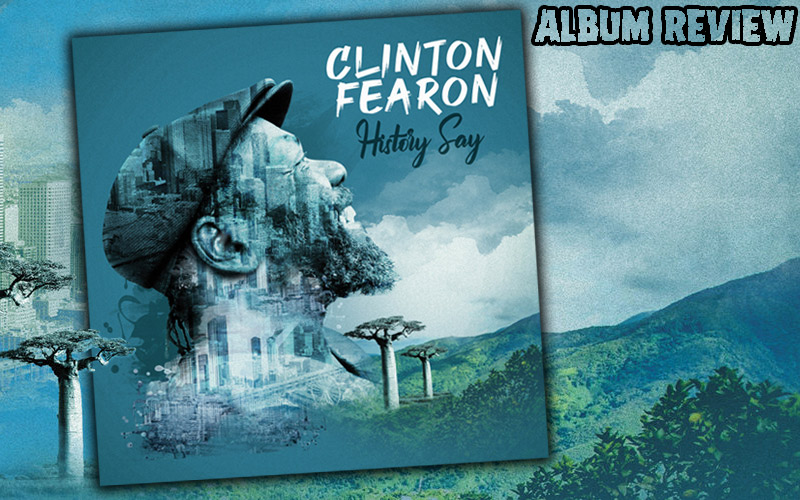 Not that anyone should need reminding, but Clinton Fearon simply isn't capable of recording and releasing a mishit! Whilst his latest release – a self-produced 12th album compiled between Seattle and Jamaica - may not make a dent on the Billboard rankings, it certainly will make a dent on the pleasure quotient of roots and other reggae lovers.

This 11-track compilation opens with Technology, serving to underline the fact that though the artist may be ignorant about much thereof – like the rest of us - he can't survive without it. The use of clever wordplay and seductive guitar licks from Oi and Rufus making this opener a winner. This is followed by Mr. Pretender, as the politicians – no names mentioned - come under fire, with the aid of sweet vocal harmonies lending the track some style. Then the album's title track History Say kicks in, where the politicians again come under fire – and given some of the shenanigans currently afoot in the political arena, this theme is both understandable and welcome, as Fearon asks: 'How long must we wait for the change to come?', ably aided by some punchy percussion, courtesy of the irrepressible Sly Dunbar.

Thereafter Clinton makes way for family member Sherine Fearon, who does some justice to Clinton's Gimme Some, before the brilliant Alpha Blondy kicks in with the jointly authored and catchy Together Again, serving to lend the album even more roots and righteousness. Next up, the case for appreciating Time is underlined, interspersed with a bebop swing, that braces to a sudden halt – much like one's own time on earth is sure to be. The pace further accelerates then with Calypso Monkey, which – as the title indicates – is set in a cool calypso style.

The importance of love in life is covered with some staccato in French Connection – an entirely understandable choice of title for a man who fell in love with France and a French woman. That life can be a Crazy Ride is then confirmed by Fearon, who's in a position to know, having been in the music business since before joining the Gladiators way back in 1969. The album's penultimate track Why Worry (as 'it's a waste of energy') may not scale the heights as Israel Vibration's track of the same title, but the message is easily as substantive, as it advises that you: 'Live each day with a passion and compassion'. This sets the scene for I Will, with some brilliant brass bringing the compilation to a close on an upbeat note. Well done Clinton – yet more good work from an accomplished, talented and reflective troubadour. More time!

---
Release details
Clinton Fearon - History Say
DIGITAL RELEASE / CD / VINYL [Baco Records]
Release date: 09/13/2019
Tracks
01. Technology
02. Mr. Pretender feat. Mike Love
03. History Say
04. Gimme Some feat. Sherine Fearon
05. Together Again feat. Alpha Blondy
06. Time
07. Calypso Monkey
08. French Connection
09. Crazy Ride
10. Why Worry
11. I Will
Featured artists
Alpha Blondy
/
Mike Love