Review
Album Review: Cas Haley - More Music More Family
11/06/2015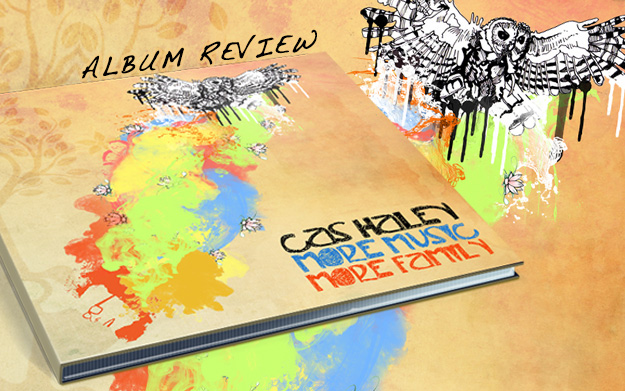 Cas Haley has produced an eclectic album, 12 songs that run the spectrum of R&B, singer songwriter, rock, hip-hop, blues, gospel and a healthy dose of reggae for six of the songs in the set. He was the runner up in 2007 on America's Got Talent and since then has released three albums. Now for his fourth album he stays true to his interest in reggae while expanding into other directions.

The album opens with the title track, a reggae song More Music More Family that showcases both his rich tone and excellent production values. He's joined by the artist Mike Love here for some verses, these lyrics discuss his exploration for the best things in life. As Cas proclaims "I finally understand, I'm just a family man." He and Mike trade vocal riffs that emphasize the messages "more music, and more family", children's voices are brought in to close out the tune and sing the chorus. The song, like most of his reggae material has that Hawaiian reggae feel to it with soulful vocal melodies and guitars in the front of the mix.

Co-producer for the set, Tubby Love joins Cas on vocals and guitar on Whole a rock/hip-hop infused tune that expresses the wish that he "wants to be whole". For Before It's Too Late he channels vintage soul, following the theme of being and living your best. As the song closes, an actual gospel choir, the Mt. Pisgah Baptist Choir from Paris, Texas speeds up the tempo for a jamboree.

Hold Me brings in the steel guitar and organ and slows down the groove into a reggae pocket to express romantic love and joy for the family he's created with his partner. For Man Inside Cas stays with the reggae vibe, singing a sweet ode to himself and "opening up all the parts of me I have denied." A full sound here, with the bass honestly pushing the groove as keyboards gently massage the phrases and guitars kiss the chord changes.

The album slows down to a ballad for Will You Be Ready with delightful harmonies that channel vintage '70's groups like The Band or Creedence Clearwater Revival. Trevor Hall joins Cas and the crew for Hold Up My Heart sung over a classic rub a dub style reggae rhythm pattern that discusses his prayer for grace, guidance and for the "lesson in the suffering". Delay effects are used here to go "dubwise" on the tune, bringing varied levels down to isolate vocals. Trevor Hall adds his chant to complete the song and fortify the message.

For I Got You he goes into a richly produced blues groove whose lyrics assess what the subject has in his possession, "I may not have a lot but you know that its true, I got you." On Big Hope the album returns to a reggae groove that finds Cas joined by Free Will and Drew Misik on vocals each delivering a rap portion riding a groove that becomes more stripped down and hip-hop channelling West Coast style Dr Dre keyboard sounds.

Ryan's Prayer is an instrumental has a banjo feel to it as the guitar picks up and down the scales in a complex bluegrass-influenced rock jam. For We Learn a deep roots reggae groove rounds up the knowledge seekers as levels come up and down for Cas to allow the groove to play out; a simple vocal chorus with no verses, it seems to be an ode to the practice of meditation. To close out the album Set Into Motion opens with the "om" chant from Buddhist practice. The song is a soul-influenced jam full of percussion, driving bass lines, organ and a simple mantra, "Gonna be alright gonna be ok."

Cas Haley is working hard to produce quality music that has something for everybody. This album has excellent production values and a cornucopia of music styles and recording techniques, its a great way to showcase his unique vocal tone and present his personal journey.


---
Release details
Cas Haley - More Music More Family
DIGITAL RELEASE / CD [Mailboat Records]
Release date: 11/06/2015
Tracks
01. More Music More Family feat. Mike Love
02. Whole feat. Tubby Love
03. Before Itas Too Late
04. Hold Me
05. Man Inside
06. Will You Be Ready
07. Hold Up My Heart feat. Trevor Hall
08. I Got You
09. Big Hope A feat. Freewill & Drew Misik
10. Ryana's Prayer A
11. We Learn
12. Set Forth Into Motion
Featured artists
Mike Love