Slightly Stoopid, SOJA, Rebelution headline One Love Cali Reggae Fest 2017
02/02/2017 by Brad Metzger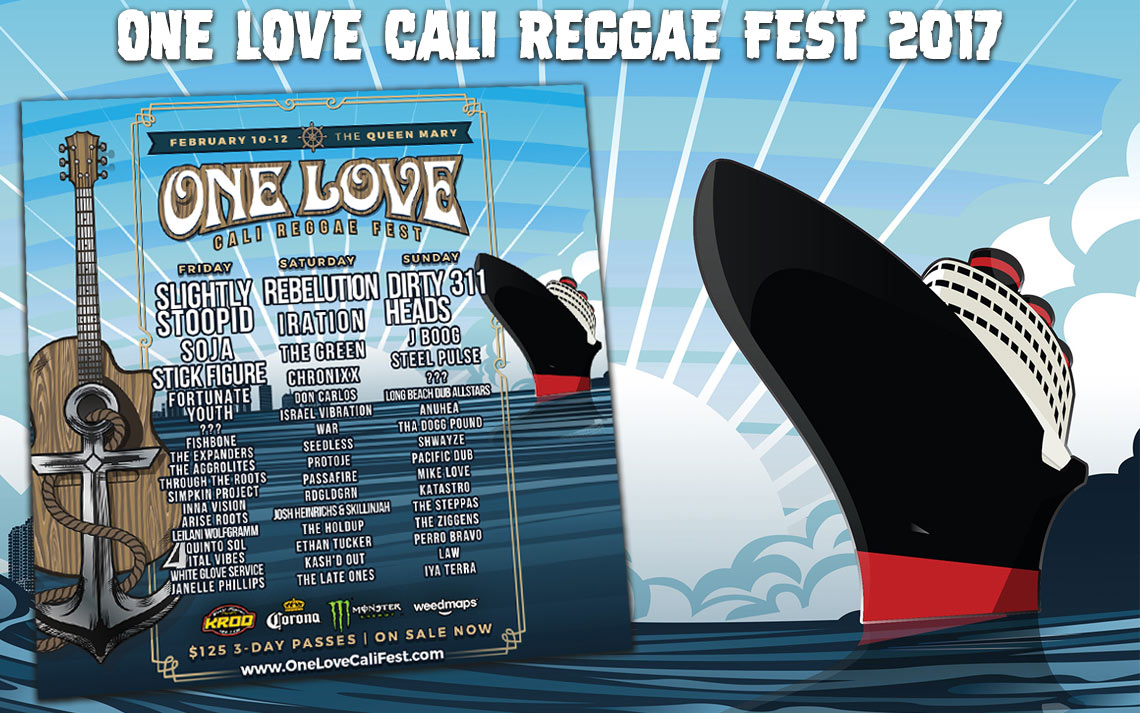 The largest Reggae Festival ever in Southern California will take place February 10-12 in Long Beach at the Queen Mary: One Love Cali Reggae Fest 2017

Yes, that's a bold statement but never have so many top Reggae artists gathered for one festival in Southern California. Of course Northern California has its many festivals: California Roots, Reggae on the River and Sierra Nevada World Music Festival. These events and locations thrive in part due to adjacent camping facilities. Southern California just doesn't have those locations with abundant camping, however the Noise Group, who is behind The Observatory in Orange County and in San Diego have found an ideal spot in The Queen Mary with her plethora of floating hotel rooms.

The 52 artist lineup for the One Love Cali Reggae Fest has got it all. As its name suggests, the Cali Fest highlights the best of California Reggae, but also on board are some of the hottest Jamaican artists including Chronixx and Protoje as well as living legends Steel Pulse and The Wailers. Three out of the six "Best Reggae Album" Grammy Award Nominees will be playing: J Boog, Rebelution and SOJA.

What's unique about festivals like this is that you just never know who is gonna jump on stage with who. Here are a few predictions: The Green backed J Boog last year on tour so I expect an on stage collaboration there and perhaps current J Boog tour mates Jo Mersa Marley or Jemere Morgan might even join in? I am hoping Eric Rachmany, leader of Rebelution joins Stick Figure for Mind Block off the 2015 Stick Figure release Set in Stone. Chronixx and Protoje are tight so I wouldn't be surprised to see them jam together. Hopefully Arise Roots from LA will welcome Hirie from San Diego on stage for "Cool Me Down." And how about J Boog and Anuhea joining SOJA for their 2014 hit Easier? Fortunate Youth, who always delivers in concert, drops their new album the day they perform. Notably absent from the lineup is Tribal Seeds who is on tour, but E.N Young, longtime keyboardist recently separated from the group so I am hoping he makes a special appearance.

This is year 2 for the One Love Cali Reggae Fest. Last years one day event was held at The Observatory in Orange County and was sold out. This years event is outdoors, with 2 stages, on the adjacent grounds of the Queen Mary. The tented "Dub Island" will feature djs and will provide a break from the sun. Don Carlos will be hosting an afterparty on Friday night and Israel Vibration on Saturday night.