Interview with Bunny Simpson - The Mighty Diamonds
10/17/2013 by Angus Taylor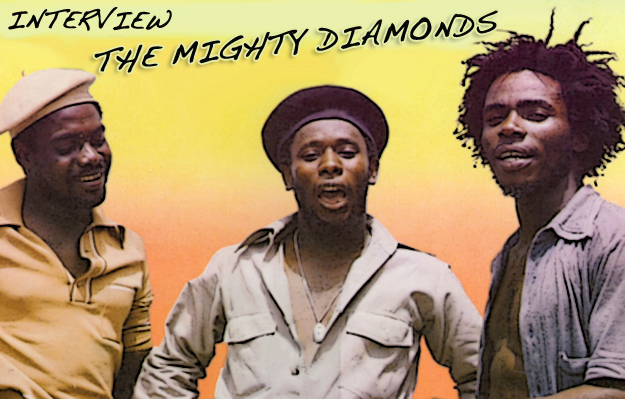 Harmony is key to the story of the Mighty Diamonds. The harmony between three friends: Donald "Tabby" Shaw, Fitzroy "Bunny" Simpson and Lloyd "Judge" Ferguson who formed a trio in 1969 and have continued with the same line-up to this day. The three part harmony of their voices that fused the Philadelphia soul of the Stylistics to Judge's Rastafarian Garveyite words. And the harmony with which these voices sat comfortably in any era: atop the clattering rocksteady do overs of the Revolutionaries at Channel One; the relaxed rubadub of Gussie Clarke and then Clarke's digital roots revival. Just as the Diamonds always stood firm their timeless music never seemed to go out of style. You can hear it in their VP box set compilation of hits and specials Pass the Knowledge; and you can see it in England and Scotland when their tour starts this week.

Angus Taylor spoke to Bunny Simpson in Jamaica about the group's long history. Given that their career has been on-going since the late 60s his memory for specific facts and figures was understandably vague – "it was 30 years ago man" was a frequent response to being pushed for more information. Even so Bunny gave a clear sense of why, in the face of much disharmony in the music business, these three voices have remained as one.
 
How did you get your nicknames – Tabby, Judge and Bunny?
My nickname came from a baby – it was a pet name. My mother called me Bunny and Tabby's mother called him Tabby. Judge was more of a nickname. He got it from his peers that he grew with – his colleagues. They said Judge was always serious! (laughs) His real name is Tony and I only ever heard his mother call him Tony.

Before the singing took off what kind of work were you three doing?
I was a welder. I used to weld grills, gates, doors, windows and all the necessary! Tabby was an apprentice welder. I had him under my wing. Judge was a policeman for about seven years. Actually he was a soldier first but after he left the solidering he had to do police work for survival. Then we got so popular that he never had the time.

How did Rasta come into your lives?
We were born and grew up in Trench Town and we saw all the bigger folks that went before we going that route so we had to look in that way so seek that which is the right route for we. We were well intact with Rasta – Marcus Garvey prophesised that you had to live good, that you had to live in more righteous living so we had to take up the right thing.

Do you remember when you first heard of Marcus Garvey?
When we were about 15-16. Marcus was a good leader because we heard things that he prophesised they came true. A lot of Rastaman lived in Jamaica who I used to live round so I used to sit and eat with them and hear them talk and thing. So you have to take up the good and righteous thing.

Who are your favourite American harmony groups?
We love the Manhattans, the Stylistics, the O'Jays. We always listened to harmony groups. But you know what? We came with our own sound. You have to have your own sound. That is what makes you. So you can take three or four sounds and put them together and create one natural sound.

What brought you three together?
We were always in the same area and street corner. So this whole used to start us singing different foreign songs like Manhattans, Stylistics and there we realised that we could get a group going. So we decided to rehearse a lot of different songs – original songs, foreign songs – and then we went off to the talent hunt. Different clubs have different contests and we would enter and win them. So we moved from strength to strength and started going to take a look at auditions to record.

Different biographical accounts have your first recording as being either Oh No Baby for Stranger Cole or Girl You're Too Young for Rupie Edwards. Both came out in 1971. Which was first?
We recorded for Stranger Cole first. Actually, no we recorded for Rupie Edwards first! But Stranger Cole's song came out before Rupie Edwards. We recorded Girl You're Too Young but Rupie did not put it out same time. It was there on keep and Stranger Cole came along and recorded us also doing Oh No Baby. But it was Jah Lloyd who was more popular at the time with Shame and Pride.
That song was very popular in England. We were just the Diamonds then. Over the course of time we came to Bunny Lee. We never had a popular song with Bunny Lee but the popular songs came with Jah Lloyd and Channel One. Channel One was the main stop!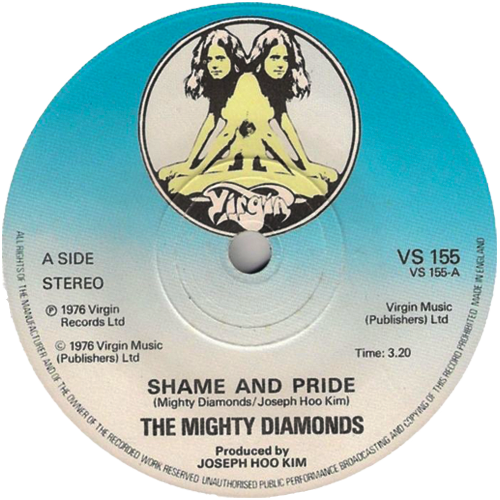 Your first big hit was Shame and Pride in 1973. Why did you not do more songs with Jah Lloyd?
What happened was Jah Lloyd was unfinancial so he took us to Channel One. He gave Channel One that Shame and Pride that he could do better with it because he had a lot of money so Jah Lloyd never did any more.

When did you change your name from the Diamonds to the Mighty Diamonds?
We were searching for a name and then Tabby's mother said "Why not call yourselves the Diamonds?", so we started using it. After we went to JoJo at Channel One and did all this Right Time and Roof and Have Mercy he said we are Mighty! And we became Mighty.

While you were singing you had a sound system too.
I did have a little sound system. It was not a big sound. We used to play clubs, little house parties and weddings. It was in about 1974-75.

Around that time you were regularly recording backing vocals for Lee Scratch Perry. Most famously Susan Cadogan's Hurt So Good. This lead to you cutting the tune Talk About It that features Judge's falsetto as the lead.
Every Sunday we would always go by Scratch and do background vocals for him. Until one day he said we must do a song for ourselves. But we did background vocals for Hurt So Good and it was a million seller. We never achieved much recognition from that song. Sometimes you do some song and you never know what it will do. So while we never got much recognition from that song the proof was there! When we did those background vocals she wasn't even there that Sunday. Then after she did that song she went to live in England.

What other songs did you do background vocals for Scratch?
I can't remember just now but we did a song with Junior Murvin, Junior Byles – Scratch always had some great songs. I can't remember some of them because it was so long - 30 years ago.

So while you were working for Scratch your breakthrough with the Hoo Kim brothers at Channel One started.
Yes, we were doing background for different people – Joe Gibbs, Scratch. So we carried two songs to Channel One to sell them. I heard he was looking for songs so I asked Jah Lloyd to bring us to him but Jah Lloyd never go with us, so me and Judge went to him and said "We are the Diamonds. We want to sell you these songs" and he said "Yeah, Diamonds I was looking for you" and after he took those songs he said "Go write me some songs and then come back!" (laughs) So we wrote Jah Jah Bless The Dreadlocks and we recorded Country Living for him and Hey Girl. Country Living was a popular song in England but it was not a hit in Jamaica yet. So after Hey Girl and Country Living we started some originals and the originals took off.

How did the writing process between you work?
Most of the writing we did this way: some songs were me and Judge, some songs just Judge, some songs just me, and some songs me, Judge and Tabby. I would say me and Judge both wrote together for most of the main songs. But Judge did a lot of lyric writing – he wrote Have Mercy, Back Weh Mafia, I Need A Roof, and Koutchie. But as I said it depends on how the feelings came. Like I might be talking to you now and an idea would come to me. But sometimes what really happened was JoJo would give us the rhythms. Sly would make these rhythms. Sly and Ranchie, Dougie, Stickie and Lloyd Parks would sit and make these rhythms and we would be given them to write and write and write until the Right Time Come! (laughs)

When you first heard the rhythm to Right Time did Sly Dunbar's drumming seem like a Revolutionary style to you?
Yes man! It was the Right Time for everything! Because when Sly got a break the Diamonds got a break, Channel One got a break, everybody got a break! Sly was rampant! Sly was kicking! When he made his break that was his best time. Everything just started to happen.

When Right Time got big – you got signed to Virgin Records. How did they get involved? Did they contact you before they came to Jamaica or did they just come looking for artists to sign and find you?
When Right Time came out and then I Need A Roof, then Have Mercy and then Africa then Back Weh Mafia then Virgin got excited because we had six number one songs. So Virgin said "This must be the right group for us to sign". They came over specifically for the Diamonds. Because we were kicking! (laughs) We were kicking like a mule! They didn't contact us first – they contacted Channel One. Richard Branson came over here and spoke with Channel One. They signed the Diamonds but they went through Channel One.

You went over to England to perform in 1976.
Yes, we played the Lyceum ballroom. The Lyceum was sold out – they had to fling tear gas and run the crowd! It was sold out all over – Bristol, Birmingham, Liverpool. We came very hard yunno!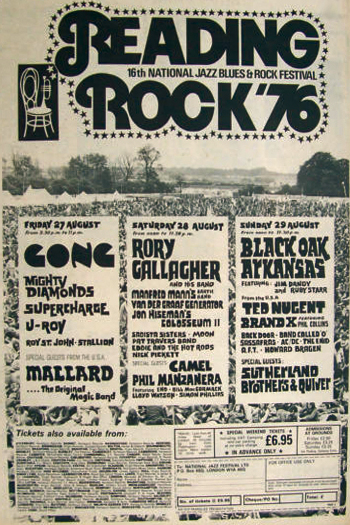 But what people may not know was you also played in front of a rock audience with Sly and Robbie at the Reading festival. Copeland Forbes told me that the crowd started off throwing tomatoes and eggs but then you won them over?
Well we had to play until we got them! (laughs) Yes it was hard because they didn't know us. You had to sing up there until you controlled them. We and U Roy! They didn't know reggae before but by the end of the concert we won them.

That tour was quite inspirational to some of the young UK artists like Aswad? Seeing Sly and yourselves in action?
Yes, Aswad, Maxi Priest and Steel Pulse they came on strong. But they didn't stay as long as the Diamonds because we are still here! '76 to 2013!

The first album Virgin released Right Time had already been made in Jamaica and they just distributed it. Then Virgin recorded you in New Orleans for the Allen Toussaint album Ice on Fire and then Planet Earth (one of the first reggae albums recorded at Compass Point in Nassau – which would become Sly and Robbie's home away from home with Island in the 80s).
When we recorded the first album Channel One was still selling the album to England by vinyl. So they didn't like that and when they signed the Diamonds they wanted to take over recording us themselves. They carried us to New Orleans and recorded the album Ice on Fire and they took us up to Compass Point in the Bahamas because they didn't want Channel One to have anything to do with that LP. So they carried us and there was a problem.

Ice on Fire?
Yes. That was a destruction.

But you loved American soul music. The songs you recorded like Sneaking Sally Through the Alley and Get Out My Life Woman were classics when Lee Dorsey sang them. Why do you think it went wrong?
The mistake they made was they should have carried our musicians there and made the rhythms the same hard driving rhythms. That was the mistake. They watered down the versions and our fans didn't want to hear that. So we went into limbo through that. We enjoyed New Orleans and everything – it was just the rhythms weren't good. Allen Toussaint and Marshall Schorn were good producers. Marshall had good ears but the rhythms weren't for us. It was an experiment but the people who felt it most were the Diamonds. They should have carried Sly and Ranchie.

How did you leave Virgin?
What really happened was the business kept changing. Some of these companies will go for you when you're swinging but as soon as you're not swinging they are not for you. You have to go look in the basket for yourselves and dig. So we're digging and I think we'll come right back on top again. Because music changes so much. It changed to dancehall. It changed to this and it changed to that but we're still here and we keep on doing the same thing and it will win.

As the 1980s began and the sound of reggae was changing you carried on making hits in Jamaica with Gussie Clarke.
Gussie Clarke is a good producer. We had some good moments with Gussie Clarke like Pass the Koutchie and Danger In Your Eyes. We had some popular music with Gussie Clarke. But things go bad the same way there. Everything is money. Because most of these guys don't want to pay your royalties so this problem over and over so you have to keep on moving along. We'd just keep on making number ones but no royalties. So we're still chanting on to see what we can do for ourselves.

Pass the Koutchie was a huge sound system tune in Jamaica but it was Musical Youth who took it international.
The problem was with Pass The Koutchie – just like a next Jamaican song – whenever you do a song it becomes a number one with some other guy. Because it was an old Coxsone rhythm that Gussie remade – everybody tried to take a piece of the pie. So that's what kind of jumbled up everything. It was me and Ferguson who wrote it – Judge and Bunny – so they couldn't mix up that part. But they mixed up everything else and everything just came jumbled. Everybody had to get their little piece of the cake – jumble and mix up.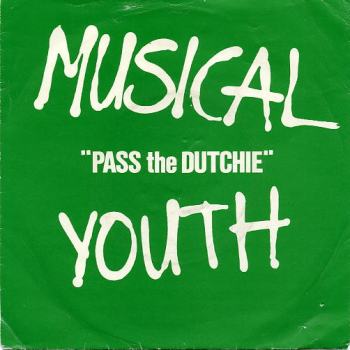 How did you find out Musical Youth had done the song?
What really happened was they recorded the song and before they put it out they called us that they'd made a re-version of Pass The Koutchie. Because we never got justice and they said they were going to do justice – and they got the justice! (laughs)

In the mid-80s you did some recording for Delroy Wright but it was Al Campbell who did the actual studio work. How come Al's work with you is not better known?
Al Campbell was a brethren like still. I think he lives in England so when I go to England I always see him. He was the person who built Delroy Wright. Al did most of the production for Delroy Wright. I think he wrote one or two songs as well. Put it this way – Delroy Wright is a friend. He did the work for Delroy Wright but Delroy took the credit and took the money! (laughs) Delroy Wright was in the background but he was one who financed the product.

You also carried on recording for Gussie into the digital era. The song Rumours for Gregory Isaacs was originally meant for you.
Yes! Hear how this song go now. Gussie Clarke gave that song to us to sing. But when Gregory Isaacs went into the studio Gregory said "Eh, I am the person supposed to sing this song because it's me they spreading rumours on!" What Gussie actually did was make Gregory sing it and we sang the background. Then Gussie said we must write a different song for the rhythm and that's what happened. It wasn't us who wrote that song – it was Tetrack.

Carlton Hines.
That's right, Carlton Hines! But if it was we who did sing that song it would have brought us right back to number one. We were the ones who were supposed to sing that song. Gregory Isaacs sang it and it did a little thing but it never went too far.


This year VP Records released the box set compilation Pass The Knowledge.
Put it this way – VP Records always knew about the Diamonds. Some of these songs they always put out as singles. But since the last five years VP kept on telling us they wanted to put out a compilation with the Diamonds. Then it got as far as going from a compilation to create a box set because they always wanted to do that. I think now is the right time because I heard it is doing well. But really and truly I haven't heard the album yet. I will be in England shortly so I will get it.

You are about to do a tour of the UK. In recent times artists like Beres Hammond and Luciano have had visa problems. Is all your paperwork in order?
That's what's been happening recently. I don't know why they're doing it but everybody is getting problems. We have our visas but there is something a little shaky going on with Tabby.

What can people expect from seeing you when you come to England?
Well you know the Diamonds carry a hard vibration. So we're coming with the hard much vibration. In any way. Whether it's three the hard way or two the hard way or one the hard way we're coming with vibration. Good vibration. People in England love the Diamonds like Jesus and we're ready for church!

Will you be touring with Handcart band?
I think we're playing with Rasites.

You must have heard this question a million times but what's kept you all working together for 44 years when so many harmony group line-ups have changed?
Foundation is a key in every building. So if you make the right foundation and it is not shaky then it will withstand the building for the next 100 years! (laughs) That is what we do. We make a good foundation. Don't quarrel for money. Don't quarrel for position. Quarrel for nothing. Just take the group from one stage to the next stage.

Why has your sound never gone out of style?
Well you know… it's a formula that nobody can get! So we use the formula and hide the secret! (laughs)