Review
Album Review: Paolo Baldini DubFiles – DubFiles at Song Embassy, Papine, Kingston 6
05/01/2016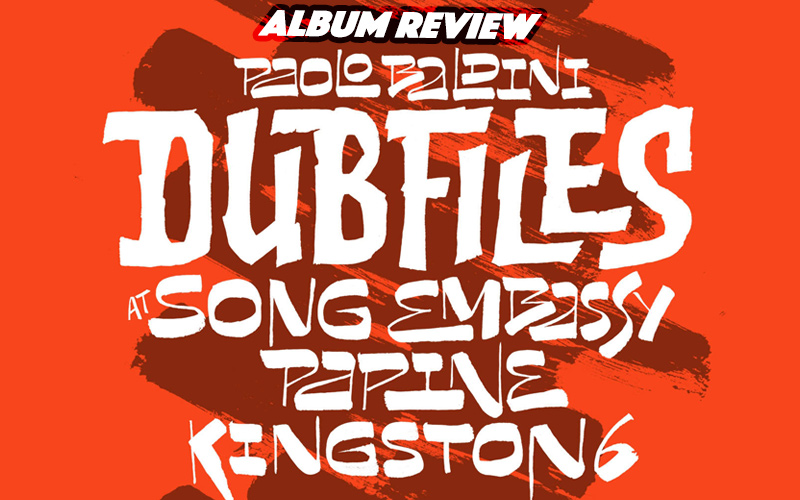 There's hardly a genre which is so creative and productive with its musical output as Reggae. One moment of vibes can be enough to change what used to be a riddim from another song into a completely different and unique sound experience. A second of spirit, a momentous flow or emotion, a baseline here and a riddim part there, a spontaneous mix- or original dancehall part, some delay and reverb, some "pah pah pah" shouts from the audience and everything is no longer what it used to be. And what could be a better place to catch such a spontaneous musical flow as Jamaica; the place where this very approach to music has not only caused the creation of reggae but has continued to influence it until it became what it is today.
The project Paolo Baldini DubFiles, like its sound, is a product of circumstances. The founders weren't really left with a choice but to catch on tape and eventually release what was going on through whichever format necessary to present the potential of this project to the world. The results are plenty of audio and video material. Paolo Baldini, who could be called the sixth band member of the Italian reggae band Mellow Mood, has not only helped to produce numerous riddims for the band since the release of their first full length album Move!, but is also famous for his live mixing performances in traditional sound system style.
While he would juggle and dub the many riddims he had brought forward within the last couple of years, the members of the Mellow Mood family & friends provided lyrics and melodies to create ever newer songs and medleys in freestyle sessions caught on tape. The result is a realistic and natural depiction of singjay performances. Soon, Paolo Baldini DubFiles became the project's first audio release in 2014.
Now, DubFiles at Song Embassy, Papine, Kingston 6 goes even one step further. It is not only an album plus a couple of videos. It is also a documentary, an anthropological project and a platform for many Jamaican artistes whose talent has for too long been hidden from the mainstream public. Next to already established artistes like Micah Shemaiah, Hempress Sativa or The Gideon and Selah from Jah Ova Evil, many up-and-coming names make strong statements on this sampler with their respective tunes.
The vocals and video material for this extensive project was recorded at the Song Embassy Yard in Papine, Kingston 6, a ghetto between the University of the West Indies and Skyline Drive, the access road to Kingston Dub Club in February last year. During that time, Paolo and his crew, consisting of the Mellow Mood twins Jacob and Lorenzo Garcia, the band's bass player Giulio Frausin, Forelock from Arawak, graphic novelist Davide Toffolo and anthropologist Icir Mimina di Muro, packed up their mobile studio and flew to Jamaica, well prepared to catch on tape the vibe of Papine Town in numerous, spontaneous one take sessions.
Countless videos were recorded, depicting Paolo dubbing the riddims on an 8 track ADAT digital tape recorder, while dozens of artistes passed around the mic and eventually created from scratch what became DubFiles at Song Embassy, Papine, Kingston 6 consisting of 16 Tracks, four of which are medleys, the so called Song Embassy Medleys parts 1 – 4. The majority of the riddims derive from the Mellow Mood album Twinz, and the remaining five were also produced by Paolo Baldini himself.
Reprocessing his own output in this way, Paolo Baldini, his crew and of course the many artistes, created a monumental piece of art with this release, which, through its multilayered concept and spontaneous realization, is not only unique within the reggae scene, but is also a realistic mirror of how reggae is done in JA.
The album opens with King Kamptha's tribute to Kingston 6, or rather to Papine, with its rich cultural heritage. TJ aka Likkle Briggie, a member of the Vinyl Thursdays artist camp, dedicated two tunes to the album. He flies high like a weather balloon on the dubby One Drop tune June, and in Herbsman Juggling he shows his Rub a Dub side. In contrast to this, Juba Lion unfolds his 70s singing style on a solid Steppas with Thank You Jah. Jussi introduces himself to the scene with Never Get Me Down, on which he presents his very pervasive and unique voice on a forward looking tune. Boom – Wah Da Da Deng by Hempress Sativa, was released already last year and, in the meantime, surely has made its way into the playlists of reggae heads worldwide. Just like Kingston 6, and Boom, Positive B's Majesty is based on the Inna Jamaica riddim from the Twinz album.
Creating ever new music through the remixing of his fertile Riddim material really is Baldini's thing.
On the Closed Doors Riddim (also from Twinz!) Simple Rattigan introduces a calm request to Come Now and follow him on his way out of Babylon. The Father Dub, is I Waata's contribution on the Inna Jail Riddim, the only Riddim from the Mellow Mood album Well Well Well." Carey Johnson spreads pure joyfulness with his Keep The Vybz On and Don Carl takes a stance for the elevation of his country in Rise Out of Poverty.
Indeed, the entirety of this project is an endeavor to big up Jamaica and its bitter sweet way to live creativity and from time to time manifest it through reggae music. The album closes with Soulji's Welcome to Ja which appears to be a mission statement for DubFiles At Song Embassy, Papine, Kingston 6.
If you watch the documentary videos of these legendary sessions, it becomes evident how real and authentic the music on this album is. A brilliant product of European/Jamaican cooperation. Reggae movement in I-nity. Bless up!
---
Release details
Paolo Baldini DubFiles - At Song Embassy Papine Kingston 6
DIGITAL RELEASE [La Tempesta Dischi]
Release date: 04/29/2016
Tracks
01. Kingston 6 feat. King Kamptha
02. Song Embassy Medley, Pt. 1 feat. Micah Shemaiah, Juba Lion, Crucial Bankie & DXL
03. June feat. TJ
04. Thank You Jah feat. Juba Lion
05. Never Get Me Down feat. Juss I
06. Herbsman Juggling feat. TJ
07. Song Embassy Medley, Pt. 4 feat. Reggie Hammer, Daddy John & Obi Ranks
08. Boom feat. Hempress Sativa (Wah Da Da Deng)
09. Song Embassy Medley, Pt. 2 feat. Stevador, Joseph I & Wappy King
10. Song Embassy Medley, Pt. 3 feat. Damas, The Gideon and Selah & Hempress Sativa
11. Majesty feat. Positive B
12. Come Now feat. Simple Rattigan
13. Father Dub feat. I-Waata
14. Keep the Vibes On feat. Carey Johnson
15. Rise out of Poverty feat. Don Carl
16. Welcome to Ja feat. Soulji
Featured artists
Micah Shemaiah
/
Hempress Sativa
/
Damas