Review
Album Review: Micah Shemaiah & The EDB Clan – Shalalak
05/22/2015
by Gardy Stein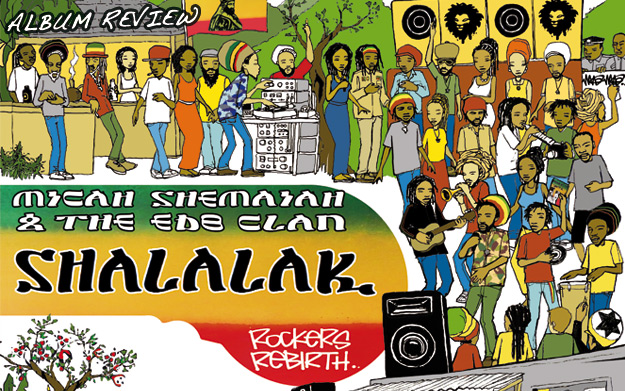 Reggae Revival, Rockers Rebirth… there is a lot of "re-" going on in Jamaica right now. So far, the audible fruits of these movements have been innovative and inspiring, while at the same time the current musicianship never lost its connection to the foundations of this genre.

Micah Shemaiah is no exception to this pattern, quite to the contrary: for the release of Shalalak, he teamed up with the EDB Clan around Exile Di Brave to bring to our attention a wide variety of artists and styles.

Going wayyyy back to the 40s, Scratch & Infinite take us on a Mento trip with Puppy Nose, a tune that plays with many well-known lyrical quotes. Both singers belong to the growing family of the EDB Clan, as do TJ aka Likkle Briggie and Jahkime, who join voices with Micah and Hempress Sativa in the tight diversity of the popular 2013 single Dread At The Control.

Dub is an essential part of the compilation as well. Not only in the dubwise remixes which have been contributed by the skillful German expatriate Matthias Reulecke, but also in the tracks he composed, such as They Know Not Love and Do Good.

Of course you might already be familiar with the Reggae Rockit which took off last summer as the second single-release, complete with a spacy video featuring Micah, Infinite and Matthias. Flowing with the Rockers theme, Exile Di Brave and his colleagues nice up the track Original, and somehow it feels as if we witness its creation. Just close your eyes and picture the jockeys ride the underlying riddim right in front of you!

Keeping your eyes shut is a good idea for the final song as well. The inherent positivity of Push On Through (another composition of Mr. Reulecke) provides a launch pad for the singers' voices who climb impressive heights. A perfect closing that will leave you uplifted and joyful!

To sum up, 8 tracks and 4 dub-mixes await to be discovered. The fact that Shalalak comes in vinyl with a beautifully crafted cover (it's not hard to discover the shout-out to EDB's Vinyl Thursdays here) will have the heart of any collector beat faster. This exceptional compilation might be a prophecy for the good things to come from this corner of the island. It is also a dynamic proof of the highly welcome development that has performing artists unite and support each other. Together we are strong!
---
Release details
Micah Shemaiah - Shalalak
VINYL [We Generation Music / EDB Entertainment]
Release date: 05/22/2015
Tracks
Side A
01. Scratch & Infinite - Puppy Nose
02. Micah Shemaiah - Reggae Rockit feat. Infinite & Matthias
03. Micah Shemaiah - Reggae Rockit Dubwise feat. Infinite and Matthias*
04. Micah Shemaiah - Dread at the Control feat. TJ, Hempress Sativa, Jahkime & Infinite
05. TJ - Original feat. Exile di Brave & Infinite
06. TJ - Original Dubwise feat. Exile di Brave & Infinite*
Side B
07. Exile di Brave - Know not Love
08. Exile di Brave - Know not Love Dub*
09. Micah Shemaiah - Do Good
10. Philip Crucial - Rasta's Luck feat. Exile di Brave
11. EDB Clan - Push on Through
12. EDB Clan - Push on Through Dubwise*


*Matthias Reulecke Mix


VINYL RELEASE AVAILABLE
 
@ BUYREGGAE.com
Featured artists
Exile Di Brave
/
Kazam Davis