Review
Album Review: Micah Shemaiah - Original Dread
07/22/2015
by Gardy Stein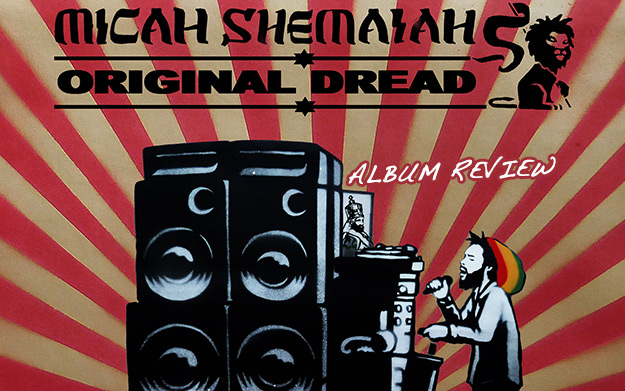 Finally! Few albums I've been looking forward to as much as this one – hearing the recently published Shalalak and subsequently meeting the artist for an interview in Kingston have left a lasting impression indeed. Micah Shemaiah is one of the most exciting new stars on Jamaica's Reggae sky, and the fact that he is in no hurry releasing his sonic babies only adds to the mystery surrounding his reclusive personality.

With Original Dread, he now brings out his second studio album after his 2009 debut Rastaman Meditation. Twelve tracks (8 songs plus 4 dubs) let us in on the multi-layered spheres of Micah's universe, a trip you better be prepared to take with all the attention you can muster.

From the melodic shout-out to his Black Black girl to the dance-inducing Spengaleng featuring TJ aka Likkle Briggie (aka Brigadier Jerry's son), the release is packed with affectionately crafted productions that deserve to be followed closely.

In Descendant Music, Shemaiah has obviously found the perfect home for his music. Owner and mastermind Will Tee has exclusively produced the tracks and provides both the roots and the wings that make this UK-Jamaican connection a fine example of an effective across-the-ocean collaboration. A telling sign for this success was already the single-release of Eezy Breezy. Not only does this song encapsulate all the positive energy that the contributing artists spread wherever they go (Micah invited his companion Exile Di Brave on this track), it is also exemplary for the network that exists in the thriving Kingston community around the Jah Ova Evil movement and the EDB Clan (from which hails cover-artist Matthew McCarthy, for instance). Also, it is simply such a joy to listen... which brings us back to the Original Dread.

The title track brings across real Roots Reggae vibes through a mind-blowing bass-line, well-placed brass sequences and lyrics that convey a glimpse of what original Rasta livity means. As does Dread On Yah - Micah just knows how to let this natural, spiritual way of living shine through his words in all its red-gold-&-green glory.

"You should do good!" is the correspondent message of If I Could. While Jahkime and Infinite lend their voices to the song, Addis Pablo adds his melodica-skills, a feat that is shown to advantage in the Dub version. Featuring the sweet but powerful voice of Nicole Miller, the irresistibly riddimized Truth & Rights further elaborates on what is needed to make this world a better place. And ooooh that Dub again - whenever you need a mood-lifter, put this on full volume! And if that's not enough to cheer you up, just let the album continue. The next track Smile is like 'a sunny day spent on the beach with good friends' put to music: "Skin your teeth, skank your feet, catch the beat and smile!". Rocksteady, sax and Micah's voice... if this doesn't put a big grin on your face, you are either manic depressive or not listening.

And listen you should. Original Dread (which will be out on Vinyl as well, of course) re-connects us with the golden era of Roots, Rub-a-dub and Rocksteady – a wonderful result of the "Rockers phase" that Micah claims to find himself in since almost 2 years. It will be such a pleasure to hear his impressive voice and feel the original rockers vibes live at the upcoming festival-shows in summer. Something new to look forward to!


---
Release details
Micah Shemaiah - Original Dread
DIGITAL RELEASE [Descendant Music]
Release date: 07/23/2015
Tracks
01. Black Black
02. Dread on Yah
03. Eezy Breezy
04. Eezy Breezy Dub
05. If I Could feat. Jahkime & Infinite
06. If I Could Dub feat. Jahkime & Infinite
07. Original Dread
08. Original Dread Dub
09. Truths and Rights feat. Nicole Miller
10. Truths and Rights Dub feat. Nicole Miller
11. Smile
12. Spengaleng feat. TJ (Likkle Briggie)