Review
Album Review: Dub Inc - Paradise
10/16/2013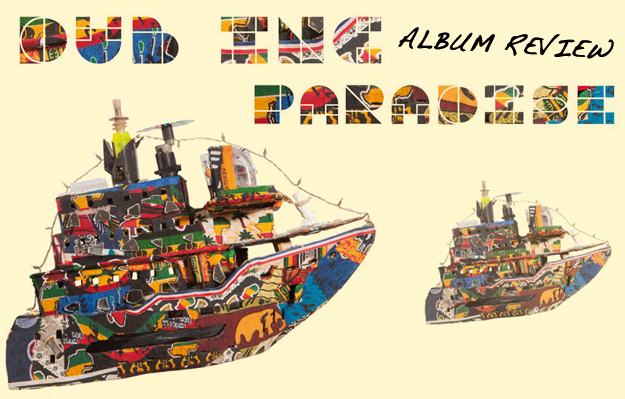 In 1997, three High School friends from Saint-Étienne, France formed a band to indulge in what they loved the most: playing dub instrumentals live on stage. Two of them are still on board today: drummer Grégory "Zigo" Mavridorakis and guitar player Jérémie Gregeois. Little did they know that this project, named Dub Incorporation, would turn into the world's most successful reggae band in 2013. It takes ten years of hard work for a one hit wonder, so they say. It took a bit more for the lasting success of Dub Inc.

Outside of France, the band really took off with Hors Contrôle. The name of the album released in 2010 pointed to a France governed by the racist president Nicolas Sarkozy. He himself being the son of an immigrant, a progressive French political party called him a "little fascist". After all, his illegal mass deportations of Sinti people produced abhorrent images unseen in Europe since April 1945. The country spun out of control.

The socially and politically aware lyrics of Dub Inc - well in the tradition of highly politicized French hip hop, one could argue knowing that several of the eight members of the band grew up listening to MC Solaar and his likes - reflected the thoughts of many of those alarmingly few French voters who had not lost their ability to think to Sarkozy's dumb xenophobic and even anti-European rethoric. With more than half of the band's members having parents or grand-parents born outside of France, Dub Inc felt personally affected by it.

Hors Contrôle consolidated Dub Inc's French fan base. Despite the staggering silence of the French mainstream media and no affiliation to any major label, the band became one of the most successful bands in French music history, no matter the genre. From the onset, Dub Inc has played a signature mélange of reggae with raï and other Algerian styles, modeled on the example of Gnawa Diffusion. Dub Inc's fresh and unique sound began to catch on outside of France before the release of Hors Contrôle, but the quality of production of that LP was new to the group, and certainly helped to attract an international audience that speaks neither French nor Kabyle, the languages the singers Hakim "Bouchkour" Meridja and Aurélien "Komlan" Zohou mostly choose for their vocals. The Hors Contrôle Tour led Dub Inc through 27 countries on four continents, including the US, Colombia, Senegal, Lebanon, and India. Dub Inc spun out of control. In a very positive sense, though.

As if their busy touring schedule wouldn't be enough, Dub Inc now presents Paradise. Their fifth studio album comes with the potential to take them to countries they haven't seen yet. Dub Inc spent an entire month in Studio Contrepoint in Orléans, France to record this LP that comes with twelve songs and a dub version. Again, the group produced the album itself. Benjamin Jouve recorded it, Dub Inc's sound engineer and the eighth member of the group - that's how important dub effects are to the band. The only outside assistance Dub Inc got was from John Le Page, listed in the credits as a recording assistant. Umberto Echo did the mixing at his Elevator Studio in Munich, Germany. Dieter Pimiskern mastered Paradise at the Dorian Gray Studios in the same city, the place where Dub Inc had recorded Hors Contrôle.

Again, the quality of the musical production is outstanding and reflects the experience Dub Inc has gained in studios over the years, but the progression from Hors Contrôle to Paradise is considerably less than that from Afrikya to Hors Contrôle. Dub Inc has matured much in studios. Their trademark sound stays the same, fortunately. Did I hear you say "stagnation"? Not so, Ladies and Gentlemen. "Careful evolution" would be the appropriate term, as the band doesn't shy away from experimenting. I'm not referring to the much increased percentage of English lyrics that make Paradise the most accessible Dub Inc album so far to those of us who don't speak French or Kabyle.

Reggae is the firm grounding of most of the tunes, it's just that Dub Inc adds more spices to its meal than other reggae bands. The result sounds so tight and natural and complete that I would wrong Dub Inc if I spoke of eclecticism. Il Faut Qu'On Ose is an example: the tune is mostly acoustic. Although Frédéric Peyron swapped his keyboards for an accordion on this one, the first bar is enough to recognize it as a Dub Inc tune. Komlan came up with the idea to the riddim. He had to convince his colleagues, who were a bit skeptical at first. Just like Dub Inc itself can be seen as a metaphor to their diversity-embracing approach to music, the musical implementation of Il Faut Qu'On Ose mirrors its message: dare to be yourself, no matter what the others say.

Hurricane with its almost bold dubstep passage is another example: Dub Inc never sounded like this before, but it still feels right, feels whole. Its lyrics aren't deep, they only aim at relaxing you. The urgency, the pressingness with which Hors Contrôle was recorded - Sarkozy is gone, Paradise focusses more on having a good time together, on partying, or on what the French call ambiancer. Bouchkour and Komlan still touch the big questions, as in Revolution. "I need a revolution/let's stop the pollution/it's time to change the way/I want to stay in my garden/I found a protection/back to the roots is the way to grow," sings Bouchkour. The tune urges us to reflect our behavior and contribute individually to reverse the effects of environmental pollution. The revolution starts with you, not the politicians you voted for on election day.

The title track is a similar example. Advertising puts us on all the time, but it is up to ourselves to stop believing in their lies, to stop believing in their telling us that consumption was the key to our problems. All it takes to unmask their lies is to open our eyes. It's too easy to point your finger, maybe the buck stops with you. That's the gist of Paradise. The language Bouchkour and Komlan apply to pass on these messages is rich in imagery and metaphor. They evoke, they don't ever sound priggish.

Dub Inc invited quite a number of friends to add even more diversity to Paradise. They Want, a fast and forward-pushing raggamuffin tune, features an excelling Skarra Mucci. Enfants Des Ghettos profites from guest vocals by Meta Dia of Meta & The Cornerstones and Alif Naaba, a famous globetrotting singer and guitar player that hails from Burkina Faso. Reggae purists will favor Only Love, a convincing combination with Jah Mason. At least as interesting as the guest vocalists are the guest musicians. On Enfants Des Ghettos, Issouf Mounkoro of Burkina Faso proves his mastering of the kora. It took me four weeks to name a favorite tune on Paradise - not a single tune disappointed me. It is thanks to the participation of Issouf, Meta, and Alif that I finally settled for Enfants Des Ghettos.

Foudagh almost made it - this is Boushkour's traditional solo tune. Do you remember Djamila, his stunning effort on Afrikya? It is my all-time favorite Dub Inc tune, mostly because it takes the contemporary raï influences I like so much about their music to acclaimed extremes. Foudagh follows a similar concept, although the sound is much more acoustic. That is much to the credit of Alaoua Idir, who plays the mandola, an Algerian instrument that slightly resembles a guitar, and Antony Gatta on percussion. Even the beat is raï. You might be surprised to learn that the original idea to the riddim wasn't Bouchkour's, but Zigo's. Bouchkour took the idea and flew to Algeria to work on the lyrics, entirely in Kabyle. The title of the song translates to "I'm thirsty", it talks about alcoholism. Last but certainly not least, Tiken Jah Fakoly's brass section graces Paradise with directedly appointed brass kicks - Michel Pinheiro on trombone, Jean-Baptiste Dobiecki a.k.a. JB Moundélé on saxophone, and Didier Bolay on trumpet.

Paradise is a masterpiece that explains why Dub Inc is currently on top of the game of the bands' touring circus. It's a new chapter in the history of Dub Inc - one without a twist, but with a refined narrative technique. Dub Inc has always recorded their albums as a pretext to go on tour. While that might well have been the main objective behind Paradise, the album showcases matured studio musicians whose work is as easy to enjoy home alone as on festivals together with 60,000 other fans. Paradise is a statement for diversity in itself, and definitely one of the most outstanding records released in 2013.


---
Release details
Dub Inc - Paradise
DIGITAL RELEASE / CD
Release date: 10/14/2013
Tracks
01. Revolution
02. Better run
03. Paradise
04. Chaque nouvelle page
05. Partout dans ce monde
06. They want feat. Skarra Mucci
07. Foudagh
08. Il faut qu'on ose
09. Sounds good
10. Hurricane
11. Enfants des ghettos feat. Meta Dia & Alif Naaba
12. Only love feat. Jah Mason
13. Dub contrôle
Featured artists
Jah Mason
/
Meta & The Cornerstones
/
Skarra Mucci