Review
EP Review: Memoria - Hide & Seek
07/26/2020
by Gardy Stein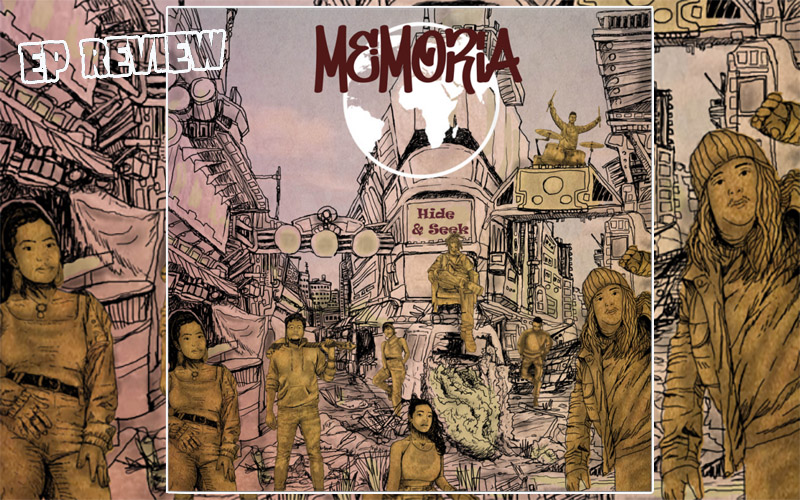 All eyes on... Memoria! Germany's next generation of Reggae artists has successfully conquered the national festival stages over the last few years and is now ready to go fishing for a wider listenership. With Hide & Seek, this young Colognian band of eight (consisting of brothers and frontmen Inti and Chaski, Emil on drums, René on guitar, Rafael on bass and sisters Alma, Eva and Greta on backing vocals as well as keys, sax and guitar, respectively) present their second EP after 2017's debut Startline, again produced in collaboration with cesaraugusto Music.
Sung in English, Spanish and French, the five songs included are clearly aimed at an international audience, a fact to which the young, dynamic sound of the production by DMNQ also contributes. And although the EP doesn't really have a standout track, the different styles included form an entertaining whole which is worth taking a closer look.
An attempt at Rap & HipHop, House Pon Di Hill celebrates friends and family who were there from day one. Lyrical lines such as "Me name no Koffee but tonight me a go do a toast" bear proof of the songwriters' topical creativity.
That the band is much more at home in Dancehall / Raggaton territory is demonstrated by the subsequent party-tune Turn Up The Heat. We find ourselves in the middle of a tropical fiesta, iced drink in hand, girls dancing wildly, and the voices of Inti, Chaski and featured artist Mila make us move and wine comfortably. The Spanish verse in the second part brings in a Latin flavour that is extremely authentic, as it reflects the band's ethnic roots.
For me the most interesting piece, Long Way combines a wildly diversified rhythmic setup with as various vocal flavours. Featuring Doc Dondo aka Yann Yondo, the lyrics take a retrospective view of the journey the band has travelled so far. True enough, any given veteran artist might not consider their way a long one yet, but this track is pure fun listening.
In This World brings a conscious musing to the game, the song's message underlined by warm saxophone improvisations. "In this world we are living in it's all about taking and not giving." An intriguing detail here is the contrast between the quiet onset as well as calm vocal delivery and the bom-boom-tchakk Dancehall beat.
The title track flirts with Trap beats and soundscapes, but a Reggae base is audible throughout. Both Inti and Chaski are at their best here vocally, and although the accompanying video is a matter of taste when it comes to the swag-and-brag symbols it uses, it's a well-produced must-see.
Exhaling with vocal sweetness, the Outro picks up the initial House Pon Di Hill theme and closes the EP in style. In sum, Hide & Seek is another step in the direction of musical prominence for Memoria, a step their fans and peers will gladly take with them.
---
Release details
Memoria - Hide And Seek
DIGITAL RELEASE / CD [Cesaraugusto Music]
Release date: 07/24/2020
Tracks
01. House Pon Di Hill
02. Turn Up The Heat feat. Mila
03. Long Way feat. Doc Dondo
04. In This World
05. Hide And Seek
06. Outro